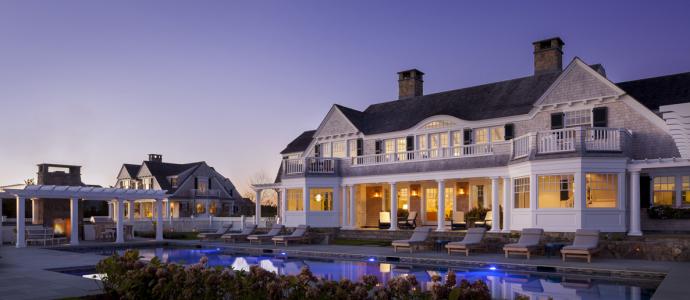 The 2014 Best in Show: Shingle-Style Sanctuary, Martha's Vineyard, Mass., by Patrick Ahearn of Patrick Ahearn Architect LLC.
Marvin Windows and Doors announced the winners of their sixth annual Architects Challenge. Featuring an array of homes across North America with numerous architectural styles, all projects are designed by architects and feature windows and doors from Marvin. Winners were chosen by a panel of architectural experts: Donald W. Powers, AIA, LEED AP, CNU of Union Studio Architecture & Community Design; Adele Chang, AIA of Lim Chang Rohling & Associates; and Stephen Muse, FAIA of Muse Architects.
Architects Challenge juried winners will participate in an AIA tour of Minneapolis and spend time at Marvin's headquarters in Warroad, Minn. for a tour of the factory.
This year's winning projects are:
"Winning the Marvin Architects Challenge was a wonderful opportunity to showcase our firm's work and celebrate the meaning of architectural inspiration," says Patrick Ahearn, the architect who designed this year's Best in Show winning project. "It is especially significant to be recognized for the function and beauty of our timeless design aesthetic and our unique story- driven approach. With each and every project, we strive to make our clients' dream homes a reality and this recognition has elevated this notion."
This year's Architects Challenge also featured a Showdown winner. Chosen via public vote, Lian Eoyang's (VIF Studio) Summer Cottage in Massachusetts was the Showdown winner. Her project, along the Boston Harbor, features hand-cut fieldstone, creating a natural structural extension of the rocky shore. This two-story home features raised ceilings and full-length windows, creating beautiful 180-degree panoramas of the harbor and skyline. As the Showdown winner, Eoyang will receive a trip to the 2014 Reinvention Symposium in Washington, D.C.
"As a celebration of the best in architectural design, this year's Architects Challenge was a great success," said Christine Marvin, Director of Marketing at Marvin Windows and Doors. "We saw hundreds of beautifully designed projects that demonstrated a wide range of architectural styles, breathtaking incorporation of product and daylighting, and attention to detail. This year's winners, and all of the 2014 entries, brought to life that Marvin's handcrafted products and solutions can truly help bring any design vision to life, and we are pleased to recognize these talented architects and the gorgeous homes and buildings they designed."
For more information and to view images of the winning projects, visit www.marvin.com/ArchitectsChallenge. PR