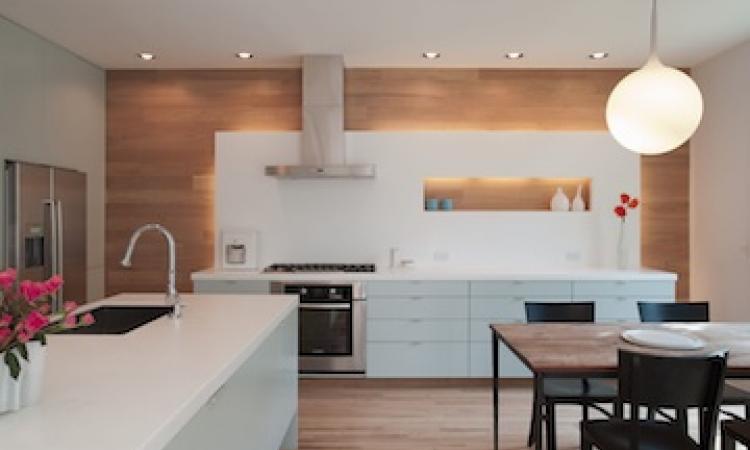 GOLD Kitchen $50,000 to $100,000

David Wilkes Builders, Austin, Texas
The owners of this inner-city home found their kitchen cramped and uninviting, prompting them to call in David Wilkes Builders for a redesign. Because the kitchen flowed directly into the living room, they were looking for some sprucing up there as well.
David Wilkes started by removing the peninsula counter and bartop that created separation between the two rooms. An island replaced it, not only improving flow between rooms, but also opening floor space in the kitchen. The island even features a tall, deep toekick where the family can store shoes as needed. 
Moving the cooktop to an exterior wall further expanded the space. To offset the area visually, the wall was clad with rich oak shiplap and a white backsplash was placed behind the counter, floating out enough to backlight it.
Other decorative touches included a cutout in the backsplash for the family to display some of their favorite items and the robin's egg blue cabinets, installed on both the cooktop and the island.
Key Products
Building materials: Stock Building Supply

Windows: Pella

Plumbing: Moen,

Ferguson Enterprises
SILVER Kitchen $50,000 to $100,000

There's No Place Like Home Remodeling, Albuquerque, N.M.
BRONZE Kitchen $50,000 to $100,000

Silent Rivers Design+Build, Clive, Iowa