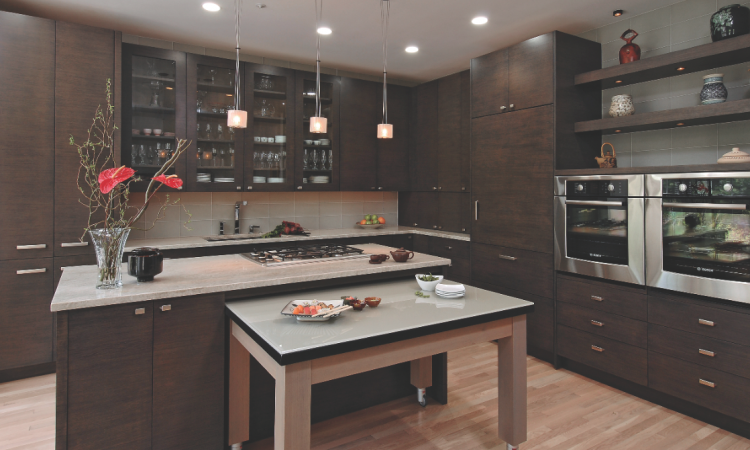 Ovens placed next to each other, rather than stacked, and placed at a comfortable height to reduce bending and lifting.
Due to the number and variety of cooking appliances today, multiple cooking stations can be designed within one kitchen. Depending on a client's habits, preferences, and needs, a surface cooking center, an oven center or centers, a microwave and/or speed cooking center, and space for smaller cooking appliances may need to be incorporated into the design.
The following information will include a look at each in relation to sensory, cognitive, and physical abilities of the client.
This is where safety risks and improved access sometimes conflict; the cooktop that is lowered for access by a seated cook becomes accessible also to the young child, or the knee space at the cooktop that puts access and use within the reach of a seated cook also exposes that cook to burn risk that had been out of reach. While the concepts and products here are presented as steps toward an improved accessible cooking experience, the need to discuss and evaluate decisions in this area cannot be overemphasized.
The area surrounding and including the cooktop is referred to as the surface cooking center. In some cases, this will be the surface cooking portion of a range; but when possible, having a separate cooktop and oven(s) is more flexible and allows a more personalized approach to the placement of the appliances, so the separate cooktop will be considered first.
Surface cooking
Second only to the sink center in time spent here, the surface cooking center should also be faced to the social area whenever possible, a benefit to most and more essential to those with hearing impairments or issues around eating. However, safety and ventilation needs will sometimes dictate that it face a wall. The standard minimum 30 inch x 48 inch clear floor space can be planned for either a parallel or perpendicular (front) approach, centered on the appliance. There are minimum landing space dimensions on either side of a cooktop and behind it in an island or peninsula configuration for safety and convenience. When planning for a shorter client or one who cooks from a seated position, this area may be lowered, and when it is, these minimums must remain at the same height as the cooktop, again for safety and function.
This is an ideal place for heat-proof counters, providing a place for the cook who may not be able to lift heavy pots to slide them to the side. In addition, a pot-filler faucet and a sink or drain in the area complete a plan that allows the cook to fill and empty pots without ever having to lift them.
Whether a plan includes a second sink in the cooking area or a single main sink, the cooktop should have an uninterrupted path to the sink and, when possible, a continuous stretch of counter to again allow for sliding heavier pots.
As with most work areas, a knee space can increase the options for use by a seated cook, and this concept in this area generates strong arguments for and against. An open space below the cooktop can double as a knee space or as storage for a rolling cart, rolling waste container unit, or a stool. As at the sink or prep area, a knee space allows for closer access and easier use by a seated cook. This same access creates serious risk of the cook leaning on/reaching over hot elements or even open flames.
In addition, if a seated cook is to travel from the cooktop with hot food or equipment, it is likely that cook will place the items in his/her lap, creating another hazardous situation.
There are design considerations when the knee space is at a cooktop. When lowering the work and cooking surface, measure your client's clearance and consider the "thickness" of the cooktop, counter, and protective panels to determine the best height, recommended between 28 and 34 inches. Although the recommended clearance for the height of the knee space is 27 inches, the exact counter height for a specific client will be determined by the height of his or her wheelchair arm or his or her knees if the wheelchair arms are not an issue. An apron and underpanel must be planned to cover any rough surfaces and to insulate the appliance workings from the cook, as well as protecting the cook from burns, abrasions, or electric shock.
As mentioned, the cooktop knee space is a good place for a rolling cart, as the cart can help many of us transfer heavy items to and from the cooking area. While this knee space is typically supported by cabinetry on either side, it is also critical to build in sufficient support at the front edge because that counter may be used for support as one approaches the cooktop.
Oven placement
Oven placement is a good example of a concept that began as access for a specific need and evolved to good universal design as it benefits so many. Where once we had ovens stacked in tall cabinets, today we see more of ovens split and designed at heights that reduce bending and lifting.
The 30 inch x 48 inch clear floor space at the oven should be positioned so that the oven door does not obstruct it. When possible the minimum landing space should be immediately adjacent to the oven, and in the case of a side swing oven door, on the latch side (see Figure 8.35). A knee space next to the oven can benefit the user, and the space can double as storage for a rolling cart, convenient for transporting roasted or baked items. This landing surface or the top deck of the rolling cart should be heat resistant to receive hot items, even more essential for those of us with limited strength or balance. If adjacent landing space is not possible, another option is a pull-out work surface at or near the oven, provided it is not obstructed by the oven door.
In some cases, the total space available, budget, and the cook's preference may dictate that a range is the appropriate appliance for a given design; and in this case, an adjacent knee space can make a major difference in access by a person using a wheelchair. One of the obstacles to selecting a range is that the oven is low and the oven door can be a significant obstacle, especially for shorter or seated cooks. Newer ranges with a smaller oven just under the cooktop have made this access issue go away. PR

--

The article is excerpted from the NKBA Professional Resource Library volume: Kitchen Planning, Second Edition by Kathleen Parrott, PhD, CKE, Julia Beamish, PhD, CKD, JoAnn Emmel, PhD, and Mary Jo Peterson, CKD, CBD, CAPS, CAASH. Copyright: 2013 National Kitchen & Bath Association; published by John Wiley & Sons, Inc. This material is reproduced with the permission of John Wiley & Sons, Inc.