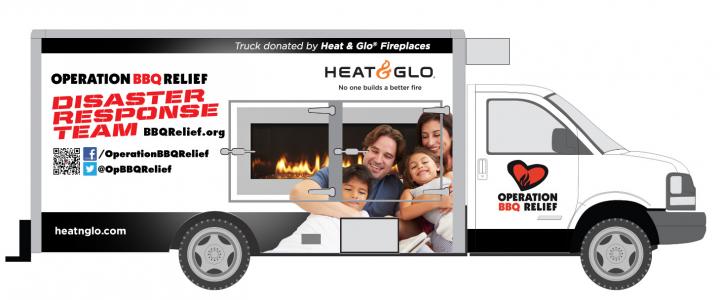 Operation BBQ Relief has expanded relief efforts thanks to a custom-designed truck donated by Heat & Glo Fireplaces. The truck, which includes a 14-foot box fully equipped with thermostatically controlled ovens and refrigerators, will allow Operation BBQ Relief to better serve more individuals, in more locations, after disaster strikes.  
Operation BBQ Relief is a 501(c)3 not-for-profit organization that was founded in May 2011, when competition barbecue teams from eight states banded together to feed tornado-stricken residents in Joplin, Missouri. Since that time, Operation BBQ Relief has expanded to offer meals, hope and friendship to communities across the United States adversely affected by natural disasters like tornadoes, hurricanes and wildfires.
"This specialized truck is the largest overall single donation we have received to date," said Stan Hays, executive director and co-founder of Operation BBQ Relief. "It will allow us to do more than ever before, and we are grateful to Heat & Glo for their generosity."
When disaster strikes, Operation BBQ Relief volunteers mobilize and provide not only meals, but emotional reprieve. For many people, the familiar sights and smells of a traditional American barbecue can restore feelings of normalcy and emotional relief in the midst of tragedy, even if temporarily. And it's making a difference. To date, Operation BBQ Relief has provided support for 18 natural disasters in 16 states, and has served meals to more than 500,000 people.
"Heat & Glo shares Operation BBQ Relief's values of hard work, respect and compassion," said Bob Ballard, senior vice president of Marketing at Heat & Glo. "We are delighted to support their efforts with this donation, which will help broaden their reach serving disaster-stricken communities."
The Chevy box truck is currently being manufactured and is expected to be completed and delivered to Operation BBQ Relief this summer. Watch for updates on Facebook https://www.facebook.com/HeatandGlo, www.Facebook.com/OperationBBQRelief, and Twitter @HeatandGlo, @OpBBQRelief. PR