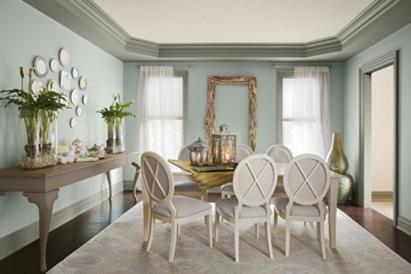 2012 paint forecast: blue is big
Benjamin Moore color experts are forecasting that blue will be the trend in 2012. The paint company's top color pick for the coming year is Wythe Blue HC-143, a blue-green hue with a cool gray cast to it.
"It's interesting that Wythe Blue is from our historical color collection," said Sonu Mathew, ASID, IIDA and Benjamin Moore's senior interior designer. "We've actually cited it because it has a modern edge, yet it's so rooted in history and is respectful of what's classic and enduring."
As Mathew pointed out, the blue family is such an ideal backdrop for other colors and materials. "It's an excellent partner to various wood tones, and complements the grays and whites that have become current decorating basics."
Benjamin Moore's Wythe Blue also evokes nature's primal elements of earth, sky, water, flora and fauna. It's a color that can create a serene and restful, comfortable and stable ambiance—an antidote to the frenetic pace of today's daily life.         
For more information: www.benjaminmoore.com/en-us/welcome-to-benjamin-moore