Addition Over $150,000
Delbert Adams Construction, Baltimore
Architect: Penza Bailey Architects
Project goals: Significantly enlarge the kitchen of an 80-year-old Dutch colonial, enabling the clients to entertain large numbers of guests.
Challenges: Connecting the addition to the gambrel-roofed, stone-and-stucco home. The ceilings all had to be maintained as well as the eaves line of the existing house.
Solutions: Create a gallery addition across the rear, anchored at one end by a new kitchen addition. The gallery flows gracefully out to a new bluestone terrace via French doors, while a coffered ceiling gives detail and rhythm to the fairly narrow gallery space. Existing windows and doors are now wider and open to the gallery. The stone repairs match the original house so well that they're invisible.
What the judges said: "This is a skillful addition that masterfully combines the new with the old. The obvious detailed flourishes are tasteful and well executed, but it's the integration of old and new that really makes this project sing."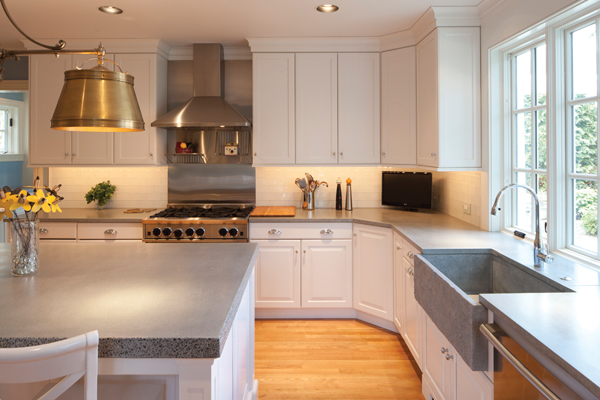 A skillful blending of new with old is what distinguishes this addition to a Dutch colonial
---