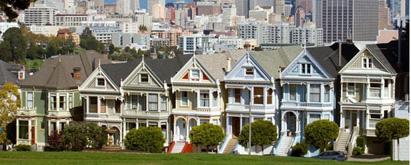 San Francisco homes may soon get "green grades"
Energy-efficient homes in San Francisco may soon receive an official certification from the city, potentially boosting their resale value, according to the San Francisco Gate.
San Francisco officials are developing what they call the "green grade," a designation that the city would place on the property records of homes that meet certain efficiency standards.
The certification could help homeowners charge more for their property when they decide to sell. Potential buyers would know up front that green-grade homes have up-to-date equipment, low utility bills and a relatively light impact on the environment.
City officials view the green grade as an incentive for homeowners to improve the efficiency of their houses, taking such steps as adding insulation and upgrading their heating systems. Those upgrades help curb the state's energy demand and lower greenhouse-gas emissions, bit by bit.
For more information: www.sfgate.com/cgi-bin/article.cgi?f=/c/a/2011/08/16/BU4R1KO7P9.DTL#ixzz1XC8n9KgW