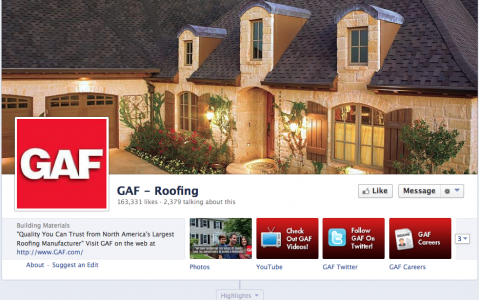 GAF, North America's largest roofing manufacturer, is excited to announce the success of its "Share What You Treasure" social media Facebook App. The nine-month campaign featured documentary videos created exclusively for GAF by critically acclaimed photographer and filmmaker James Minchin III, which show families and what they treasure most under their roofs. Homeowners were invited to share what is protected under their roof with three prize winners selected to star in their own webisode, as well as weekly gift card winners and one grand prize winner receiving at $2,500.00 gift card to the Home Depot.
 
GAF was able to achieve unprecedented engagement with its customers through the "Share What You Treasure" campaign with over 44 million impressions and 77 thousand Twitter and Facebook engagements. The app was launched with three flights, all with consumer friendly topics, encouraging users to upload a total of 720 pieces of content. Bloggers also expressed interest and offered their readers information on joining to win weekly prizes. This allowed GAF to understand what their customers are looking for by engaging with many people across the webosphere.
 
"This new app was unlike any other outreach GAF previously has done, as it allowed us to focus on a more emotional connection with homeowners and learn about what is most important to them. Throughout this nine-month campaign we were able to give back to consumers with weekly contests and shared three lucky winners' stories through webisodes on what they treasure most under their roofs," said Alyssa Hall, marketing communications manager at GAF. "We could not be happier with the engagements we have made with our consumers and how we are now able to stay connected with them."
 
GAF understands a roof protects more than a house. It protects the treasures people hold dear to their hearts. This new online community is open for all to join and to share what they treasure most through videos and photos. Users will also have the chance to learn what matters most to Americans all over the country.
 
To learn more about GAF, visit www.gaf.com.