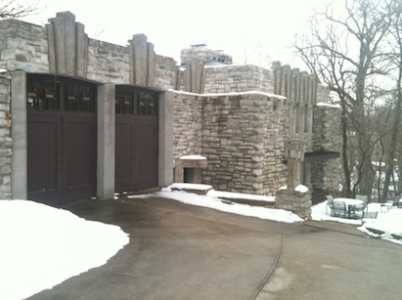 A little off the beaten path—but well worth the drive—is Mason City, Iowa, home to the last standing Frank Lloyd Wright hotel. My partner and I had the pleasure of staying at the Historic Park Inn last week. The 1910 landmark is so named because of its location across the street from Mason City's Central Park.
As part of a $20 million renovation, one of the historic suites was restored to 1910. Of course, that was the room we chose. The suite consists of a bedroom and sitting room connected by a bath with the original claw-foot tub and two small pedestal sinks. (Of course the hotel also features such modern conveniences as 40-inch, flat-panel TV sets and wireless Internet, but we spent the afternoon reading and soaking in the tub instead.)
Wright designed the Park Inn near the end of his Prairie School period, and the building references earlier projects such as Unity Temple in Oak Park, Ill., particularly in the central skylit lounge and more intimate mezzanine balcony above it. Originally the building served as a bank, a hotel, and law offices. Over the years it has been remodeled for various uses including retail and apartments, but the remodels haven't always done justice to Wright's vision. Thankfully, Wright on the Park, the local nonprofit that now owns the building, took over the restoration project in 2005, re-opening the hotel in its present form six years later.
Quite a few elements are original to the building, including art-glass windows and ceiling panels; clerestory grilles; and the floor tile in the lounge, which started out as a café. The bricks and terra cotta and polychrome tiles on the exterior were meticulously repaired and restored. Other details, such as the "Spirit of Mercury" bronze statues by Richard Bock that adorned the bank's light fixtures, had to be reproduced.
The overall effect is stunning and has lured Wright fans from all over the world. According to Tracy Knebel, general manager, guests from all 50 states and nearly 40 countries have stayed at the Historic Park Inn. I'm sure Mr. Wright would heartily approve.
As if the hotel wasn't enough, Mason City also offers a wealth of architectural gems including homes in the Prairie School, Victorian, Shingle Style, Foursquare, Art Moderne, and Colonial Revival styles. Many are within walking distance of the Historic Park Inn. Shown here is one of the most unusual homes I've ever seen: the Joshua G. Melson House, a Prairie School masterpiece designed by Walter Burley Griffin and built between 1912 and 1914. Griffin, who was once a student in Wright's Oak Park studio, used poured, reinforced concrete as his medium, tying the house naturally to its craggy cliff site. Ribbon windows with poured-concrete mullions, topped by giant, stylized keystones, make a strong vertical statement. It impressed upon me how versatile and interesting Prairie style became in the hands of Wright's disciples.