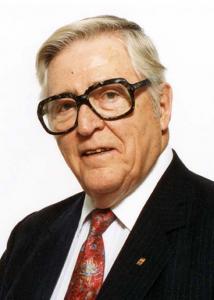 William S. "Bill" Marvin named to Northwest Minnesota's IDEA Hall of Fame
The woods, lakes and fields of Northwest Minnesota have nurtured an impressive array of business visionaries. Among the giants was the late William S. "Bill" Marvin, who built Marvin Windows and Doors from a small lumberyard into one of the world's premier window and door manufacturers.



Bill Marvin's exemplary career was recognized on April 25 with induction into the IDEA Hall of Fame. As the fifth inductee to the hall, Marvin joined previous honorees Andy Wells of Wells Technology; Edgar Hetteen of Polaris and Arctic Cat; and brothers George and Dennis Brazier of MATTRACKS and Central Boiler.



The IDEA Hall of Fame induction took place at the Sanford Events Center in Bemidji, Minn., in conjunction with the fourth annual IDEA Competition. The IDEA Competition seeks to grow the economy of Northwest Minnesota by identifying the next generation of homegrown entrepreneurs and helping them develop their breakthrough ideas.



Bill Marvin joined his father's Warroad, Minn.-based lumber business as the eighth employee and led its entry into manufacturing. Today, Marvin employs more than 4,000 people in five states and is recognized worldwide for its innovative, high-quality products. Bill Marvin was named by Builder magazine as one of the U.S. building industry's 100 most influential people of the 20th century. He died in 2009 at age 92.



"My father was a believer in the power of great ideas," said John W. "Jake" Marvin, chairman and chief executive officer of the Marvin Companies. "He would take an idea from anyone, anytime, test it out and see if it made sense. And if it did, he wasn't afraid to take a risk.



"My father had opportunities over the years to move his business away from Northwest Minnesota, but he valued the spirit, intelligence and frontier ingenuity of the people who make their home here," Jake Marvin said. "He was proud of our region and a tireless promoter of it. We're honored and humbled by this recognition."



The IDEA Competition has already helped 10 startup businesses in Northwest Minnesota become commercially viable. This year's winners will receive a $10,000 cash grant, along with services and direction from Northwest Minnesota's leading business resources.