Remodeling spending is likely to weaken next year, says the latest Leading Indicator of Remodeling Activity from the Joint Center for Housing Studies of Harvard University. But it will still be strong.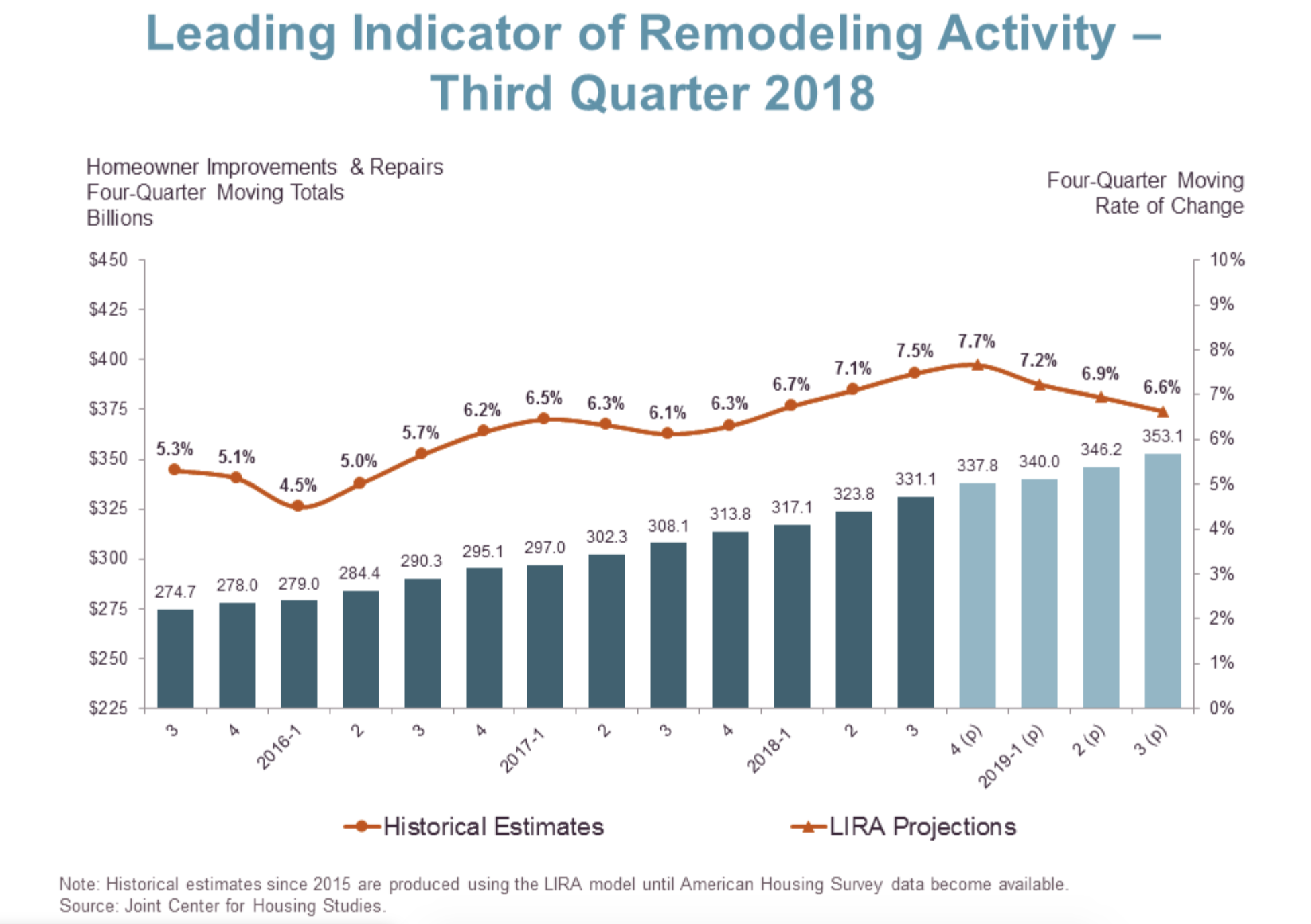 By year's end, spending is expected to hit a peak year-over-year increase of 7.7 percent, putting total remodeling spending for 2018 at $337 billion––about $20 billion more than 2017. Moving into 2019, the rate of spending increase is expected to slow––first to 7.2%, then to 6.9%, and it will continue. Chris Herbert, managing director of the Joint Center for Housing Studies, likened in a statement the softening, but "otherwise very strong growth" to rising mortgage interest rates––now 5.1% for a 30-year fixed-rate mortgage (i.e., seven-year high)––and slow home sales. "Low for-sale inventories are presenting a headwind because home sales tend to spur investments in remodeling and repair both before a sale and in the years following."
But even as the pace slackens, the gains will remain above average in 2019, predicted Abbe Will, associate project director in the Remodeling Futures Program at the Joint Center, in a statement. Other indicators, she explained, such as home prices, permit activity, and retails sales of building materials, are experiencing continued growth, and supporting remodeling spending. "Through the third quarter of 2019, annual expenditures for residential improvements and repairs by homeowners is still expected to grow to over $350 billion nationally."
Past 2019, a Zillow forecast shows home price appreciation as continuing its upswing––a positive indicator for remodeling spending. But it also forecasts a likely recession––a prediction shared by several economists. In a survey of private-sector economists published earlier this year by The Wall Street Journal, for instance, nearly 60% agreed a 2020 recession was likely as the Federal Reserve raises interest rates to cool off an overheating economy.
Still, Zillow economist Aaron Terrazas says that it won't be housing leading the next downturn. "Housing affordability is a critical issue in nearly every market across the country, and while much remains unknown about the precise path of the U.S. economy in the years ahead, another housing market crisis is unlikely to be a central protagonist in the next nationwide downturn."
That doesn't mean remodelers will be immune to the recession, but it is a good sign that it won't be another 2008.
---
---