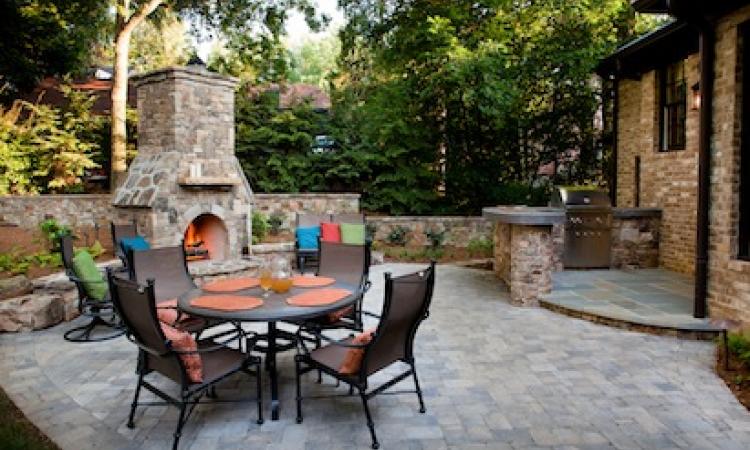 There's design/build, and then there's MOSAIC Group [Architects and Remodelers] design/build. While most design/build companies design and build structural remodels, Atlanta-based MOSAIC Group goes a step further.
"A lot of our projects spill out to the outdoors," says co-owner Rick Goldstein, an architect and Certified Green Professional (CGP). In response, MOSAIC formed a strategic alliance with landscape architect Eric King, ASLA. Goldstein says, "We are able to promote ourselves as an indoor-outdoor design-build company and manage the entire project under the MOSAIC umbrella." Good thing, because David Thurston wanted exactly that kind of comprehensive, one-source service when he set out in May 2010 to reinvent everything in back of his family's house.
King is far more than a subcontractor, explains Goldstein. "We work on a lot of projects together and are able to approach design holistically" through close collaboration.
King adds, "I get involved very early in the process, during the conceptual design phase. Rick and I bounce ideas off each other," so that structural and landscaping modifications are unified, complimentary and cost-effective.
Thurston had "a lot of trepidation" about the remodel, says Goldstein. It had to serve so many functions: hosting informal family activities as well as fund-raising events for 50 to 100 people; providing a sheltered outdoor structure without sacrificing the visual appeal of an ample backyard; and correcting a serious rain runoff problem while retaining a level lawn. Goldstein, MOSAIC architect Terry Muirheid, and King designed a flexible yet integrated space that does it all.

Outdoor rooms
Built in 2003, the traditional-style Thurston house is large, some 6,000 square feet. By comparison, its 250-square-foot backyard patio was pigmy size and inadequate for large gatherings. With no covered area, the slim patio offered no weather protection. And the transitions — from indoors to outdoors and patio to yard — were graceless and abrupt.

The multi-part MOSAIC design encompasses an expanded hardscape featuring a covered area; a grill and eating bar; a fireplace; and great views. Goldstein's priority in designing outdoor space is that it be inviting and convenient. That means easy access from the house, and key features, he says, that are "close and usable."
An early plan placed a fire pit toward the rear of the 150-by-150-foot yard.  It looked good, but did not pass the convenience test. Instead, the team inserted a custom fireplace in a stone retaining wall embracing the patio, where it is a visual highlight yet is close to the center of activity. The low retaining wall provides overflow seating during parties, says King, and forms a patio enclosure that's scaled comfortably for smaller groups.
Likewise, the team planned the grill area for maximum functionality. "We tucked the grill/bar area close" to the house for ease of use, explains Goldstein. For convenient access to the grill, MOSAIC replaced a kitchen window with French doors.  As the plan developed, the design team enlarged the grill station to 90 square feet, recommending to Thurston that it be changed from a stand-alone cooking center to an L-shaped bar with seating space that works as well for family dinners as for parties.
The bar's durable, easy-care, 4-inch poured-in-place concrete countertop lends practicality and it's got plenty of style too. The black concrete with exposed Mexican beach pebbles has an organic quality that compliments the stones and backyard greenery, says King, while adding a funky, urban flair. MOSAIC cantilevered the countertop, supporting it with a robust, fieldstone-veneer column that matches the grill station and retaining wall to enhance the visual connection between the grill area and the patio.
Level changes — a half-step down from the house to the grill and another step down from grill to patio — organize the paved area into linked sections, so that it flows well for large groups but feels smaller in scale at other times. Subtle variations in paving materials, including existing and new bluestone pavers, also define yet link spaces. The curved contours of the structure soften the transition from hardscape to lawn.
"Seeing" the structure
To help clients visualize their new outdoor area, "We try to do a lot of mocking up as we go along," says Goldstein. After rough grading the paved area of the Thurston project, King painted out the patio and fireplace on the ground, and MOSAIC brought over chairs and tables to illustrate furniture layout and traffic flow. This demonstrated that the patio "was a little crowded," says King. Extending the patio and moving out the fireplace wall just two feet made a big difference. The patio now is about 800 square feet.
By building a roof over part of the paved space, MOSAIC defined one "room" of the outdoor area, a sheltered section that supplements the indoor party area and that the Thurston family can enjoy in all weather. MOSAIC's Muirheid says he "worked around a lot of limiting factors," including windows, doors, and weep holes in the house's brick wall, to determine the optimum positioning and slope of the porch's metal seam roof. "I did a lot of measuring," he says. He specified a standard size 14-foot roof to save money and minimize waste.
An early mockup of the 300-square-foot covered porch showed columns with stacked stone bases. But "they made the porch feel too crowded and small," says King. To achieve an airier feel, and save money, Goldstein designed more slender, artisan columns complimented by ornamental rafter tails, all composed with southern pine components and finished in dark brown to match the window trim.
"Every MOSAIC project has some sort of artistic dimension," says Goldstein; it contributes a one-of-a-kind element and is "another good reason for hiring a design/build company with an architect on the team," he says.
"I got with the carpenters," says Muirheid, to problem-solve how to craft the columns and rafter tails. One carpenter used a band saw in his home shop to make the rafter tails. The carpenters carved the geometric profiles of the columns onsite, cutting passes on all sides.
Making the grade
While the columns lend elegance to the outdoor structure, King says the design is "as much about the view away from the house as toward it." Originally a waterfall feature that was hard to see, a perimeter wall hidden by brush, and a plethora of plants and trees — including an enormous, 4-foot-diameter water oak — filled the yard.
"It was kind of busy," says King. He pulled some plants, moved others, and added new ones to simplify the greenscape. By removing stones flanking the waterfall and opening up the stream bed, he made this pleasing water feature fully visible from the patio.
Light spots beam on the waterfall and the fireplace, adding "a nice little kick at night," says King. Sconces softly brighten the outdoor rooms. Yard lights illuminate paths and landscaping around the property.
As for the mammoth tree, King went beyond the tree protection ordinance requirements. He circled the tree with construction fencing, allowing a larger-than-required perimeter. He made sure no paving covered the roots, even removing some existing flagstone, and removed plants that competed with the roots. Mulch now surrounds the tree.
King does not mince words when describing the backyard's drainage problem. "A river ran through it," he says, cutting diagonally across the lawn to a creek bed alongside a retaining wall.
He enlarged the creek bed, adding boulders and ferns for a more natural look. Using a laser level, he carefully re-graded the lawn, channeling water away from the patio to the creek bed with as mild a slope as possible. Crews hand-graded the yard with a tiller, then raked it smooth. Rainwater now runs gently and slowly across the yard, watering the lawn as it goes.
Well, that's after a surprise two days following project completion in May 2011, when heavy rains produced puddling on the covered porch.
"We had to re-grade a little," says Goldstein, slightly sloping the patio to direct water away. Goldstein adds that for aesthetic reasons, "We tried not to do a gutter on the covered porch, but that contributed to the puddling." MOSAIC added a half-round gutter and a rain chain. It does the job, and "is much more decorative" than a basic gutter, says Goldstein.

David Thurston reports that the Goldstein-King team is "very good at those nuanced features that people may not even notice but that improve the overall look of everything." He says the outdoor area is a big success. "We grill outside twice as much" as before, and enjoy sitting outside, whether it's for a rest, a quick lunch, or cocktails before dinner by the fireplace.
Sounds good to Goldstein and King. As King says, "Until they're living in the space — grilling, sitting outside, laughing and enjoying — it really isn't finished." In fact, it still isn't quite finished yet as far as he's concerned. He plans to come back in a year to check in. "Let's let the landscape 'live a year,' he told Thurston, "then we'll see how it looks."