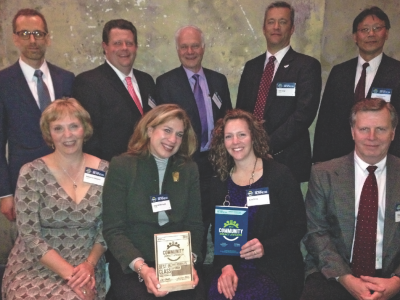 Attendees at the event included (back row left), Jayson Drake, director, Plumbing and Fire Safety; Rusty Callier, director, Operations; Dale Stroud, sr. director, Marketing/Offerings; Bill Gray, president, Uponor North America; Sang Albrecht, manager, Environmental, Health and Safety (EHS); (front row left) Rebecca Lennon, sr. director, Sourcing and Supply; Ingrid Mattsson, director, Brand Management; Kim Bliss, sr. writer, Technical Communications; and Dan Hughes, director, Real Estate, Security and EHS.
In a celebration ceremony on Thursday, Feb. 27, Uponor North America (Uponor) was named a 2014 Community Impact Award winner in the Sustainability Category. Uponor was one of three finalists for the prestigious award that is sponsored by Minnesota Business Magazine.
The Sustainability Award recognizes companies for offering their products or services in a way that's better for the environment.
"We were up against some tough competition, but the emphasis on our triple-bottom-line philosophy, our community involvement and our efforts toward energy reduction at our facility made all the difference," says Bill Gray, president, Uponor North America.
An Uponor team represented by Senior Management Committee members and members of the Sustainability Team were in attendance at the event, which was held at Aria in downtown Minneapolis.
"This award is a great honor for our company," says Gray. "It validates the hard work and efforts in sustainability done by many at Uponor, and it helps promote Uponor as a sustainable, vibrant company that is invested in long-term growth and success."
To learn more, read the article in the March issue of Minnesota Business Magazine that features all the winners. PR