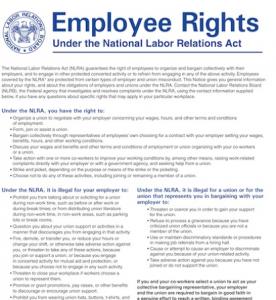 A rule that would have required businesses with more than $500,000 in gross business volume to post a notice notifying employees of their collective bargaining rights has been delayed by a judge while court challenges to the rule proceed.
The rule, issued by the National Labor Relations Board, was scheduled to take effect April 30.
The U.S. Court of Appeals in Washington Tuesday granted a request by the National Association of Manufacturers and other business groups. The NLRB says it intends to appeal the ruling.
Under the rule, the notice is required to be 11 x 17 inches and can be downloaded from the NLRB website at www.nlrb.gov/poster.
The poster must be "posted in a conspicuous place, where other notifications of workplace rights and employer rules and policies are posted," the NLRB says. Failure to post the notice would be considered a violation of unfair labor practices laws.