Kliethermes Homes & Remodeling office manager, Elaine McCrary, is no stranger to recruiting top talent. McCrary originally relied on traditional methods of hiring (e.g. word-of-mouth and print ads) but transitioned to digital recruiting methods over the last decade.
"The reach of our help wanted ads was limited geographically before online platforms existed," says McCrary. "Now, we can get applications from people across the country who are looking to make a move."
Large online job boards (e.g. Monster and Indeed) are great for casting a wide net for potential employees, but industry-specific job boards narrow those search results without much effort on the part of the employer. These sites cater to individuals with a niche set of skills (e.g. masonry or carpentry), making them particularly beneficial to the trades.
The latest GuildQuality Market Predictions Report revealed that for the 10th quarter in a row, home builders, remodelers, and home service professionals are struggling to find and hire qualified labor. In fact, more than 60% of respondents rated the availability of qualified labor as "Poor" or "Horrible". 
Generic online job boards are great for casting a wide net, but industry-specific job boards quickly narrow those results. 
It takes time to find the right employee, and it takes even longer if your hiring process isn't up-to-date. Consider these best practices when creating an online job posting to fully take advantage of the platform:
Hone In on Job Title
When candidates search online for jobs, they use only a few specific keywords, including job title and location. Often employers include filler words or jargon to differentiate their listings, but job seekers only want the specifics that matter to them. 
Including keywords that accurately reflect the nature of the job, required skills, and location, increases the chances of it appearing in search results. A job title should also indicate ranking level in the company (i.e. entry level, managerial) to better determine if an applicant is appropriately qualified. Avoid gender-specific pronouns, such as salesman or saleswoman. Not only is this considered discriminatory in today's professional environment, but it shrinks the pool of candidates available to you.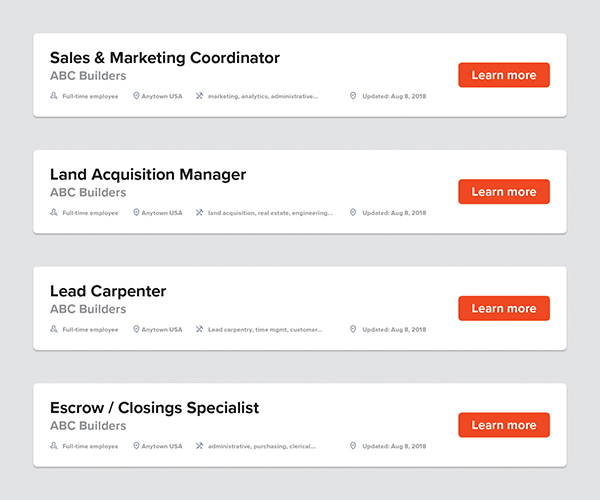 Keeping job titles to-the-point and free of jargon makes it easier for qualified applicants to find your listing, and helps weed out those who aren't a good fit. 
Use Bullet Points to Your Advantage
Avoid lengthy paragraphs throughout your job posting, especially when laying out job requirements. Bullet points separating specific duties and obligations in the body of the posting allow candidates to quickly skim a listing without missing important details. 
Each point should contain an action and a purpose ("collect and analyze analytics in order to monitor consumer awareness"), along with an estimated percentage of time spent on that duty. 
Address Desired Skills and Competencies
Include a section separate from job duties to lay out what skills and competencies are needed to accomplish the job duties. Skills are learned activities from prior experience or training (e.g. proficiency with CoConstruct), while competencies are intrinsic characteristics that cannot be taught (e.g. outgoing and charismatic). Both sets of characteristics affect a candidate's ability to do the job in question. 
This is also a good time to assign a salary range competitive with similar positions in the industry and define working relationships at the company so candidates can explore the reporting structure.
A job posting is an advertisement to join your business, so it should be persuasive and outline your unique company culture.
Highlight Company Culture
Remember, a job posting is an advertisement to join your company, so it should be persuasive. In order to do this, you need to have already defined your unique company culture. (For tips on how to do this, see "Selling Your Why", July 2018.) 
Doing so allows you to better determine which candidates would blend well into your company and which might be better suited for a role elsewhere.
Keep Company-Specific Needs in Mind
Although large online job boards are effective tools for many businesses, they don't work for everyone. Dana Ferrer, Executive Administrator at Capizzi Home Improvement, has found that these sites are mostly ineffective for hiring trade positions. "Even when putting in required location, skill level, etc., we frequently receive totally unqualified candidates," says Ferrer. "The cost of these job boards can also become burdensome if you don't carefully monitor your budgeting requirements."
Free job boards for remodelers and contractors exist, but be realistic about what you can afford
to spend (both time and money) on online recruiting to save employers and job seekers a headache. 
---