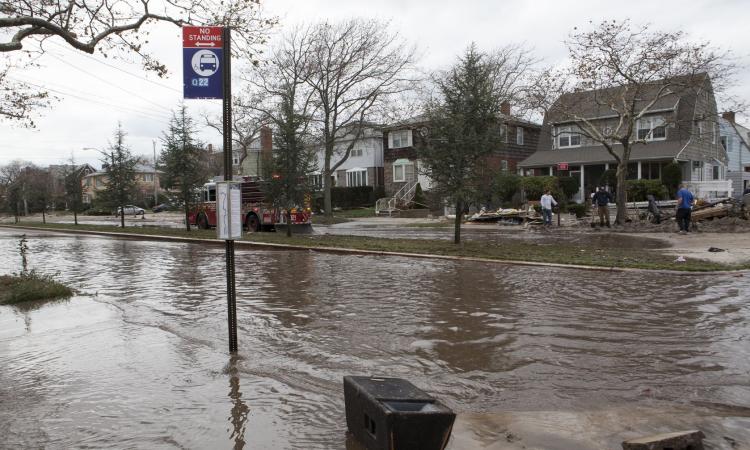 Roads were closed for two months following Sandy. When homeowners finally returned, they found acute damage.
For the Caputo family of G&L and Sons Renovations, Cedar Grove, N.J., Hurricane Sandy hit home in more ways than one. The mammoth October 2012 storm devastated houses on the state?s barrier islands, including the Caputos? shorefront vacation home.
Roads to the area were closed for two months following Sandy. When homeowners finally gained access to their properties, they found acute damage. Several turned to G&L for help. ?A lot of people [in the area] knew we were home remodelers,? explains David Caputo, CR, who co-owns the full-service, northern New Jersey remodeling company with his father and brother. ?We met with homeowners,? offering to perform initial, insurance-authorized demolition; assist in finding a mold remediation specialist; and prepare a proposal to rebuild.
?We did the demo on four homes,? Caputo says. The owners of only one of the four properties?the one covered by flood insurance?asked G&L to move forward with the rebuilding phase.
Though G&L had no prior experience with insurance restoration, Caputo successfully navigated the muddy waters of Hurricane Sandy remodeling. He did it by determining what work not to do, as well how to meet the expectations of insurance companies.
What not to do? The homes displayed severe mold infestation, but G&L steered clear of mold remediation. ?We don?t handle mold,? Caputo says. ?We looked briefly into adding another rider to our insurance, but it was not worth the investment, and was not a liability we wanted.? To help G&L?s clients, however, ?We interviewed five or six mold remediation companies, got proposals from them, shared the proposals with the homeowners, and gave our recommendations? as to which proposals to consider, Caputo says. G&L left the decision, and the responsibility, with the clients.
Meeting the expectations of insurance companies? A relatively simple written proposal for demo passed muster with the carriers, so G&L moved ahead quickly with this work. Meeting the requirements of the insurance company for the rebuilding phase called for an extremely detailed estimate. With a background in business administration and information technology, Caputo was up to the challenge. ?We use Sage 100 Contractor? estimating software (formerly called Sage Master Builder), he says, ?and can break down estimates by room, square footage, linear measure.? Some of G&L?s trade contractors already provide detailed estimates; Caputo had to work closely with others, such as the electrician, to develop the specific detail required. ?There was a lot of back and forth with the insurance adjuster,? Caputo says, [to finalize the estimate]. Once the reconstruction began, he says, the adjuster was ?very willing to work with us? to honor documented changes to costs.
As for the Caputo family?s vacation house, it?s a tear-down. The property is located between two highways. ?We didn?t have flood insurance,? Caputo says. ?In the past, during a bad storm, we have had a couple of inches of water come down the street because the storm drains backed up, but we never expected the ocean to meet the bay. We plan to get flood insurance for the new house as a just-in-case.? PR