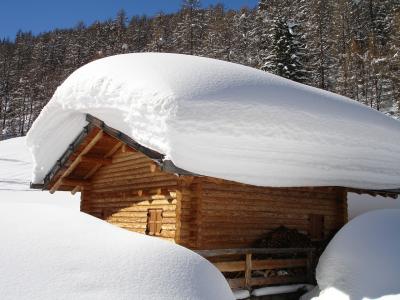 Winter's almost over—or at least they're hoping that's the case in places like Boston which, clobbered by blizzard after blizzard, has had to deal with a total of about seven feet of snow. Could roofs collapse under all that weight? In fact, some of them can and have. As of Feb. 21, according to USA Today, "dozens of roofs" in New England had fallen in; 44 in just a two-day period. An engineer told the Boston Globe that any roof accumulation of 18 inches or more poses such a threat. FEMA says otherwise. According to the USA Today story, "FEMA says there are many factors that go into 'snow-induced structural failures,' including a roof's shape, slope, construction, maintenance, exposure to wind, and the type of snow that has accumulated."
Responding to steady doses of near-hysterical weather coverage, including dire warnings, some homeowners took it upon themselves to remove the snow as quickly as they could. Predictably, this resulted in accidents, injuries, even several deaths. One Braintree, Mass., man mounted his roof determined to remove the snow there and quickly found himself trapped on a sheet of ice. A neighbor called the Braintree fire department, which soon arrived to help the homeowner off the roof.
Not far away, in Peterborough, N.H., homeowner Dean Mullins narrowly escaped after being buried by sliding roof snow. Responding to the appearance of a leak on the ceiling of his daughter's bedroom, Mullins mounted the roof armed with a snow rake. After clearing some snow near the eaves, an avalanche of snow from higher up crashed down, burying him. Hours later, Mullins' wife arrived home and, hearing what sounded like whispering on the roof, called 911. Mullins survived. 
Inexperienced crews hired to remove snow from commercial buildings have suffered injuries as well. A New Hampshire high school student engaged in that activity slipped and fell through a skylight tumbling three stories and landing on a coat rack. He was med-flighted to a Boston hospital, where he is recovering.
Meanwhile, the Boston Globe reported that two men died while clearing snow from commercial roofs.
"The deaths came as Massachusetts residents have scrambled to prevent collapses or other damage because of accumulated snow and ice," the paper notes.
Boston's municipal government issued an advisory warning that while the current loads of ice and snow do not present the threat of collapse to most commercial and residential roofs, there are situations where roof collapse could happen. The city of Boston advised that citizens should be "mindful of the potential for roof collapse" and advised removing snow and ice from roofs, gutters, downspouts, and decks.
The city also advised residents to "hire a contractor to remove snow/ice from your roof and all other areas you cannot reach." Shane Miller, of Competitive Roofing, in Cicero, N.Y., whose crews clear roofs for customers, tells a central New York TV station that homeowners would be smart not to get up on the roof and try to clear the ice and snow away themselves. "It's quite slippery, and the bottoms kick out a lot," Miller says.