The Institute of Advanced Industrial Science and Technology (AIST) in Japan recently unveiled the latest in its lineage of HRP humanoid robots. The line's newest addition, HRP-5P, is being touted as a significant leap towards the true automation of jobsite labor. 
In Professional Remodeler's June 2018 cover story, "I, Remodeler," we examined the early encroachment of robotics into the construction world, and learned of the engineering roadblocks keeping it from remodeling jobsites. "You don't have assembly line repeatability in remodeling and home improvement," said Timothy Wenhold, chief innovation officer for Power Home Remodeling Group. "We need a melding of AI and robotics."
After five generations of HRP robots, that's exactly what AIST has purportedly created.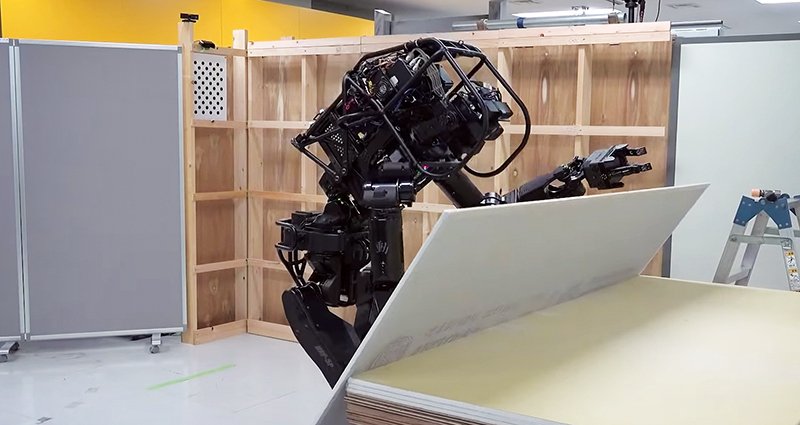 "We aimed to replace heavy labor work," the report's authors wrote. "(HRP-5P is) a humanoid robot that combines (a) robust body and advanced intelligence, and can autonomously work with robots alone." 
In a demonstration of HRP-5P's capabilities, researchers had it hang drywall. It created a dimensional map of the environment; leaned on the workbench while shifting the stacked drywall to lift only one sheet; carried the sheet to the wall frame (acknowledging the surroundings); lowered the sheet against the wall; found the tools it needed to fastened the drywall; and then screwed it into the wall (while holding the furring edge for stability).
The popular argument against robotics in remodeling—apart from price, which remains and will likely persist, at least in the short term, as too high for most contractors—is that remodeling jobsites are too unpredictable to automate. HRP-5P is, at the very least, evidence to the contrary. To the robot's builders, it's a sign of the machine's viability as a long-term labor analog.
"Robot intelligence research and development on the platform is aimed at autonomous replacement of various work at the site of assembly of large structure such as building, house, aircraft, and ships," reads the report. "This will compensate for the shortage of workers, free human beings from heavy labor work, and support to focus on higher value added work."
---
---