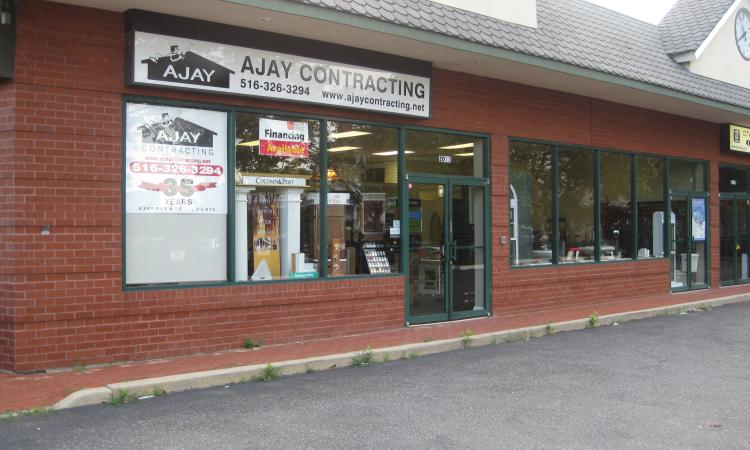 The fire, while tragic, allowed Zolla to create a brand-new, larger showroom in the new building, displayed through 60 feet of s
On the afternoon of Saturday, Sept. 3, 2011, Tony Zolla — owner and president of Ajay Contracting, a design-build and general remodeling contractor on Long Island — was celebrating his son's recent engagement. He was hosting his future daughter-in-law and her family for dinner at his home in the Hamptons and spending time on his boat.
Returning from a boat trip at 4 p.m., Zolla's cell phone rang: A fire had broken out in the building attached to Ajay at 11 a.m. By the time Zolla arrived around 5:15 p.m., there was little left of his office. Fire was only partly to blame; in their progression through the walls, the flames had also burst several pipes, soaking the entire building.
"We were gone — computers, printers, everything totally wiped out," said Zolla. Anything left out on desks or tables — including all of the documentation for a contract audit the staff had been preparing for when everyone left on Friday — was destroyed.
On a personal level, perhaps most upsetting was the loss of various memorabilia collected since Zolla's father Jack started Ajay in 1977. They had been in Floral Park, N.Y., for 25 years, and had accumulated countless photographs, gifts, and other mementos.
Finding a new home
As at any other time when disaster strikes, the staff of Ajay Contracting was left at a loss as they stood amongst the remains.
"I had 300 people asking me, 'What are we going to do tomorrow?'" said Zolla. "I said, 'Show up and I'll tell you in the morning,' because I had no idea."
Fortunately, some of Ajay's commercial neighbors informed Zolla of an open warehouse space on the same block. He acquired the space and picked up the keys on Sunday, and he and his staff leapt into action. The first step, according to Zolla, was salvaging data.
Thankfully, living in the digital age, the majority of important information — including schedules, purchase orders, contracts, etc. — was computerized and backed up on portable hard drives every month that are kept off-site. Most of the non-digital items were related to current, ongoing jobs, at the stage where they can practically run themselves, according to Zolla. The solution there was as simple as buying new computers and installing the hard drives. 
Other information was saved by decidedly low-tech measures: steel filing cabinets. "The amazing thing is, when you have an office totally drenched in water and you have files in a regular steel filing cabinet," says Zolla, "no water goes inside, so none of the files were damaged."
More challenging was getting communications back up and running, particularly the phone system. Several calls had to be made back and forth with their phone provider as it was a holiday weekend. Regardless of that, on the following Tuesday — just three days after their entire office was destroyed — Ajay Contracting was open again for business.
Seizing opportunity
The warehouse space served its purpose — acting as a short-term place for Ajay to continue to meet with clients. But there was still a sense of urgency to find something more permanent. "I have tons of meetings with first-time clients to put them at ease," Zolla said. "And now we're in an office where you don't have a sample of this or that; or if I talk about a reverse gable or a flying gable and the person doesn't know what I mean, then I have to show them a picture, but all that's not at your disposal anymore."
Location was one of two key criteria as he commenced the search. Ajay Contracting was centrally located betweens Queens and Nassau, and Zolla did not want to give up that prime position.
He also wanted to find a larger space, which would allow him to build a larger, state-of-the-art showroom. "With the economy the way it is, most people are working such long hours that they don't really have time to shop for the things that we would install," he said. The idea was to create a "one-stop shop" for anyone who came into Ajay.
Preparing for the worst

---

It's impossible to anticipate every situation that could befall your business, but it's also best to prepare for any eventuality. Tony Zolla offers a few tips for handling emergency situations:

Never be unreachable.
Maintain close relationships with those around you — suppliers, vendors, and neighboring businesses included.
Have plenty of photographs and other documentation of everything in your office for insurance purposes.
Keep separate electronic backups of all information and make sure to update those sources regularly.
It turned out luck was on Zolla's side again, as he quickly found a space in New Hyde Park large enough to encompass his vision, just two miles down the road from the temporary office. From there, Zolla, an architect, worked out the design, an open plan centered on the new showroom. Nearly 60 feet of storefront glass help create the open feel and bring in plenty of natural light. The expansive space features everything from roofing and siding to cabinets and plumbing fixtures.
Ajay Contracting reopened in its new location, with the brand-new showroom up and running, on Nov. 21, 2011, less than three months after the fire. Zolla credits his entire staff as the reason they were able to come back from disaster so quickly.
"As a company, we've always worked as a team," Zolla says, "whether it's our office staff working with sales and production or our subcontractors, suppliers, and vendors. That's been our success." PR