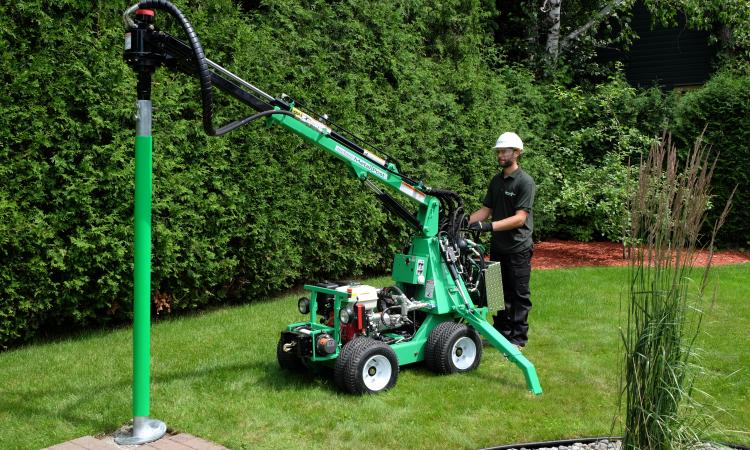 Maurice Meagher
Halifax, Nova Scotia
Traditionally, when we'd build a deck, we would use a machine excavator. We'd excavate the holes, put in a concrete footing, and then the post would go above that. But we've found a better way.
Techno Metal Post's helical piles are like a giant corkscrew with a metal tube and a saddle posted on top where a beam would rest. The size we choose depends on the load the post needs to carry, and the machine needed to install it gets a bearing capacity for depth. In certain soil, it may have to go deeper. 
You can either buy the installation machine, rent it, or contract with someone who specializes in installing these. Each of those options costs less (over time) than hiring an excavator. And the machine is smaller than a mini-excavator and can access areas where an excavator may not be able to go. Now we can install decks and sunrooms more quickly. The posts eliminate time waiting for concrete to cure and the need for a building inspector—instead we only have to show documentation that the work was done. There's also no need for anyone to wheelbarrow and pour concrete. Since there's no waiting around, after the footings are in, carpenters can start building right away. 
I've been using Techno Metal Posts for about four years. The only downside is that they're not a good solution in rocky soils. 
Using these posts makes our costs easier to determine. We now know the cost of the materials, and the installation company we work with gives us a price per footing. We don't run the risk of overrunning our allowance.