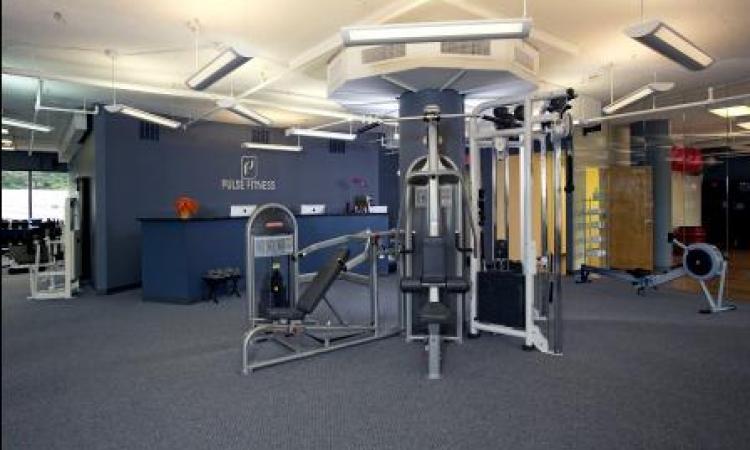 Building out a fitness center amounted to boot camp for Smiley Renovations. As a first foray into nonresidential work, the build-out plunged the Silver Spring, Md., design-build company into the world of regulations, requirements, fees, and potentially expensive modifications associated with light commercial remodeling. Smiley owner Daren Smith emerged from the bruising workout in prime condition to grow his company in new directions.
Looking to open a boutique fitness center called Pulse Fitness, Smith's fiancée, Lisa Platnik, thought the second floor mall space available in a Bethesda, Md., mixed-use complex would be perfect. The location was convenient for her existing client base and included ample parking in a nearby lot. Already zoned for non-office use and set up with separate utilities, the 3,200-square-foot space was primed for the quick turnaround Platnik needed in order to open her business in late 2011. As contractor and fellow investor, Smith expected smooth sailing.
Fit for fitness
Both he and Platnik were in for surprises. An early test fit, including paper models of fitness equipment, quickly convinced Platnik that the space was too small. She looked at larger space on the fourth floor, and Smith again prepared detailed measurements for a test fit. In September 2011, Platnik leased 5,838 square feet on the fourth floor, almost doubling the size of the planned fitness center and making room for everything she wanted: a large group exercise room, a spacious area for cardiovascular and weight-training equipment, a cycle studio, several Pilates rooms, a massage room, an office/laundry, and an airy reception area. Neon signs in the window would provide adequate exposure without the need for storefront or interior mall access.
Product list

Carpet tile: Centaur Floor Systems

Flooring: Kronotex

Flooring underlayment: Sunco

HVAC: Trane

Lighting main gym uplighting: Lamar Lighting

Lights over bathroom mirrors: Alico, Besa Lighting, Kovacs

Plumbing fixtures: American Standard, Delta, Kohler, Allora

Soundproofing insulation: Roxul

Speakers: Bose
In addition to more space, the fourth floor area offered several important benefits. Because the back of the building tucks into a hill, much of the Pulse Fitness space tops a ground floor garage, so despite its nominal fourth floor location there are no tenants below the gym who might be disturbed by noise and vibration from the facility. Likewise, the space stretches across a long window wall, limiting exposure to adjacent tenants while bathing the space in natural light.
Unlike the second floor, however, the fourth floor was not zoned for the high-density assembly use represented by a fitness center. Smith found himself immersed in negotiations with the county to obtain a go-ahead for construction, and was required to obtain a full change in use permit. The process involved showing the county that, thanks to the building's in-hill site, the fourth floor actually was only one story above ground, so that it already met the egress

requirements for fitness center use. After three months of discussion and prep work by Smith, the county agreed to issue a permit.
Power and energy
Moving to the fourth floor more than tripled the project's HVAC budget and added high, upfront electrical costs.
"Because a gym requires high air exchange rates and generally has a lot of people working out," says Smith, Pulse needed a dedicated HVAC system separate from the other spaces on the fourth floor. A single commercial rooftop HVAC unit would be too costly to put in place, he says. Instead he installed five smaller heat pump units for different areas of the gym.
The financials

---

Smiley Renovation's fitness center build-out was in some ways a family affair because Smiley owner Daren Smith invested in the project with his father as silent partner and also with his fiancée, Lisa Platnik, who founded and runs the Pulse Fitness, Bethesda, Md., business. But the financial separation between fitness center and remodeling company was "pretty black and white," says Smith. The project represented "considerable time for my company," he explained, so he applied the same profit and overhead multipliers used on all Smiley projects.

As his first foray into light commercial work, however, it brought some financial surprises. One: "The landlord gave us a generous allowance for the build-out," says Smith. Another: In the final inspection, days before the fitness center's official opening, the county told Smith that the fire alarm system needed strobes and had to be tied into the building's main alarm system. "We won a 30-day waiver so the center could open on time," says Smith, but went back in later to complete the $20,000 change.

"I took some licks," admits Smith, as a newbie to commercial remodeling. "There were a lot of hoops to jump through, and so many more rules and regulations" than in residential remodeling."

"I'm educated now, though," he says, "and I don't want to see that go to waste."

He probably won't have to. The word is out about Smiley's good work on the fitness center. Other fitness centers have contacted Smith about remodeling, expanding, and building out new locations for them. The building owner, which is headquartered in another city, is interested in hiring Smith for general light commercial projects in the Washington metropolitan area. "We are excited," says Smith. "This may be a new niche for us."
As for powering the system, Smith says, "We needed to prove that HVAC for the new space would not overload the existing electrical supply."
Over the years, all labeling for fourth floor electrical panels had been removed.
"We had to trace down all the electrical circuits, label the panels, and calculate the loads for the fourth floor." After this long, labor-intensive process, Smith concluded that Pulse's HVAC system called for installation of a separate electrical line from the first floor electrical room and a separate electrical meter for direct billing.
"Ultimately," says Smith, the HVAC and electrical upgrades "will be a blessing. We can control our own system, which is better for power consumption" and represents a cost management opportunity Pulse would not have had if connected to the building's shared system.
Good neighbors
Keeping other tenants happy was another area of concern for Smiley. The electrical work entailed power and water interruptions for fourth floor tenants, which included a travel agency (using computers and phones all day) and a corporate management business (computer-managed national payroll). Drilling holes in the roof and in 8-inch-thick concrete slab for utility installation created noise and vibration that affected a first-floor surgery center as well.
Budget history

---

Initial estimate: $197,000

Bid additions: $173,000 (additional plans and fees: $10,200; new electrical service: $33,500; HVAC and ductwork: $66,000; venting; $16,500; plumbing: $10,500; paint and drywall: $15,000; flooring: $8,000; lighting: $4,000; general build-out: $9,300)

Final estimate: $370,000

Change orders: $106, 000 (redesign and design for added space: $8,500; bathroom upgrades: $18,000; construction of added space: $18,500; flooring upgrades: $6,000; upgraded doors and hardware: $3,500; electrical upgrades and changes: $7,000; reworked sprinkler system as required: $7,000; additional low voltage wiring required: $6,500; additional permit fees charged by county: $8,420; additional life safety features required by county: $22,580)

Final price: $476,000
"I went in [to every neighboring business] and introduced myself right away, gave them my personal phone number and asked them to let us know if we were disturbing them," says Smith. As extra damage control, he scheduled most of the drilling for off hours, running the HVAC fans to help mask the noise.
Whenever possible, Smith provided the neighbors with advance notice of interruptions to power and water. The main power shutdown started at 3 a.m., so that power was restored by the start of the business day.
With their loud microphones, pulsing music, and the impact of energetic activities, Smith knew that some fitness classes could disturb other tenants once the gym opened for business as well. That's why he placed spaces for those classes along the outside wall of the gym. He also installed special noise reduction insulation in the wall cavities and covered all walls with two layers of 5/8-inch drywall. In class areas, he sealed all metal studs in the ceiling and the floor. Since the gym opened, says Platnik, "We haven't had one complaint; the soundproofing worked."
Custom quality
Platnik says she wanted the design of Pulse to express "the personal service and high-end quality" of the business. "This was major for me," she says. As a residential design-build remodeling company characterizing itself as "providing quality-driven custom designs," Smiley Renovations was well prepared to deliver that premium look. Smith established a distinctive theme of curves, with a

circular reception area, rounded pillars, a rounded front desk, curved glass walls, plus lighting and ductwork installations in a rounded pattern. "There are no straight lines," says Platnik; "It makes the space feel much bigger."
Each of the bathrooms has a different, custom look, representing the luxury and personalization of a residential bath; two are ADA compliant. Platnik selected fine finishes and materials, such as granite counters, vessel sinks, stone and metal wall detailing. One bath even has a marble floor.
A maple-tone laminate floating floor in the Pilates studios matches the maple of the Pilates equipment. Smiley removed dropped ceilings in the exercise areas to accommodate workout equipment, painting the exposed ceilings bright white and installing up lights instead of piercing can lights overhead. Recycled fluorescent fixtures add supplemental lighting where needed. Calming gray and blue tones reinforce the ambiance of quality and professionalism. "This doesn't feel like any other gym," says Platnik.
"Everything cost more than expected," says Platnik, "but it was all so worth it. People are shocked when they come into the gym [for the first time]. It is so much prettier than they would think possible in an older building."
This good impression has helped the fitness center get off to a strong, healthy start. Smith says the gym was closing in on selling $100,000 in memberships and personal training contracts in the first two months after opening in July 2012. "We're way above what we expected," says Platnik. PR