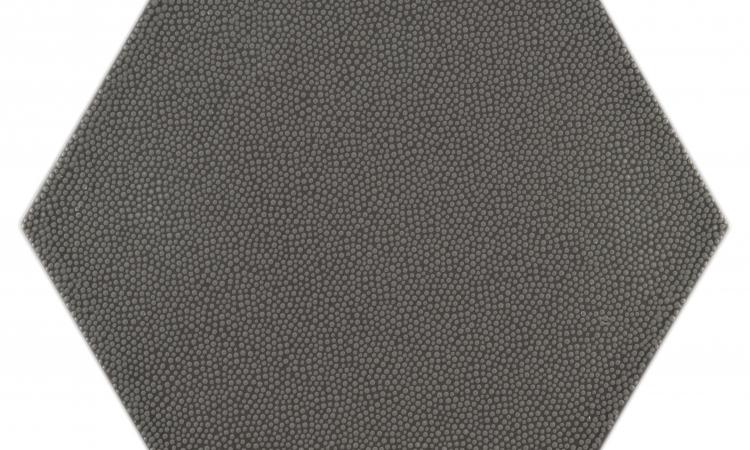 Hexagons are one of the most popular tile shapes today, followed closely by chevron patterns.
When you ask tile manufacturers to take a step back and look at how things have changed over the last several years, they themselves are floored.
"It has been exciting to observe the trend changes in the tile industry in recent years, especially in terms of product innovation," says Lori Kirk-Rolley, vice president of brand marketing for Daltile. 
"It's an exciting time in the tile industry," adds Mikeal Jensen, director of residential design for Crossville. "Advancements in technology—such as digital printing—keep leading us to new capabilities that are resulting in new trends." 
In other words, technology has rapidly accelerated  the evolution of the tile industry—almost as fast as manufacturers can dream new ideas—which has ultimately opened up a new world for remodelers. "Remodelers now have more options than ever before in terms of colors, thicknesses, and fabrication styles," says Daniel Sanchez, sales director for TheSize.
Better Than Real
One of the most popular current trends across the remodeling industry is the desire for composite materials that have the look and/or feel of natural elements. Decking is a prime example, where homeowners want to maintain the appearance of using real wood while reaping the low-maintenance benefits of composite boards. Tile is no different, and offers an even wider array of textures and aesthetics that it can mimic, whether the base is porcelain or ceramic.
As Jensen puts it, "Unlike ever before, we're able to effectively recreate the nuanced details of materials such as wood, marble, volcanic rock, concrete, even textiles." 
Those nuanced details are the product of inkjet printing and other high-tech techniques, which Kirk-Rolley says "have allowed designers to create visuals never before imagined, even by Mother Nature. 
"Images can be combined, overlaid, and altered, opening up a whole new world of design possibilities."
Combining images or textures like that can lead to a completely different look, like with the Fontanella collection from Marazzi, a Daltile brand, where wood and stone are brought together to act as one. By the same token, Crossville's Reclamation collection integrates wood and concrete designs to achieve an industrial feel. 
"You'll have to look more than twice to know whether [they] are the real thing or not," says Jensen. 
And according to Kirk-Rolley, homeowners are less and less concerned with making the distinction. 
"Consumers are recognizing these inherent benefits, coupled with the most innovative decorating technology, as superior to the 'real' thing," she admits. 
Wood Looks Good
While the possibilities for unique combinations are almost limitless, manufacturers concur that faux wood tile is still the most frequently requested design amongst homeowners. As with composite decking, using wood tile gives the appearance of a hardwood floor without worrying about warping, rotting, or any of the other aggravations associated with real wood.
"What was first introduced as a traditional take on hardwood floors has evolved to include more colors and textures to choose from than ever before," says Kirk-Rolley. For example, Ragno USA (a Daltile brand) offers the Woodstyle Porcelain collection, which uses 3-D printing to achieve realistic graining and scraping effects for a warm ambience reminiscent of walnut. 
An emerging movement within the wood tile sector, according to Ann Sacks' DeeDee Gundberg, senior new product development program manager, is introducing a distressed-wood look for tile. Advanced printing techniques give these pieces the appearance of wood that has been weathered, aged, and even burnt.
And it's not just the floor that's getting the hardwood treatment—wood tiles are common on walls too, mostly in the kitchen and bathroom. As an added perk, wood tiles will better withstand the heavy traffic and high moisture prevalent in both rooms, where real wood wouldn't last long. "Homeowners love being able to enjoy the style of wood in the bathroom," Jensen says.
New Ideas Shaping Up
Asking around reveals that homeowners are starting to think outside the box when it comes to tile shapes, and are looking for something that stands out. While squares, diamonds, and rectangles long reigned supreme, manufacturers are reporting increased interest in a wide array of geometrical designs.
"Traditionally, when considering tile for a project, remodelers would default to that subway-tile, mosaic-esque design," says Sanchez. You may still find squares, rectangles, and other linear mosaic-type designs, he says, but they're largely limited to backsplashes and other details. "Clients want seamless waterfall countertops and infinity drains for their showers, so standard subway tile isn't the ideal choice," adds Sanchez.  
If square tile has become too square for homeowners, what, then, are they turning to instead? 
"Hexagons especially have exploded in the market," reveals Gundberg, "and are in every medium, including stone, ceramic, glass, and porcelain." Since squares and rectangles were at the front of the pack for so long, hexagonal tiles — like Ann Sacks' Paradigm — offer a similar shape while providing some extra flair. Not far behind the hexagon in terms of popularity, says Jensen, are chevron and herringbone designs. Both patterns feature prominently in Crossville's Yin+Yang collection, which also mimics natural stone.  
Some homeowners go so far as to mix and match tile shapes to create a truly unique look. "There's an art to that, though," warns Jensen. Put it together poorly and the effect can be jarring. He adds that you rarely see multiple shapes in a single surface; instead, you might see ideas like: herringbone on the floor matched with plank sizes on the wall; or elongated hexagons on the inside of a shower niche, with the rest of the wall covered in linear mosaic tiles.
Supersize It
Regardless of what shape or texture the tiles are, odds are homeowners will ask for large-format panels. The trend started in Europe and immigrated to the U.S. several years ago. Manufacturers and remodelers have spent that time mastering production and installation, leading to today where "we're hitting our stride with large-format, thin porcelain panels that are measured in feet, not inches," says Jensen. Those larger sizes mean fewer tiles are needed to cover a floor or wall, which in turn means fewer visible grout lines to create that seamless appearance.  
For remodelers and installers, large-format offers a number of practical advantages that make them worthwhile. For starters, even though the tiles themselves are larger, thicknesses are often no different than smaller formats, keeping them lightweight. Panels in TheSize's large-format Onyx collection, for example, measure 40 inches by 10 feet, but are just 3 mm (about 1/8 inch) thick. This makes them easy to cut to create custom designs. At the same time, Onyx panels are scratch- and heat-proof, making them a durable option in numerous applications. 
Jensen has seen homeowners and remodelers team up to get extremely creative with Crossville's Laminam large-format tile. "We're seeing [them] choosing these generously-proportioned products to create fireplace surrounds, kitchen backsplashes—really sophisticated looks," he says. 
No matter how these products are used, Sanchez is confident that manufacturers will continue striving to make large-format tile bigger and better. "There will always be an arms race over who can make tile the thinnest and the biggest, but the deciding factor will always come down to durability," he says . "At some point, we'll reach a limit on thickness and size, but durability can always be improved upon." 
Bold and Beautiful
As interest continues to grow in these cutting-edge trends, homeowners may start to become wary of their effect on a remodeling budget. "[They] should get pricing before assuming products they love would be out of range," advises Jensen. "Specialty tiles may increase the budget somewhat, but it's often well worth the additional expense for the really exceptional looks that are achieved."
Jenson notes that while the product itself may be on the expensive side, installers might realize efficiencies that can help bring the project in on budget. For example, large-format tile requires less grout, which translates into reduced installation time.
All in all, with so many options and the number continuing to grow, homeowners can more than likely find the perfect tile for any look.
"Designs are becoming increasingly bolder and tile is taking a starring role," concludes Kirk-Rolley. PR