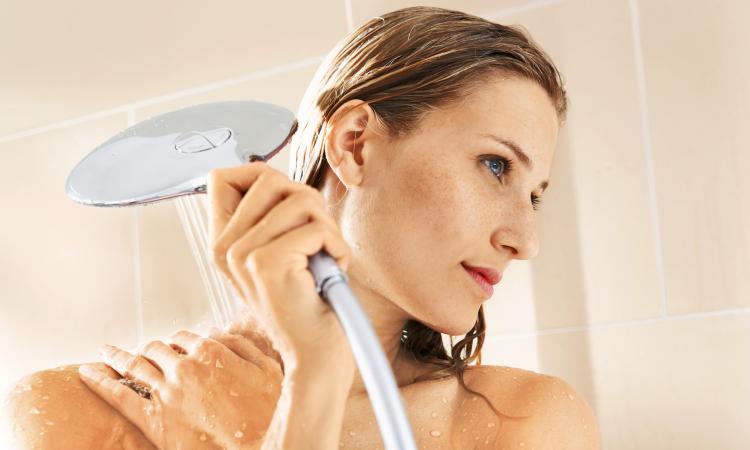 Grohe's Power and Soul
The Energy Policy Act of 1992 established a maximum flow rate of 2.5 gpm for residential showerheads manufactured, sold, and installed in the United States.
As a result, many manufacturers began including flow restrictors in their shower systems to comply with the new law. Although these devices brought flows below the mandated threshold, the decrease in water often led to diminished performance.
First, the drop in flow acutely affected homes already on the low end of pressure ratings, further cutting spray force. In many other instances, showerheads merely tried to force water out harder through their jet nozzles to compensate for lower flows, needling users and reducing coverage.
Water conservation awareness has only intensified in the meantime, with efforts such as the Environmental Protection Agency's WaterSense program lowering optimal flows for residential showerheads to 2.0 gpm. In the scramble to satisfy the sustainability concerns of the government and consumers, manufacturers have had to find ways to moderate flows without compromising the shower experience.
"You can keep lowering flows, but there's going to come a point of diminishing returns," says Derek Taylor, a product specialist for Hansgrohe. "You may be using less water, but the water isn't doing the work that you need it to do anymore."
Instead of perceiving the issue purely in terms of water conservation, many manufacturers have taken a different approach—they are seeking to make the water their shower products use more efficient.
Less water, more pleasure
With this concept in mind, Hansgrohe developed its AirPower technology to reduce the demand for water but maintain showering enjoyment. The spray disc of an AirPower shower draws in an ample supply of air, then injects that air into the water within the systems' internal waterways, or "engine." About three liters of air are transferred to one liter of water.
"The air is a way for us to dramatically reduce the flow rate without sacrificing the comfort of the showerhead," says Taylor.
Water enriched with air produces droplets that are bigger, lighter, and softer, Taylor adds. Hansgrohe first implemented the technology in its Raindance collection a number of years ago. The company's latest offering, the Raindance E Select 120 Air handshower, incorporates AirPower technology and flows at 2.0 gpm, boasting 78 spray channels and a 5-inch spray face.
Moen took a slightly different route to achieving more efficiency in its low-flow shower options. Seeking a focused, controlled, and consistent spray, the manufacturer crafted a showerhead based on the concept of a wagon wheel, in which "spokes" help ensure equal pressure distribution.
"Regardless of the variations in pressure from house to house and community to community, our performance curve of the flow is very tight-band if you were to plot it out on a graph," says Jerry Capasso, bath product manager for Moen. "You'd see very little change in the slope of the flow curve, from 20 psi all the way up to 80 psi."
Most "rain shower" showerheads are gravity-fed, so that the water collects in the showerhead and slowly trickles out; Moen's Immersion technology channels the water out of the showerhead through its wagon-wheel setup for maximum water force and coverage.
During the past year, Kallista has converted 10 of its showerheads and handshowers from 2.5 gpm to 2.0 gpm. The company's most recent innovation is a showerhead/handshower combination that utilizes a transfer valve.
The transfer valve has three settings: showerhead, handshower, or nothing. Before, the options were showerhead, handshower, or both. When the showerhead and handshower were working simultaneously, the product exceeded WaterSense requirements.
"[Now] you never have an option that's working beyond 2.0 gpm," says Bill McKeone, design manager for Kallista.
A desire to have more control over the amount of water and how it is used in the shower has led to burgeoning consumer demand for multifunction showerheads and handshowers, which increase efficiency and usability.
More control, more comfort
Showerheads with more than one spray pattern have come a long way in the last 10 years ago, says McKeone. Kallista offers both multifunction showerheads and handshowers, with even more handshowers specifically to come, he adds.
The company's multifunction showerhead comes in traditional and contemporary styles and incorporates foundational design with subtle detailing that coordinates with suite and room décor. Simply turn the showerhead to toggle among three spray settings, including wide, rhythmic pulse, and soft aerated—all of which never exceed 2.0 gpm.
The Kallista One multifunction handshower infuses minimalist design with elements of character and features a 59-inch hose. Three spray options—soft rain, hard rain, and massage—flow at a maximum of 2.5 gpm.
At Grohe, customization is taken a step further with the manufacturer's Power&Soul showerhead, which is available in two design styles—cosmopolitan and contemporary—to match any bathroom décor.
Click the AquaDirect spray selector on the side of the showerhead or on the back on the handshower to quickly and easily switch among four spray patterns: Rain, a soft, delicate pattern that soothes the skin; Rain O², a rich spray with soft, individual drops that are enhanced by air; Bokoma, a moving circular spray with massage functionality; and Jet, a focused, circular spray that delivers a refreshing burst of water.
"Personalized showerheads like the Power&Soul make it easy for all family members to find their most comfortable shower style, and adjust according to their moods," says Mike Purcell, director of product marketing for Grohe.
The Delta In2ition combines two showers in one, as the showerhead includes a detachable handshower that can run separately or simultaneously—giving the homeowner the luxury of two streams at once. A lever positioned on the side of the showerhead allows the user to select one of three options: showerhead and handshower, showerhead only, and handshower only.
The handshower offers the flexibility to accomplish other tasks, such as bathing children, washing pets, and cleaning the shower enclosure. When not in use the handshower seamlessly slips back into place on the showerhead.
The In2ition features a six-foot tangle-free hose and is available in multiple styles—classic and traditional—and up to five spray settings. Delta's newest product uses H2O kinetic technology, the science behind an internal system that creates the feeling of more water than a standard shower flowing at the same rate.
Better technology, better results
Each H2O kinetic showerhead and handshower pushes water through a series of fluidic chips that create specially designed channels to the water's speed, movement, and droplet size—all without relying on moving parts. As a result, plump droplets of water are sculpted into a unique wave pattern that provides the feeling of up to 40 percent more water.
"By controlling that water, we can take those lower flow rates and really enhance that experience the end user gets out of their shower," says Paul Patton, senior product developer for Delta.
Unparalleled control over the entire shower experience inspired Moen's ioDigital, technology that helps users achieve their preferred combination of water temperature and delivery with the touch of a button. Custom presets of water temperature and flow can be re-created on a nearby digital interface, which provides quick, visual feedback via LED indicators that flash until the requested settings are reached.
The ioDigital system is powered by an electronic valve that manages hot and cold water supply and can be located up to 30 feet from the bathroom for easy installation and retrofit flexibility. An optional remote control offers the ability to turn on the shower from across the room or while still in bed, and a pause feature briefly interrupts the shower while the user shampoos or shaves, then returns to the previous settings.
In developing its latest innovation, Kohler recognized the prevalence of smartphones, mp3 players, and Bluetooth technology. The new Moxie showerhead syncs with any Bluetooth-enabled device—smartphones and mp3 players—and streams music directly into the shower.
An on/off button discretely incorporated in the wireless speaker's design includes a light that changes color to indicate when the speaker is paired and when the battery needs to be charged. The lithium battery affords an average of seven hours of playtime, and recharging the speaker is easy with the USB cord provided. Audio control is managed through the smartphone or mp3 player.
Once the shower ends, the waterproof speaker pod can be detached from the magnet in the dock's base and used throughout the bathroom and beyond—it has about 30 feet of proximity to the Bluetooth-enabled device. The Kohler Moxie showerhead employs 60 angled nozzles and is available in 2.5 and 2.0 gpm configurations.
Water efficiency, user comfort, and the latest in technology are all important considerations when replacing existing shower systems, but finding a solution that allows for seamless installation remains a primary concern for remodelers.
Less time, less hassle
Kohler sought to ease those concerns with HydroRail, an external shower column that, in most cases, can be installed in about an hour because it utilizes existing valving outside the wall. The column is designed to accommodate a wide range of bath/shower configurations without altering in-wall plumbing.
HydroRail upgrades a standard shower to a spa-like experience with overhead rain and handshower functionality. It features a diverter conveniently located at the base of the column for smooth toggling between rainhead and handshower options, as well as a slidebar bracket that allows users to customize the water delivery height—making it ideal for younger bathers and those wanting to shower without getting their hair wet.
With its Ensemble Curve shower, Sterling has created an ideal retrofit solution for homeowners who want to add the convenience of a showering space to their bathroom.
"It is designed to make a very easy retrofit if you're pulling out a tub and just want to put in a walk-in shower," says Travis Rotelli, interior designer for Kohler, the parent brand of Sterling.
The standard tub size used to be 60 in. x 30 in. but has since expanded to 60 in. x 32 in., making it difficult for those with older bathrooms to find an easy shower replacement for their outdated tubs.
Sterling Ensemble Curve shower enclosures are sized to fit 5-foot bath alcove spaces and are available in both left- and right-hand drain configurations. The 60 in. x 30 in. shower receptor installs directly into a stud pocket atop the subfloor. Molded with a slight draft toward the drain to prevent pooling of water, it is an easier installation than a manually tiled floor.
Grohe's RetroFit Shower System transforms an existing showerhead installation with concealed valve into a luxurious shower system with a swiveling showerhead plus the added convenience of a handshower. Once installed, a quarter turn of the six-position diverter lever switches water from showerhead to handshower, and from normal to economical water flow. RetroFit is the latest example in a trend toward making sure the bathroom remains one of the last rooms in the home where people can retreat for a moment of privacy and relaxation.
"A customized shower or bath experience is vital to fulfilling this 'me' need and creating a place to unwind and re-energize," says Grohe's Purcell.
The ability to influence and dictate nearly every facet in the shower, from core functions to technological amenities, will continue to shape product trends as long as concerns about water consumption and remodeling budgets persist. PR