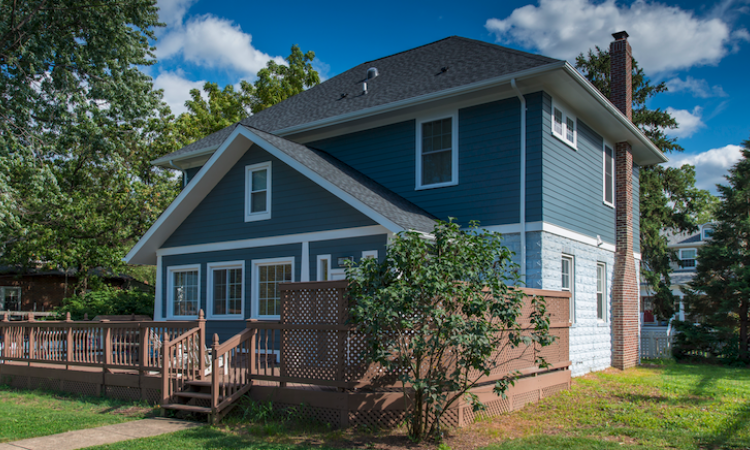 Northern Virginia remodeler Michael Winn is building a profitable business putting modular second stories on small houses with simple footprints. All photos: courtesy Winn Design + Build
Are modular second-story additions a viable business for an upscale remodeler? They can be, but you need the right existing housing stock, the right type of homeowners, and a manufacturer that will build to your specs. One remodeler in the Washington, D.C., metro area seems to have found that sweet spot, but perfecting the offering and making it profitable has required a few projects. He has some lessons to share with anyone considering this.
Falls Church, Virginia-based Winn Design + Build has been in business for 15 years. The company specializes in whole-house remodeling and major additions. Four years ago, Winn started offering modular second-story additions and has completed six so far.
Company owner Michael Winn says that Northern Virginia is a natural market for modular, with a lot of what he calls "post WWII shoeboxes"—compact, single-story or story-and-a-half homes. Many of these sit on small lots, so the only way to add on is to go up rather than out. 
Although modules can theoretically be placed on any home, the simple rectangular footprint of those shoeboxes helps with cost-effectiveness by simplifying design, engineering, and manufacturing. A modular addition that's set and finished by an experienced crew on a simple house should have a final cost that's 10 percent to 15 percent lower than site-built.
Winn says that demographics are key to succeeding with the modular approach. The homes in his market are owned by young, affluent, growing families. He finds that younger people are more receptive to this approach than older generations. "A lot of older people have negative associations with modular," Winn says, "but younger people—what I call the Dwell generation—tend to see it as cutting-edge."
While these young families like the cost savings of modular, what really sells them is the schedule. Although the time from initial concept to finished home is about the same as for site-built—five to six months for Winn's projects—planning and manufacturing take up most of that time. Demolition doesn't start until a week before the modules arrive on site, and the crews can usually complete the home in an additional nine to 10 weeks. The homeowners' lives are disrupted for far less time. 
"We do the demo and site prep a week before the modules arrive," Winn says. "Then there's a big set day with a flurry of activity. By the end of the set day, the roof is up and we're closed in. After that, it's about eight weeks of siding, roofing, stairs, and tying in the plumbing, electrical, and mechanical."

The Learning Curve
Winn believes that the type of remodeler most likely to succeed in this niche is a design/build firm with in-house architectural expertise. The structural issues and the need for a precise fit with the new modules onto the existing home make the demands placed on the design team far higher than for a site-built addition. For instance, if the home has an existing stairway, the addition's stairwell needs to perfectly align with it. After all, you can't make adjustments to the modules once they leave the factory. "It's like sending a mission to Mars," Winn says. "Once it leaves the ground, you can't get it back. Planning is crucial."
The company also works with a structural engineer who provides exact dimensions to the manufacturer and specifies how the existing home will transfer the modules' weight to the footings. This includes specifying beams and structural posts.
Not surprisingly, things have gotten easier with each project. For instance, Winn used an experienced set crew for the first addition, but his crew assumed that responsibility with the next job. "Our lead carpenters have a half-dozen modular additions under their belts now, and they know what to expect," he says.
The design team has also gotten more efficient. They have a better feel for what boxes will work with what home, and they've learned to design in ways that take the modules' 15-foot maximum width into account. They've also learned to compensate for less-than-ideal site conditions. Although modules arrive perfectly square and flat, older homes are seldom so regular. If the tops of the walls on the existing structure aren't level, the sill plate that the modules will bear on can be leveled. Slightly bowed or out-of-square walls can sometimes be hidden with a shimmed trim band placed between the first and second stories. If the second story will have shingle siding, the bottom course can be flared. Bigger problems can be addressed with a cantilever. "If the wall bulges out an inch in the middle, a 12-inch cantilever can hide it so it's not noticeable," Winn says.
Other issues the designers have learned to adjust for include thicker walls and floors. The 2x4 walls on the modules are doubled where they meet in the middle, which means a bit less floor space. And because placing the modules' floor joists over the home's ceiling joists doubles that system's depth, the stairs need a couple of extra risers. That, of course, adds a couple of runs, which means the stairway requires more floor space than it would in a site-built addition with one set of joists.     
[1] Prepping the home for the modules usually includes adding leveled sill plates.
[2] Modules must be custom-designed for the existing conditions. In this case, that included notching the walls to fit around a chimney.
[3] Every job needs a structural engineer to determine how the existing home will transfer the weight of the addition to grade. If the home isn't able to carry the load, load-bearing posts can be added.
[4] Modules must fit precisely and have to be lowered into place without damaging the existing structure. Although Winn used an experienced set crew for his first job, his workers quickly learned to handle the set themselves.
Finishing Up
Finish work is minimal. The modules arrive pre-finished on the inside, although Winn's crew installs glass shower doors and applies the final coat of interior paint. The sitework mostly consists of building the stairs from the first floor and installing exterior siding and trim. "The modules only ship with vinyl siding, which we don't use," Winn says. If there's no front porch, he encourages the homeowners to add one. Not only does it provide some outdoor living space but the roof partially obscures the second story, helping the home look less like a big box. 
While Winn's crews busy themselves with stairs and siding, his subs are tying in the electrical and plumbing. Electrical is fairly easy. "We put a sub-panel in the addition, then run an umbilical cord to the main panel," Winn says. Plumbing is less so. "It usually ends up more involved than you expect because of the need to get drops in the right place," he says. Sometimes the plumber puts the horizontal runs between the module's joists when it arrives on site but before it's set on the home, to make sure everything meets up.
Finding a Supplier
Winn says the first hurdle in building his modular business was finding a manufacturer willing to custom-design modules for existing homes, which is more complicated because everything must be custom designed, from stair locations to load points. "Most manufacturers are used to doing single-family homes in rural areas," Winn says. 
His advice: "Look for a company producing a high-quality product that offers some level of customization. If they offer custom modular at any level, they should be more receptive to doing custom modules." A bigger challenge for Winn has been getting the finish work done to his quality standards, something he's still working on with the manufacturer. The remodeler could gain more control by doing the finish work on site, but that would eliminate many of the benefits of modular. "The more work you do on site, the more you reduce the savings in time and costs," he says. "Factory labor costs significantly less than a finish carpenter in Northern Virginia." 
You also have to find a manufacturer who will install the products you want. "For example, we like to use Andersen 400 series windows, HardiePlank siding, and Schluter tile isolation membrane," Winn says. "But it can be hard to find a manufacturer that's willing to install products that aren't on their standard spec list."