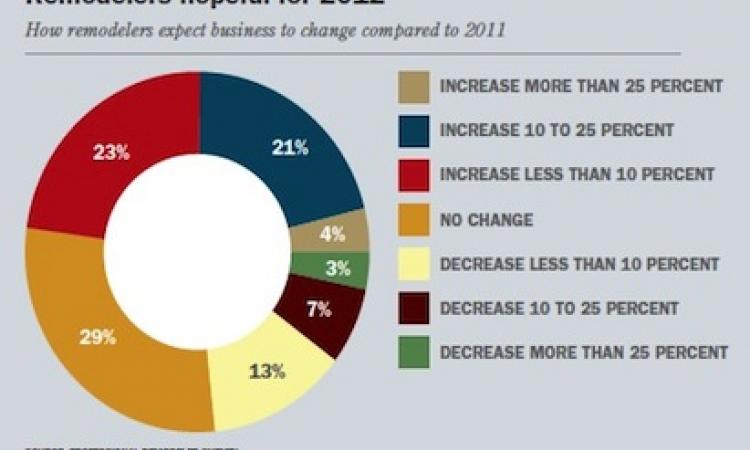 After a 2011 that failed to live up to expectations, remodelers are not as optimistic as they were a year ago that business is going to improve.
Just less than half of remodelers expect revenue to increase in 2012, according to the latest Professional Remodeler research. Twenty-nine percent of remodelers expect no change next year, while 23 percent expect revenue to decrease.
"I see some cautious optimism, but things seem on the edge and could fall again really easily," says a design/build remodeler from the Northeast.
Says a Texas full-service remodeler: "The news is so bad consumers are going to go back to 'wait and see' before they buy."
That pessimism is a marked contrast from the end of 2010, when remodelers were very hopeful about 2011. At that time, 64 percent said they expected their revenue to increase and only 15 percent expected business to slow.
Unfortunately, a stubbornly weak economy and continuing pressure on the housing market combined to make reality a lot less attractive, with only 29 percent of remodelers reporting their business picked up this year compared to 2010 and 42 percent saying that revenue was down.
"We need a bit of a burst to generate some demand out there," says Kermit Baker, director of the Remodeling Futures Program at the Joint Center for Housing Studies of Harvard University. "Folks are just nervous about getting into home improvement projects with the economy as weak as it is."
[pagebreak]
Remodeling market 'bouncing along the bottom'
The Joint Center's Leading Indicator of Remodeling Activity shows a market that, since mid-2010, has been "bouncing along the bottom," Baker says. While there are quarterly changes up or down of 2 to 3 percent, there hasn't been continued increases or decreases on an annual basis.
"We haven't really seen much of a recovery, we haven't really seen much more deterioration," Baker says
That sentiment seems to be shared by most remodelers. Nearly two-thirds are expecting 2012 revenues to either stay flat or change within 10 percent of this year's numbers.
Lead activity thus far for 2012 work also is mostly flat, with 44 percent reporting it is unchanged from 2011. While 28 percent are seeing more leads for projects next year, three-quarters of those companies have seen leads increase by less than 10 percent. Another 14 percent of remodelers have seen leads decrease by less than 10 percent.
"We are getting calls to look at projects for spring of 2012, but still lots of people on the fence," says an Oregon design/build remodeler.
Says a Colorado exterior remodeler: "Our volume is up, but our leads are still down. Others are not certain. We are cautiously optimistic."
Remodelers are also expecting little to no change in their average job size in 2012. Forty-five percent expect no increase or decrease in the average project, while 34 percent are anticipating larger jobs and 21 percent smaller. More than three-quarters of remodelers expect their average job size to be within 10 percent of where it was this year.
"We expect there will be a gradual increase," said one Illinois full-service remodeler. "More smaller projects than previous years, but we expect steady demand."
With those numbers in mind, it's not surprising that most remodelers — despite years of cutting staff — are still not planning on adding employees next year. Still, 22 percent expect to increase their staff next, while only 10 percent said they will be reducing their headcount.
While a small group of remodelers are also expecting to cut their prices next year, most remodelers are trying to protect their margins. Only 14 percent said they plan to reduce prices next year in an attempt to get more business.
"Our focus will be on selling the right jobs at the right margins, not just selling to keep work on the books," says a California full-service remodeler.
Despite the expectation that 2012 will be another challenging year, most remodelers don't anticipate increasing their marketing efforts. Only 23 percent plan to increase their marketing budget, while 12 percent plan to spend less than they did in 2011.
That doesn't mean they aren't changing how they spend the money. Nearly 75 percent of remodelers plan to increase their marketing budget in certain areas. Websites are going to get the most attention, with nearly half of remodelers planning to spend more on their sites next year — and that's with 49 percent of remodelers having spent more on their website in 2011. Thirty-five percent of remodelers plan to spend more time networking and 26 percent are upping their time with social media sites like Twitter and Facebook in 2012. Not surprisingly, more traditional methods like print advertising and direct mail are taking the brunt of the decreases in marketing budget.
"I am hoping for the same or better [in 2012] but only because we will advertise more," says a Texas design/build remodeler. "If we do not advertise more we will be down to 10 to 25 percent."
NAHB: Reasons for optimism in remodeling forecast
Many remodelers may feel there's not a lot to get excited about next year, but NAHB is forecasting fairly robust growth for the industry.
The new construction side of the business will continue to be weak, but remodeling should be up by about 12 percent in 2012, according to the association's latest forecast.
"Some of what we're seeing from the boom and bust trauma we've lived through, people are taking a second look and saying we're just going to fix this up," says NAHB economist Robert Denk. "Moving into something new looks like a bigger gamble than it did a few years ago, so they plan on staying longer."

NAHB is projecting that in 2012 and 2013 the economic recovery will gain strength and employment numbers will start to rebound.
"The big hit to consumer confidence will begin to reverse itself," Denk says. "Consumers will start coming out of the bunkers and feeling better about how the future is going to be."
NAHB is optimistic because a number of temporary conditions — the spike in oil prices following the Arab Spring, the Japanese tsunami, the debt ceiling debacle — were responsible for blunting the economic recovery in the second half of 2010 and into this year, Denk says.
"These are all sort of a bad combination of temporary factors that we've gotten behind us," he says.

The 2.5 percent growth in GDP in the third quarter, while not great, is also a sign that we are likely to avoid a double-dip recession, Denk says.
While there isn't much in the way of hard data, the relatively stronger parts of the country will continue to be those where homes were not overbuilt during the boom and prices have subsequently not fallen as much, Baker says.
So areas like the Northeast corridor, Texas and the coastal Pacific — where many remodelers are already seeing positive changes — will be stronger, but the Southwest, the Southeast and inland California continue to be weak. The Midwest is a bit of "mixed bag," depending on each market's economic base, Baker says.
There are also a couple of project types that should be stronger this year and going forward, based on the data the Joint Center is seeing: energy efficiency retrofits and renovating distressed properties.
Although energy efficiency work slowed somewhat after many of the tax credits included in the stimulus package expired, there's still the specter of higher energy prices to motivate homeowners.
"As long as there's the fear that energy costs are going to remain high, it does have some momentum," Baker says.
At the same time, the ongoing flow of foreclosures and other distressed homes will create work for remodelers. With the average home now taking more than 600 days to go through the foreclosure process, there is ample work to be done.
"You're talking about a year-and-a-half, two years with almost no maintenance," Baker says. "So even if they haven't been totally decimated, there are some things you need to do."
The Joint Center is just starting to get data on those types of projects, but early numbers show that the new owners of a distressed home are investing about 50 percent more on improvements than the average homeowner does in a typical year.