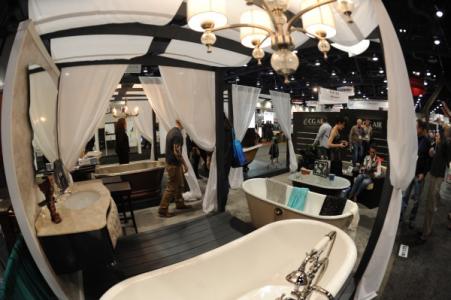 The Kitchen and Bath Industry Show (KBIS), the largest North American platform devoted to the kitchen and bath industry, welcomed 31,092 industry professionals to this year's show – nearly a 145 percent increase year over year – at the Las Vegas Convention Center, February 4-6, 2014. This year KBIS collocated for the first time under the umbrella of Design & Construction Week with the International Builders' Show (IBS), owned by the National Association of Home Builders (NAHB), and VISION 2014, the International Window Coverings Expo (IWCE).
KBIS 2014 attracted 500 exhibitors, including 135 new exhibitors as well as the return of industry leaders such as Viking, Elkay, MasterBrand Cabinets, Electrolux and LG Hausys Surfaces, to name a few. Rounding out the lineup were the 87 KBIS exhibitors known as Loyalty Leaders, who have exhibited consecutively at KBIS for at least the past six years. KBIS is owned by the National Kitchen & Bath Association (NKBA).
"We knew coming into Las Vegas that we were about to experience something ground breaking, and we weren't disappointed. The energy on and off the show floor far exceeded our expectations," said John Petrie, NKBA 2014 president. "The co-location of KBIS and IBS allowed exhibitors and attendees to benefit from insights and product innovations serving the entire residential design & construction industry."
Emerald Expositions, producers of KBIS, has already booked more exhibit space for KBIS 2015 than was sold in all of 2014. Additionally, KBIS rebooked nearly 20 percent more exhibit space on-site vs. pre-sales for the 2014 event. To accommodate the overwhelming demand from industry leading brands, another 500,000 gsf of exhibit space has been added for the 2015 event. KBIS will now encompass the North and South Halls at the Las Vegas Convention Center.
"This year's show saw more top brands, more new products and more innovation," said Brian Pagel, VP Kitchen and Bath Group, Emerald Expositions. "We're honored to provide the stage for leading industry brands to connect directly with their targets. Our goal is to continue to amplify and diversify our exhibitor base, making our attendee experience richer and more engaging. As we continue to evaluate our planned footprint for 2015, we look forward to welcoming more brands to the KBIS floor."
Events on and off the show floor were in high-demand. Attendees traveled to various Las Vegas venues to experience innovative product applications as well as seminars and networking events.
"Our Voices From The Industry program was sold out before the show opened," said Bill Darcy, NKBA chief executive officer. "We increased our sessions this year to meet demand for our learning offerings, and we are already looking at how we can expand offerings at KBIS 2015."
Combined attendance under "one pass" was over 82,000 for both shows (KBIS and IBS), with 1,700 exhibitors in more than 650,000 sq ft of combined convention floor space. The premier Design & Construction Week attracted almost 540 members of the media, as well as 24 additional "supporting organizations" from across the design & construction industry.
KBIS 2015 will take place January 20-22, 2015, in the Las Vegas Convention Center, Las Vegas, collocating again with the International Builders' Show (IBS) and VISION 2015 (IWCE) under the banner of Design & Construction Week. PR