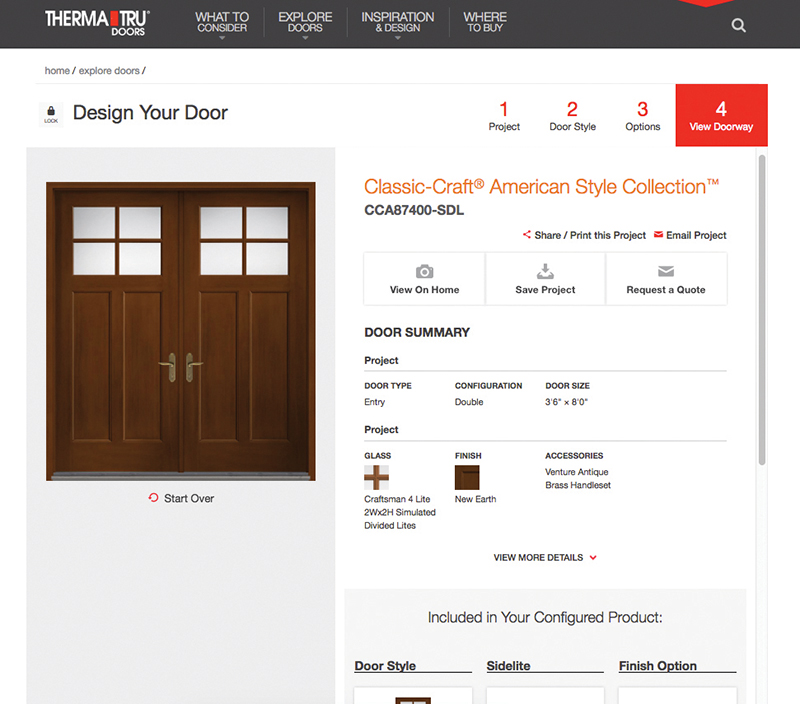 Remodeling companies riding the cutting edge are always on the lookout for tools that help improve communication between company and client. Therma-Tru aimed to do to just that with its Design Your Door tool, which simplifies and systematizes the entry-door-selection process. The tool is available on the company's website and as an app called DoorWays.
First question the tool asks is: entry or patio door? Next is the door's configuration: single, single with a transom, double with sidelites, triple, quadruple, and so on? Step by step, and picture by picture, the tool digitally walks the user through the selection process. It allows (to an extent) for customization on dimensions, finish, glass, and hardware, as well as several other options, such as material, texture, architectural style, and sustainability. The end result is a summary of the door's specifics and the option to overlay what the door will look like on a picture of its planned installation location, be it an existing doorway or a blank wall. 
"Remodelers and homeowners can walk through the Design Your Door tool together to explore the multitude of customization options, or homeowners can use it on their own to explore their choices and build the door that fits their personal style," says Kyle Rhine, brand public relations and advertising specialist for Therma-Tru. In the event a homeowner uses it before speaking with a remodeler, Rhine says, the summary can be given to the remodeler to streamline the process. 
Beyond systematizing the entry-door selection process, the tool also provides footnotes along the way for the less learned remodelers and homeowners, who need clarity on things such as what glass options exist for people with privacy concerns, or why you'd want a sidelite or transom. 
Both the service on Therma-Tru's website and the DoorWays app are free.