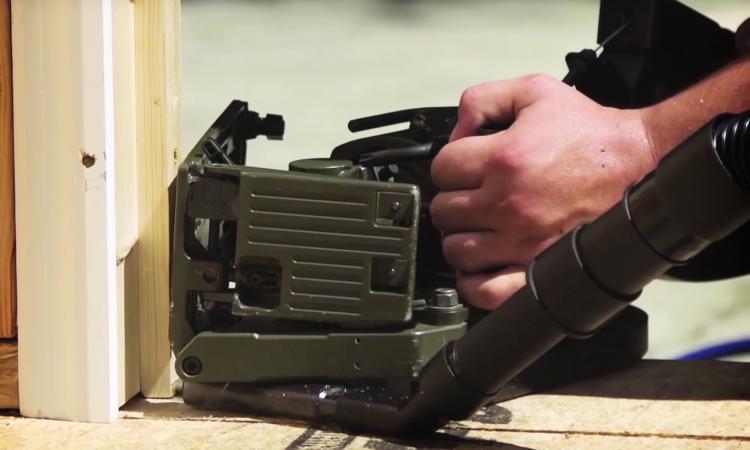 Circular saws really do only one thing well: crosscut 2-bys. You can rip or crosscut plywood, but you need a track saw or clamps and a straightedge. And when it comes to undercutting trim to make room for flooring, or cutting sheathing out of a window opening, forget it. 
Being able to do the whole job with one saw was framer Jake Cuzdey's
inspiration when he began tinkering with the worm-drive saw that eventually became the Straight Flush Saw. The saw's namesake feature—making clean-edged flush cuts and undercuts—is possible because the motor housing is flat on three sides, the saw bed is completely to one side of the housing, and the low-profile arbor nut sits in a recess in the proprietary 8 ½-inch blade. With the blade guard removed, this arrangement allows the user to hold the blade flush against one surface—such as the floor—while cutting adjacent materials—such as a door jamb. And with the blade bevel set to –5° (another unique feature), you can cut subfloor or flooring flush to a wall without damaging finish materials.
But wait ... This also works with the saw on its side because the blade extends beyond the front of the motor housing. With the dust cover removed and the hinged front section of the bed folded up (yes, also
unique), you can make a "nose cut"—a 1 9/16-inch-deep flush cut—to, say, cut the sheathing out of a window opening from the inside. The saw is pretty scary-looking with the guard removed, but it has one safety feature that other saws don't have: a lever on the D-handle that raises and lowers the main blade guard. Given how many injuries and marred surfaces are caused by carpenters pinning back the blade guard with wedges, this is a big step forward for safety.
Other unique features include a -5° to 65° bevel range, a rotating trigger handle with stops at 45° and 90° (to keep your hand in a comfortable position on bevel cuts and nose cuts), and a full-length rip guide that makes long rips possible with no need to chalk a line. Available online and from a growing number of retailers, the saw is a pricey $575 (including rip guide, front dust cover, and adjustable dust port, but no case)—and comes with a lifetime guarantee, even if you aren't the original owner. Go online to watch the saw in action and to find out where to buy at cuz-d.com.