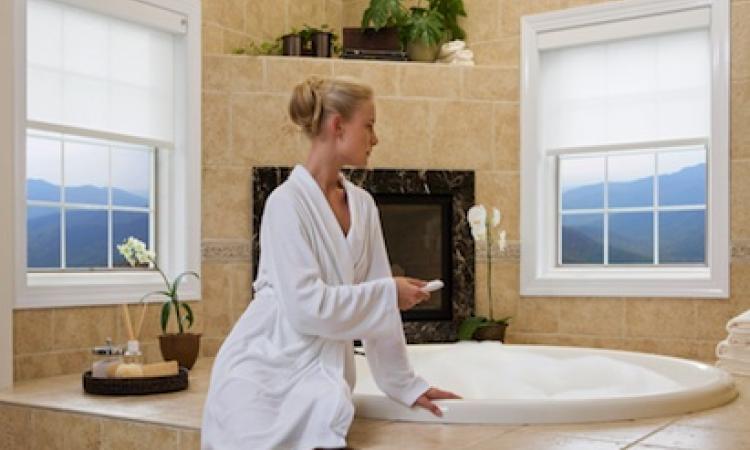 The Sivoia QS Wireless from Lutron allows users to control shades and other products throughout the home
As people have become more comfortable with technology in their lives, the desire for their homes to be as smart as their phones has grown. Automated systems can control almost every aspect of a home and enhance its livability.
"The biggest trend in home automation is that it is coming to the mass market," Dave Pedigo, Senior Director of Technology for the Custom Electronic Design and Installation Association (CEDIA) points out. "The average homeowner can afford at least a basic entry level system."
Home automation options
Many homeowners start small by adding just one automated system, with home security the most popular entry point. With security systems, "The house knows whether you're home or away and can track your movements with motion sensors and door sensors," says Greg Rhoades, Associate Director of Marketing for Home Automation, Inc. (HAI). "People start with wireless security sensors and go all the way up to access control for secured areas and video surveillance, which they can view remotely." HAI also offers wireless vehicle detection systems to alert if a vehicle crosses the property's threshold.
"Home automation systems can be expanded at any time, so we see a lot of folks who add on features once they have a small taste," Rhoades notes.
The most likely add-ons are lighting and thermostats followed by entertainment systems. "Some homeowners only install the distributed whole-house audio system and iPod Dock, which fits their needs for basic entertainment control," Rhoades says. "Or they add an HAI home control system with a Home Theater Extender to control things such as TVs and DVD players."
Does energy efficiency matter?
People looking to justify the cost of home automation expect energy savings.
"We are just on the precipice of people understanding a home automation system can save them lots of money or reduce their CO2 level," notes Pedigo.
Wireless ZigBee energy management devices from HAI let homeowners schedule energy using devices to reduce usage and expense and are easily installed.
"Energy efficiency is a huge selling point in home automation installations," Rhoades notes. "While we all love the security and entertainment aspects, they're more for safety and whimsy, which are hard to quantify in dollars." Installing HAI's 110V lighting control switches requires no new wires, with communication traveling via the neutral wire to a smart switch. Their stand-alone energy management system enables installation of a wireless system in an existing structure for immediate energy savings. This can be connected to a complete home automation system to coordinate additional lighting, entertainment devices, irrigation, window coverings and more for even lower energy bills.
Lutron Product Development Manager Rich Black agrees saving energy is a major driver in purchase decisions and savings can occur with even a modest investment. Lutron's RadioRA 2 total home control system controls 60 percent or more of a home's energy use, including lights, window shades, stand-by power from small appliances and temperature.
This scalable and retrofittable system can be installed in one area and expanded into others as needs change. Lutron's wireless Clear Connect RF Technology is embedded into many of its total home control systems so installing lighting and shade controls into existing spaces can be done without rewiring.
"Homeowners who do not require a total home control system can still save significant amounts of energy and make their bulbs last longer simply by installing dimmers," Black points out. Lutron's new C.L dimmers, which work with all types of bulbs, are inexpensive and can be installed in about 15 minutes.
More benefits of home automation
Pedigo believes the "cool factor" may be driving the automation trend more than savings. People like turning their lights on with their cellphones. They also like the convenience of making sure their alarm system is on or their lights are off when they're away from home.
"For a certain segment of the population, it's about safety and wellness," Pedigo explains. "You can check to see if grandma's had her stove on for over an hour and then call her to ask if she's baking and, if not, turn the oven off remotely."
Beds can be equipped with pressure sensors to tell if they're occupied. If an elderly or ill person stays in bed too long, someone will be notified to check on them.
"The recent advancements in technology should ultimately be able to decrease the unsustainable expenses currently being absorbed by the current U.S. healthcare system," he notes.
Another safety improvement involves tying together security, HVAC, occupancy and lighting control, Pedigo says. If there's a fire, most lights dim while the exit route is more brightly lit. The HVAC also turns off so smoke isn't blown through the house.
Ease of operation
"A home automation system should be easy enough for anyone to use without instructions and should retain basic functionality if there's a failure," Pedigo stresses. "Its design must include redundant ways to control it in case one fails." Typical controls include an in-wall touch panel, a mobile device and a hidden lighting control in case everything else stops working. Installers must make sure the main system will always be operational even if part of it malfunctions.
Controlling automated systems from mobile devices offers convenience and the wow factor, Black says. Lutron's Home Control+ App lets users control lights, window systems and temperature and adjust their systems conveniently from mobile devices.
"Homeowners have become increasingly comfortable with using a single touchscreen to access everything they need," Rhoades says. "But it's absolutely imperative to provide off-site controls. Even our standalone energy and entertainment systems allow remote control."
Remodelers need to consider a main control system capable of accommodating many manufacturers' products so the same base system can be used repeatedly and simply tweaked for options and accessories. "For instance, HAI designs our own lighting control, but integrates with nearly a dozen other light switch manufacturers," says Rhoades. HAI's open platform lets installers use other manufacturers' light switches, cameras, audio systems and more along with HAI products. Light switches already in the home may be sufficient or the homeowner may have a preference in style or price for new options. All products should be integrated regardless of what company manufactured them. The system selected should accommodate remote access using most popular brands of smartphones, tablets and notebook computers.
Even as newer models are introduced, HAI supports every product it has ever made. "HAI light switches will still control your lights and the thermostat will still control your temperatures, so obsolescence is not an issue," Rhoades points out. The company provides online training for dealers including demo videos, product webinars, and technical trainings as well as a hands-on training course at its New Orleans factory.
Talking with homeowners about home technology
Remodelers should first develop a relationship with an expert electronic systems contractor because automated systems can be complex and the technology is constantly changing, says Pedigo. "Then take into consideration the timeline of the project," he notes. "How soon does it need to be done? Hard wired is better than wireless, but it takes longer. How long does the homeowner anticipate staying in the home? This is helpful in anticipating what they might like later on."
Installing conduit now will save money later if upgrading within five years is planned.

In planning a system, Black says remodelers should go room by room with homeowners to discover everything they do in each space. "The key is to design a system that fits the homeowners' lifestyle and family and most importantly budget," he explains.
"It's best to approach the customer with a problem/solution viewpoint," Rhoades says. "Discover what their home and lifestyle require and plan the system around that." Provide a laundry list of options, pointing out how many subsystems can be integrated.
Remodelers can't expect to do a home automation project today the way they used to. "Even how you pulled cables just a few years ago might not work," Pedigo says. "The technology has changed so much, it's easy to remodel a home and have it be technologically obsolete in just a few years. You need to do careful planning before any home automation installation."