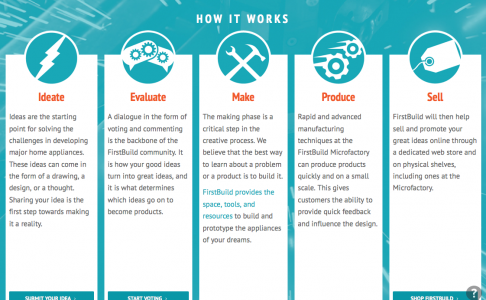 GE announced the activation of its global co-creation community FirstBuild.com—an online community dedicated to conceiving, engineering and building the next generation of major appliances. Now engineers, designers, scientists and home enthusiasts can participate in the development of breakthrough major appliances and solve deep engineering challenges. Participants will identify market needs, directly participate in the product development and watch via social media as ideas speed from mind to market at the FirstBuild™ micro-factory1 in Louisville, Ky.
The launch of the new community website follows recent announcements that GE and Local Motors, the open-source hardware innovator, partnered to create a new way of innovating and manufacturing that incorporates online co-creation and micro-manufacturing to design, engineer and build new products. The partnership will first focus this new product development and manufacturing model on the future of cooking and reinventing major kitchen appliances.
"While we have a lot of talented, dedicated people working within GE, we realize there is a tremendous amount of creativity and talent outside our walls," said Kevin Nolan, GE Appliances' vice president of technology. "Now those curious, maybe even frustrated, engineers, designers or anyone who wants to create products with great design and exceptional features can join FirstBuild.com to get involved in developing the next generation of kitchen appliances."
FirstBuild.com community members will submit ideas, vote on which concepts become challenges or projects, and determine which products move on to production. Prizes and sales royalties will be awarded to community members who make significant contributions.
To get their creative juices flowing, GE will open the community to the public on May 15 with two challenges already in place.
Developing a micro-kitchen: FirstBuild is participating in the NYC Economic Development Council's annual "BigApps" challenge that started May 7. FirstBuild will engage existing online communities as well as the FirstBuild.com community to help solve a growing problem in many metropolitan areas across the globe: increasing urbanization and population growth, which are driving the size of homes down and mortgages up. The challenge is to solve the design and engineering hurdles in creating a micro-kitchen that will maintain the style and functionality, but in a significantly smaller footprint than traditional kitchens. To learn more about how you can become involved visit FirstBuild.com.
Indoor grilling: Grilling is a major part of the American lifestyle. A 2013 study shows that 80 percent of U.S. households own a grill or smoker.2 Yet, grilling can be dependent on the weather. FirstBuild is asking the global community of makers, designers and aspiring chefs to take the weather out of the equation by designing and engineering the ultimate indoor grill. To learn more about the specifications of the challenge visit FirstBuild.com.
Once the winning designs have been selected for both challenges, the community will work on the engineering specifications; the products will initially be made in small batches in the FirstBuild micro-factory in Louisville, Ky. The most popular products have the potential of scaling up to mass production, affecting millions of people's homes and leading to royalties for the members who make the most significant contributions. The products will be sold on-site at the FirstBuild store or can be ordered online at FirstBuild.com. Retail pricing will be announced when the products become available later this year. PR