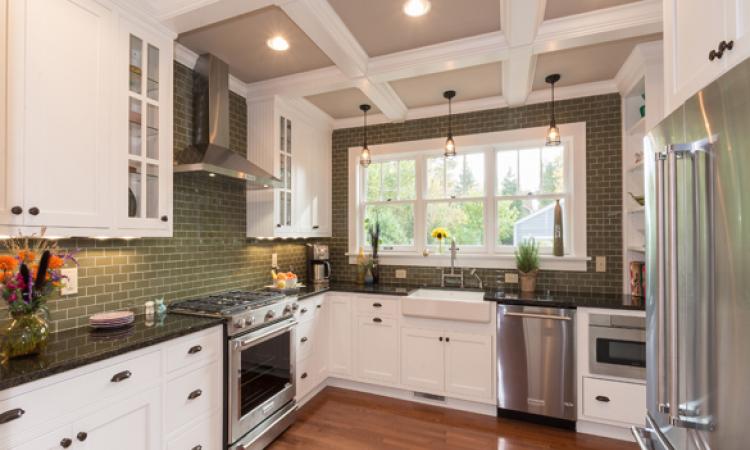 This kitchen remodel emphasizes the home's 1920 motif by integrating casing and crown trim with Ubatuba granite countertops and glass subway tile. Photo: courtesy J.S. Brown & Co.
Columbus, Ohio 
​President: Jeff Brown
The key to creating beautiful, practical remodeling masterpieces is to combine experience with collaboration, says Monica Miller, design consultant and sales manager for J.S. Brown & Co. 
According to Miller, one of the key differentiators for J.S. Brown is the vast experience that team members contribute to each project. This includes certified remodelers, certified lead carpenters, and certified kitchen and bath designers. The team also employs experts to streamline logistics, materials selection, estimating, and accounting. 
"Our team has worked together for years and really understands our system of collaboration," Miller says. "We rely on this checks-and-balances approach to find the best solutions." 
Founded in 1978, J.S. Brown helps keep design at the forefront as the team guides clients through a detailed proprietary production process that emphasizes collaboration at every turn. This can be more than a mental exercise. Miller recalls a job that took a surprise turn after
she received a call from the project manager. While working on a pocket door, he had discovered unexpected plumbing and HVAC obstacles between the kitchen and mudroom. Because the project manager hadn't spoken with the client, he called Miller, who had a deep understanding of the client's expectations. The two collaborated to create a new layer on the interior wall where the door could slide without interfering with existing equipment.
"Because the PM called me, we were able to create a beautiful solution that solved the problem and gave the clients the pocket door they really wanted," Miller says. 
Takeaways for Other Remodelers
Miller says the biggest mistake many designers make is that they don't continue their education. She encourages every remodeling professional to look to Pinterest, Houzz, and magazines for inspiration; enter design awards; join associations and take the classes offered; and say tuned in to design trends from around the world. "Sometimes I'll see a tile job in Abu Dhabi that I think could be applied to a client's home down the road," Miller says. "You never know what will influence your design ideas." 
She also encourages designers to be open to learning from others involved in their projects, such as project managers, plumbers, HVAC experts, and finish carpenters. "I always make an effort to visit jobsites and
to talk with the guys doing the construction," Miller says. "I think that, as designers, we want to appear as if we know it all, but we don't. I will ask about what's under the floor, what's behind the drywall, what's in the ceiling, and how the various systems work. I listen to these guys because they know more than I do."
Related Articles
Read about the other remodeling companies that are Market Leaders in 2016