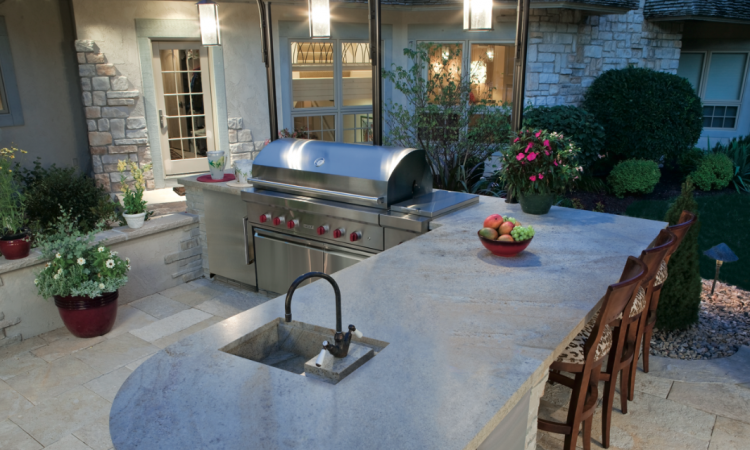 An outdoor kitchen is often planned next to or close to the kitchen of the house.
Cooking outdoors is a great way to entertain and serve a wide variety of meals. Grilling foods is an important food preparation method today, and many people prefer to do this outside to reduce smoke and odors indoors.
Homeowners can cook outside with just a grill, but there are many more possibilities that a designer can use to create an exciting cooking experience. The food preparation in an outdoor kitchen may be modified from the typical food preparation sequence, and many of the Kitchen Planning Guidelines we have examined can be adjusted to suit the requirements of the client.
Proper location
An outdoor kitchen is often planned next to or close to the kitchen of the house. This will increase the efficiency of extending water, gas, and electrical utilities to the area. It will also be efficient for a cook who prepares part of the meal in the indoor kitchen and brings it to the outdoor eating area.
Examine the overall design of the private outdoor areas and consider how best to integrate the kitchen with other outdoor living areas, such as a pool or other landscape feature.
Patio or deck areas will be needed for dining and conversation if the outdoor kitchen is part of the outdoor entertaining area. Typically, the outdoor area is first a socializing space and second a cooking area. Separation between the heat of the grill and those who are socializing should be a primary safety concern.
The inclusion of shelter over an outdoor kitchen may depend on the climate and location of the house.
How often does it rain? How hot does it get? Is shade needed? Will the clients be using the outdoor kitchen all year long or will they need to winterize it? Are strong winds an issue that might affect the placement of the outdoor kitchen or the grilling unit and related ventilation needs?
Choosing the right equipment
The gas grill is an essential element in the outdoor kitchen. The size and features of the grill are varied. Many appliance manufacturers have developed outdoor grill units that have the capacity to act as an expanded cooking center. They have a grill and limited counter areas and warming areas.
Other cooking equipment might be warming drawers, smokers, and wood-burning ovens or grills. Historically, often no mechanical ventilation was planned, so we have learned to consider how the smoke from the grill will be dispersed. An enclosed outdoor kitchen can capture the smoke or even funnel it back into the house. An Underwriters Laboratory (UL)-rated ventilation system for outdoor use should be specified.
An undercounter refrigeration unit is a possibility in an expanded outdoor kitchen. The unit should be UL-rated for outdoor use, well insulated, and made of a weather-resistant material such as stainless steel.
While a sink may be desirable, it requires connection to water and sewer lines. Dishwashers with ratings for outdoor use are also available. Plumbing connections should be easily accessible, and plans will need to be made for these installations. One option that does not require a complete plumbing installation is a sink with a connection to the outdoor hose system. If the sink is insulated and covered, it can double as a cooler. Make sure any sink that is used is made of a material that can endure outdoor conditions and is easy to maintain. A heavy stainless steel is often recommended.
Specify cabinets and counters that are weather resistant. Cabinets might be made of a light concrete material, stainless steel, solid surface, or teak. Borrowing from the boating industry, cabinetry is available made from resins that resist weather. Among the countertop choices are granite, slate, concrete, stainless steel, solid surface, and tile. Consider storage for carts that can help in transporting food. Leveling the ground, deck, or patio surface before the installation of cabinets and allowing for the natural irregularities of the outdoor flooring become critical.
Heating units might be desirable in some regions. Portable patio heaters that use gas or propane are available, and fireplaces and fire pits might provide a focal point as well as heat to the area. All of these should be designed so that guests are not in danger of being burned. Check local codes to determine if these heating devices are permitted in your client's area.
Often equipment in an outdoor kitchen will need to be "winterized," meaning it may need to be disconnected and removed from the outdoor area during extremely cold weather. Help the client plan where these items will be stored during this time.
Outdoor space planning
Typically, the grill is located at the center of the work flow in an outdoor kitchen. Landing areas should be planned on both sides of any cooking appliance and on both sides of the sink. If food preparation will actually occur in the outdoor kitchen, provide a 36-inch preparation space.
Because some outdoor kitchens are compact, following the guidelines for a work triangle may not be feasible. However, clear floor space should be provided in front of all of the major appliances and fixtures, and hot grills and appliances should have restricted access from noncooks. Often more than one person is working in an outdoor kitchen, and work centers or zones may actually be safer and more functional if they are separated. Follow recommended clearances for work aisles, walkways, and seating. When outdoor decks and patios are planned on several levels, make sure extra wide traffic space is planned near level changes without rails. Also, give careful consideration to how the level changes are executed for the various abilities of clients and their guests. PR

--

This article is excerpted from the NKBA Professional Resource Library volume: Bath Planning, Second Edition by Kathleen Parrott, PhD, CKE, Julia Beamish, PhD, CKD, JoAnn Emmel, PhD, and Mary Jo Peterson, CKD, CBD, CAPS, CAASH. Copyright: 2013 National Kitchen & Bath Association; published by John Wiley & Sons, Inc. This material is reproduced with the permission of John Wiley & Sons, Inc.