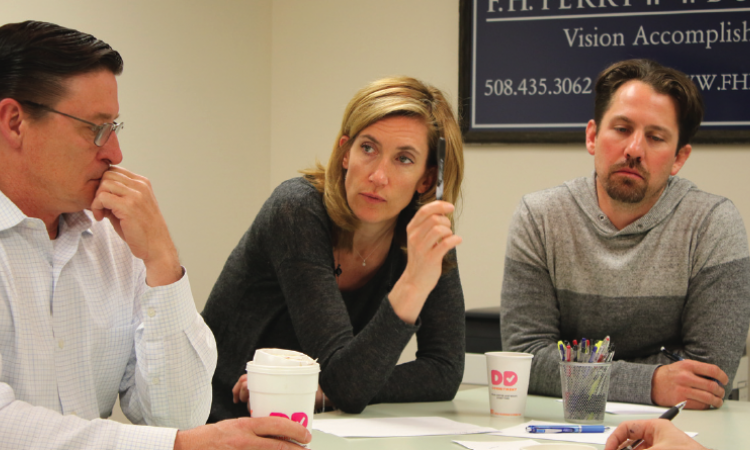 By empowering her employees, Allison Iantosca (center) helps each member of her team express true empathy for clients and present bold ideas that are born from passion. "The clients really pick up on this empowerment and feeling of collaboration," she says. Photo: courtesy F.H Perry
Hopkinton, Mass.
President: Allison Iantosca
According to Allison Iantosca, business excellence is directly related to empowering employees. "We think a lot about adult development and try to offer a platform for personal growth while also promoting an awareness of what each member brings to the team," Iantosca says. 
The business of developing employees is a path that Iantosca has carefully plotted since taking over as president in 2006. "The clients really pick up on this empowerment and feeling of collaboration," she says. "Our employees know that if they fail, they have our support; and if they succeed, we celebrate their success with them. It's what we're all about. We love to build. We love craft. We love great design and cool products and brilliant trades. And most of all, we love consulting and educating and listening, just as we do with the people in our lives who we already love." 
Takeaways for Other Remodelers
To achieve a true focus on customer satisfaction, Iantosca says that every company owner should step away from the business. This allows for better understanding of the market. She suggests volunteering with a local group, joining a board of directors, or taking industry association seminars.
She also feels that each employee should be a direct extension of the brand. Whether a plumbing subcontractor or designer, each member of the team must feel empowered to implement a better strategy if needed. 
Finally, she recommends homing in on your specific niche and understanding how to communicate it to clients in a personal way, especially on your website. 
Related Articles
Read about the other remodeling companies that are Market Leaders in 2016