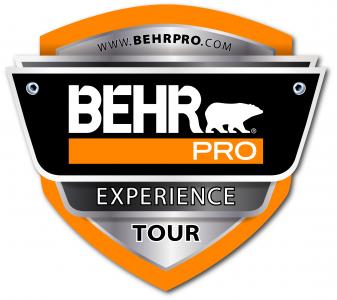 BehrPro, the Professional Products and Services Group of Behr Process Corporation, a supplier of architectural paint and exterior wood care products, announced the start of the BehrPro Experience Tour, its third annual mobile tour across the U.S. The tour will showcase the company's latest products and services designed to help local professional painters, contractors, remodelers and property managers build better businesses.
This year's tour is traveling—for a total of 18 weeks—to The Home Depot stores across the country, popular industry trade shows and select customer appreciation events.
The tour will help educate customers about the KILZ and Behr brand products and BehrProSM services available to the professional marketplace through a series of hands-on product demonstrations and access to local BehrPro sales representatives. To further give back to the professional community and support the growth of local businesses, BehrPro is sponsoring the BehrPro Experience 2013 Sweepstakes, in which eligible participants have a chance to win one of two custom paint trailers equipped with trade tools and having an approximate retail value of $12,000. Participants can enter at tour stops or online. Additionally, one lucky attendee at each tour stop will take home an iPad mini—the perfect business tool for a professional on-the-go.
The 2013 BehrPro Experience Tour will reach select The Home Depot stores in cities across the U.S., including Atlanta, Chicago, Dallas, Las Vegas, Los Angeles and Miami. The tour will also be making special stops at trade show events including the National Apartment Association Conference and the Everything Building Conference & Expo both taking place in San Diego, Calif.
Event attendees will have the opportunity to meet with BehrPro sales representatives to learn about the services available through the pro program that can help streamline business operations and reduce overhead—including factory tinting, color matching, discounted volume pricing at The Home Depot and free job site delivery where available. BehrPro representatives will also educate attendees on unique programs The Home Depot offers, such as Pro Rewards Paint, which gives enrolled members competitive volume pricing on paint purchases.
Visit www.behrproexperience.com to find out when the BehrPro Experience Tour will be stopping at The Home Depot near you or to take part in the virtual tour showcasing exciting new product demonstrations. For more details about Behr's commitment to the professional, please visit the company's website, or connect with BehrPro on Facebook at www.Facebook.com/BehrPro and on Twitter: @BehrPro.