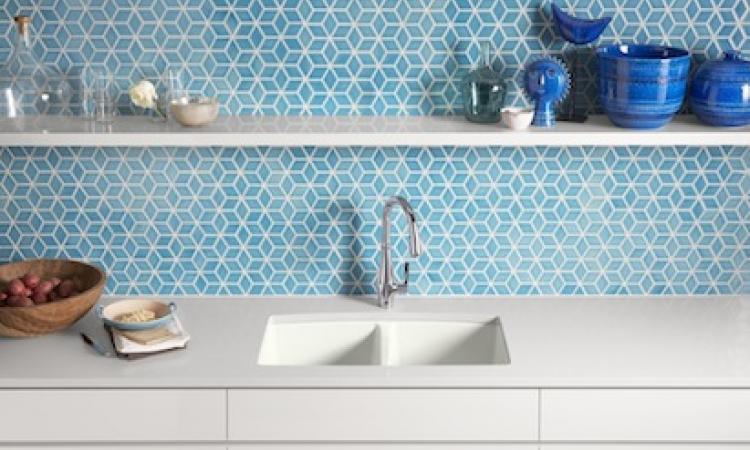 The annual Kitchen and Bath Industry Show took place this week in Chicago, and HousingZone editors were there en masse to cover the latest trends and innovations in kitchen and bath design. Here are 21 product innovations (not ranked in any particular order) that caught our eye. Check HousingZone.com for more K/BIS product introductions in the coming days.
Kohler VibrAcoustic
Kohler's VibrAcoustic technology essentially turns your bathtub into a stereo system — subwoofer and all. Simply plug in your iPod or other music player and bathe to the beats of your favorite tunes. You can also stream your music wirelessly. Check out this video.
ROHL Stainless Steel Kitchen Sinks
ROHL's new line of Stainless Steel and Stainless Copper Sinks are constructed of high-grade stainless steel, providing a commercial-grade sink system that offers a design aesthetic fit for a show kitchen. Its "tangent edge" construction features a rounded bottom edge radius and zero-edge side walls for a clean, professional look and easy clean-up. The sink also features an insulating undercoat that reduces splash-back sound.
Delta Fuse Kitchen Collection
Great for kitchens, bonus rooms, man caves, and other recreational spaces where a sink is desired, Delta's new Fuse Kitchen Collection integrates a splash of color with a contemporary faucet style. Available in three colors (red, black, and white), the faucets come with the company's Diamond Seal Technology for lasting performance and MagnaTite Docking to hold the spray wand firmly in place.
Moen Twist
Moen's new Twist handheld shower allows users to quickly adjust between four spray settings with a simple twist of the showerhead. To adjust the spray, users push the Soft Grip thumb pad and twist the head to the desired spray setting. Spray options include: Immerse, a full-coverage spray; Soothe, a heavy mist spray; Drench, a soft, yet heavy, rinse; and Shine, a strong, focused spray. Available in three finishes: chrome, brushed nickel, and oil-rubbed bronze.
Danze Air Injection Showerhead
Danze isn't the first to integrate air injection into its showerheads, but the company claims its take on the technology improves performance and the shower experience. Instead of placing the air intake at the front edge of the showerhead, Danze developed an Air Injection Ball Joint located at the unit's base. The result is an air-assisted water stream that is a high-powered yet soft spray. Available in 1.5-, 1.75-, 2.0-, and 2.5-gpm models.
Wellborn Cabinet Access Base Wastebasket
As part of an expansion of Wellborn Cabinet's Active Living Collection for accessible living and aging-in-place environments, the company introduced a Access Base Wastebasket, which can be opened with either a pull of the handle or a push of a finger. Wellborn is working to incorporate the touch-open technology with all the drawers in its Active Living Collection.
Lutron Serena Remote-Controlled Shades
Serena battery-operated shades from Lutron can be adjusted manually via remote control or programmed to different settings. Styles include single- and double-cell light filtering and single-cell blackout, allowing users to tailor them for any room in the house. Shades operate on standard D cell batteries, with a lifespan of three years.
Häfele SmartCab storage system
The SmartCab storage system from Häfele America Co. is designed to maximize use of narrow cabinet areas in the kitchen. Designed to fit into 15- or 18-inch cabinets with a drawer above the door (the standard base cabinet), SmartCab can be custom-configured to store a wide variety of household items, including cutting boards, spice organizers, and roll managers for foils and wraps.
Ann Sacks Shagreen Tile
Each of the "tiles" in this collection from Ann Sacks is made of stingray skin, with a spine marking "star" in the center of each piece. The tile has been sanded slightly to give it an interesting granular quality. Tiles are 4 x 5-, 5 x 8-, and 8 x 10-inch sizes.

www.annsacks.com
Liebherr 1500 series refrigerators
Designed for homeowners who are looking to add modern flare to their kitchen décor, Liebherr Refrigeration North America's new 1500 series is the company's first fully integrated 30-inch single-door refrigerator-freezer combination. Both the HCB 1560 and HC 1540 can be concealed behind cabinetry or stainless steel and can be custom designed to sit flush with 24-inch-deep cabinet installations. The HCB 1560 (pictured) features Liebherr's patented BioFresh technology in separate compartments, where temperatures are kept just above freezing, keeping fruits, vegetables, fish, and meats at an optimum humidity level.
Modono Glass Sinks and Tile
All of the offerings in Modono's sink and tile line are made of dichroic glass, which changes color and luster depending on the angle. Sinks can be undermounted, over-mounted, or inset, and come in four different shapes. Both sinks and tile are available in a wide variety of colors.
Formica IdealEdge
Formica says goodbye to the ugly brown seam lines found with typical with laminate countertop edges. Its IdealEdge feature offers seamless decorative edges in any pattern and color and for curved, clipped, or 90-degree corners. Available in two edge options: ogee and bullnose.
Moen MotionSense
Moen's MotionSense kitchen faucet features two motion sensors — one at the base of the unit and one at the top of the faucet — that allow homeowners to activate the faucet with a wave of the hand in one of the two sensing zones. MotionSense is powered by a battery pack that utilizes six standard AA batteries or an optional AC power adapter. An LED light provides visual feedback, indicating when the faucet turns on or off or the batteries are low.
Ann Sacks Ogassian Tile
Put together on a wall, these geometric tiles from Ann Sacks make the whole wall appear three-dimensional. All Ogassian Tiles are ceramic, constructed of buff or red terracotta, and finished in a variety of artisanal glazes. A variety of shapes are available.
Kohler Underscore Bath line
Kohler's Underscore Bath line now offers a temperature-adjustable heated surface option that brings spa-like comfort to a new level. The tub comes with three temperature settings that enable bathers to customize the surface temperature to their comfort preference. The heating element uses a 110-volt power system, so the tub will work with standard outlets and it uses no more energy than a standard light bulb.
Zuvo Bright Line water-filtration system
Zuvo Water's Bright Line water-filtration system incorporates LED lights in the faucet that alert homeowners when the filter needs to be replaced. The company also offers a free smartphone app that helps owners track filter life and water consumption and order replacement filters in minutes.
Acryline Twinline two-in-one bath system
Acryline Spa Baths' Twinline offers both a walk-in shower and a bathtub in a sleek, contemporary unit that is no larger than the standard bath tub. The Twinline is ideal for compact urban living units and remodeling applications, where space is a premium and high style is desired. The integrated shower door opens inward, further maximizing space and allowing near-floor-level access to the unit. Its mechanical door lock connects the drain with the shower door, thereby preventing users from opening the door when the unit is in use.
MYOH pull out corner unit
We continue to see innovation in the corner cabinet area, where homeowners are looking to maximize use and accessibility of this often underutilized space. The latest development is MYOH America's slide pull-out corner unit, which offers access to two double-shelf storage units with a simple pull action. No more bending and stretching to reach and pull out the inner shelves.
Kohler Top-Mount Apron-Front Kitchen Sink
Great for kitchen remodeling and replacement projects where the client is looking to make a strong design statement with the sink, Kohler's new top-mount, self-trimming, apron-front models in its Vault Collection allow remodelers and contractors to "drop in" the sink with minimal alterations to the existing countertop surface and cabinetry — simply remove the false drawer front, making a few cuts to the cabinet face, and slide the sink into place. The self-trimming design eliminates the need for additional trim work or caulking.
FastMac U-Socket
The U-Socket from FastMac features built-in USB ports that allow homeowners to recharge their smartphones, tablets, and laptops without using the AC power plug-ins, increasing the functionality of the outlet. The two USB ports provide 12W of charging power to quickly re-charge most devices, and they automatically shut off power supply when a plug is removed, eliminating wasted energy.
Kalamazoo Artisan Fire Pizza Oven
The Artisan Fire Pizza Oven from Kalamazoo Outdoor Gourmet gives homeowners the power and heat of traditional wood-fired pizza ovens in a small, stainless steel package. The dual-burner countertop outdoor unit provides the ideal cooking temperature for pizzas (800 F degrees) in as little as 20 minutes. Independently-controlled burners give outdoor cooks the ability to tailor the oven's heat and bake any style of pizza, calzones, and artisanal breads.