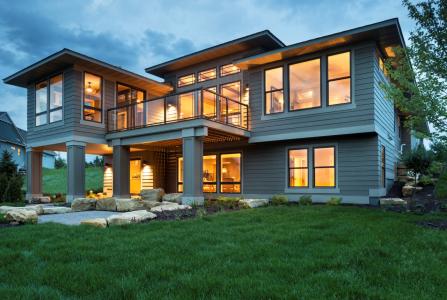 Wilkinson Lake (North Oaks, Minn.) by Bud Dropps of Accent Homes Inc., a 2014 Red Diamond Achiever Awards Winner.
Integrity Windows and Doors announced the best in the world of building with its 2014 Red Diamond Achiever Awards (RDA). This contest offers builders, remodelers and architects the opportunity to showcase innovative projects that use Integrity Windows and Doors. This year¹s award winners feature a mix of residential and commercial projects from seven different builders/remodelers from across the country.
This year¹s RDA program received 211 entries, of which, six winners were chosen and a seventh People¹s Choice winner was chosen from all RDA entries through three rounds of public voting.
Judged winners will receive a VIP tour of Minneapolis and Warroad, Minn., including a special reception with Integrity leadership and Marvin family members, and the People¹s Choice winner will receive an iPad Air. New for this year, all Red Diamond Achiever winners and other top entries will also be featured in a 2015 calendar, which will be available fall, 2014.
Richard Perrone, the builder of the RDA-winning Bonaire house in Sarasota, Fla. said, "We use a significant amount of Integrity windows and doors in the homes we build. To us there is good value in the product; it's a very handsome product and stands up extremely well in the coastal environments in which we build. With this being a model home that we were also marketing to sell, the perception of value that these windows and doors conveyed was excellent."
The 2014 RDA-winning projects are:
Saffron Hills Vineyard (Yamhill, Wash.) by John Mead of Cellar Ridge Construction
The Beach House (Ocean Isle Beach, N.C.) by Luke Perisich of Blue Sky Building Co.
Bonaire (Sarasota, Fla.) by Richard Perrone of Perrone Construction
Manchester Community College Student Center (Manchester, N.H.) by Ron Lamarre of Lavallee/Brensinger Architects
Wilkinson Lake (North Oaks, Minn.) by Bud Dropps of Accent Homes Inc.
Lake Arrowhead Residence (Waleska, Ga.) by Jones Pierce Architecture
People's Choice Winner (Louisville, Ky.) by Brad Abell of Vincent Abell Contracting
"Both our judges and the public had tough choices to make when it came to choosing the winning projects," said Becky Felling, Director of Marketing at Integrity Windows and Doors. "The entries this year were the highest quality we have ever received. But the winning projects truly show what Integrity is capable of. For both commercial and residential projects, Integrity delivers on its Built to perform promise‹our Ultrex pultruded fiberglass is the builder's choice for windows and doors that stand up to the harshest conditions, year after year‹and look great doing it. The 2014 Red Diamond Achievers are proof of that."
Learn more about the RDA and view the winning projects, visit www.IntegrityWindows.com/RedDiamondAchiever. PR