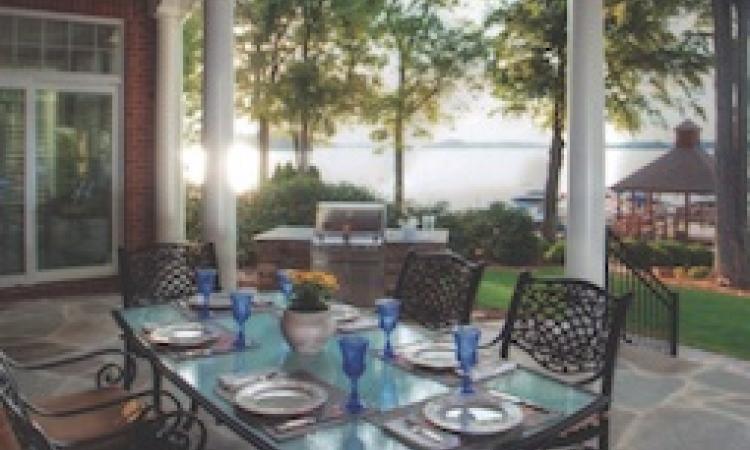 GOLD Outdoor Living under $100,000
Charlotte Design Build, Charlotte, N.C.
Charlotte Design Build was tasked with creating an outdoor living area that included a new covered veranda with a clear view of a nearby lake as well as a patio area with an outdoor cooking area and fire pit.
The original deck was 10- by 33-feet and was not protected from sun and weather. Charlotte Design Build removed the deck and constructed the larger veranda with a new concrete slab on metal decking and finished with blue slate flagstone pavers. It is supported by 12-inch tapered fiberglass columns and has a stained wood ceiling. To provide light lost because of the new roof, two white-laminated glass commercial skylights were installed. Recessed lights, ceiling fans, and step lights are included in the risers.
In order to keep the roofline in plane with the existing lower level roof, Charlotte Design Build closed in a half-circle window with brick on the exterior, and drywall on the interior.
The veranda steps down to a concrete modular paved patio. The outdoor cooking area features a stone-veneered grill counter with a built-in gas grill and granite countertop. The built-in gas firepit is located on the opposite side of the patio.
The Design Award judges noted how the new design opens up the views and living space while significantly improving the exterior appearance of the home.
KEY PRODUCTS
Columns: Melton Classics
Lighting Fixtures: Halo, Progress
Millwork: ECMD
Paints & Stains: Sherwin-Williams
Roofing: Tamko
SILVER Outdoor Living under $100,000
Case Design/Remodeling Indy, Carmel, Ind.