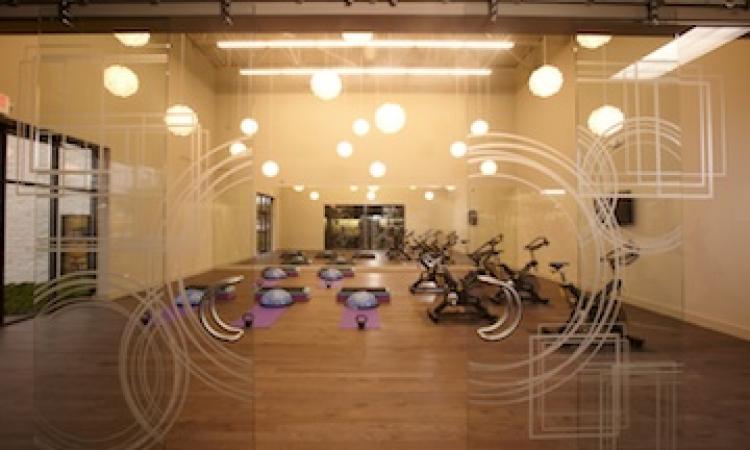 GOLD Commercial Remodel
Pure Design Environments, Eden Prairie, Minn.
Pure Design Environments engineered a complete
metamorphosis of this commercial space, which changed hands from a carpet supply company to a fitness equipment retailer. The client wanted to redesign the showroom to fit their products, and there was
additional space on the west and north sides that needed a purpose.
Redesigning the showroom was the first priority. A major challenge came from the existing soffits, meant to display hanging carpets. Rather than eliminating them completely, Pure Design Environments decided to embrace them, giving them a faux paint job and hanging additional lights to highlight the exercise equipment.
With the company's vision of creating an "experience-based retail destination," the extra space became a small exercise studio where customers can try the equipment, work with a fitness consultant, or partake in fitness classes. A set of custom, etched-glass barn doors — displaying a circular pattern — divide the spaces and allow customers to observe the studio while shopping.   
The circular pattern repeats itself on the new carpeting installed in the showroom. This "circle of life" theme chosen by Pure Design Environments compliments the owner's new branding and advertising campaign.
KEY PRODUCTS
Carpet: Mohawk
HVAC: Lennox
Ceramic tile: Centiva
Countertops: ARPA
Flooring: Centiva
Lighting fixtures: Nuevo/DMF Lighting
SILVER Commercial Remodel
Teevan, San Francisco
BRONZE Commercial Remodel
Pure Design Environments, Eden Prairie, Minn.