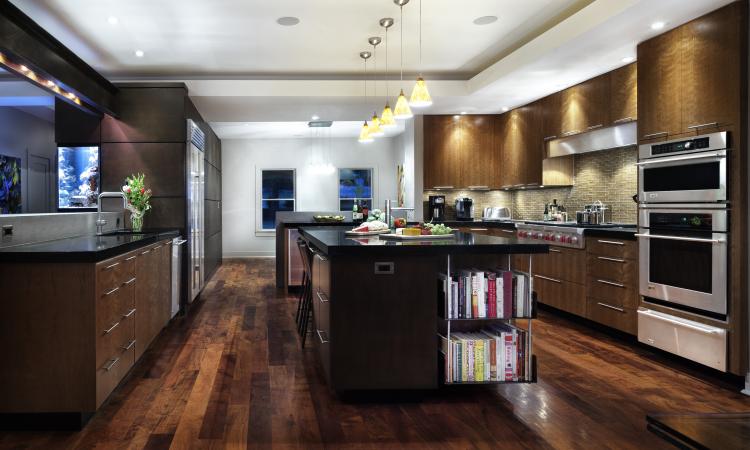 Using the kitchen as a social space is just one of Professional Remodeler's Top 15 kitchen and bath design trends.
Trends in kitchen and baths typically last for several years; however, the cycle for some trends may be shortening. Outside of paint and accessory colors, there are no defined rules for the life span of kitchen and bath trends. For example, stainless steel appliances and ceramic backsplashes have been incorporated in kitchen designs for years, but these types of foundational trends are typically building blocks to future looks.
At the opposite end of the trend spectrum is the way consumers view their kitchen area. How homeowners choose to live in their kitchens continues to evolve as quality construction and functional design transforms the room from a kitchen to a social arena. The kitchen has become more of a gathering place where cabinetry is viewed as a piece of furniture rather than standard kitchen equipment.
Professional Remodeler's top kitchen & bath trends for 2013

1. Kitchens as social space, furniture-type cabinetry

2. Cost-effective, unfitted bathrooms

3. Transitional kitchen and bath styles

4. Emergence of quartz countertops

5. Color palette favors grays

6. White cabinets and blending finishes

7. Darker finishes, changing depths

and heights

8. Undermount sinks create extra space

9. LED lights and reflectivity

10. Glass, ceramic, metal backsplashes

11. Creative use of ceramic and

porcelain tiles

12. Increase of touch-activated faucets

13. Satin nickel, bronze, oil-rubbed finishes

14. Larger showers, better amenities

15. Pinterest & Houzz influence designs
"Both the kitchen and bath are being seen more as a place of rest and sanctuary from the stressful outside world," says Dave Bryan, president, Black Dog Builders, Salem, N.H.
Kitchen and bath remodeling is very personal to the homeowner, so each one must be designed to meet your client's growing personal needs. 
"People continue to place importance on quality and design when making decisions on a kitchen project, and they are willing to add to their budget if they believe quality and design will bring them long-term satisfaction," says Mick DeGiulio, principal, DeGiulio Kitchen Design, Wilmette, Ill. "At the same time, expectation levels have risen; they want long-term styling and great design without sacrificing function."
After years of living with the same kitchen or bathroom, homeowners are now beginning to reinvest in these rooms.
According to the American Institute of Architects (AIA) Home Design Trends Survey for the fourth quarter of 2012, residential architects are reporting the best business conditions since 2005 for custom design projects, along with high demand for remodeling and renovation projects involving kitchens and bathrooms.
Furthermore, in terms of specific trends involving kitchens and bathrooms, the National Kitchen and Bath Association (NKBA) released its 2013 Kitchen & Bath Style Report, which surveys NKBA members' top design trends. These results, in concert with results culled from a recent Professional Remodeler kitchen and bath survey, make up this year's list of 15 design trends for kitchens and baths.
Click below to view our Professional Remodeler's Top 15 design trends for kitchens & baths.
[pagebreak]
1. Open kitchens to create more social space, furniture-type cabinetry
Not only is the kitchen utilized for cooking and eating, it has evolved into a social setting where cabinetry is being viewed as furniture as opposed to standard kitchen equipment.
"Kitchens have become the new living room, and as a result, they are more unique and collected in terms of finishes and vocabularies," says DeGiulio. "I love hearing people talk about how important their kitchens have become to them, not just for cooking, dining, and cleaning, but for just hanging out with friends and family."
DeGiulio ultimately believes there will be a change in the hierarchy of the home that puts the kitchen as the priority in terms of design, budget, location, and space allocation.
Another design trend that has become popular lately is the new kitchen look with furniture-type cabinetry and mixtures of finishes and colors.
"We have been adding more finishing pieces to cabinets, such as adding panels on cabinet ends and molding accessories, which really highlights a great look," says Bill Shaw, chairman of the NAHB Remodelers and president of William Shaw Associates in Houston.
[pagebreak]
2. The cost-effectiveness of the unfitted bathroom style
Whether traditional or contemporary, the unfitted style reflected in free-standing slipper tubs and furniture-like cabinetry is becoming increasingly popular for the sanctuary-like bathroom reflected in today's designs.
"The unfitted style results in a cleaner aesthetic, and in many cases is more cost-effective than custom built-in solutions," says Bryan.
Generally, it is less expensive to install a free-standing slipped tub compared with a custom, deck-mounted tub complete with tile and surrounding stone. Tubs and cabinetry modeled in the unfitted style is often the focal point of the bathroom.
"The tubs are anchoring the bathroom and are usually placed in a strategic location," says Shaw.
[pagebreak]
3. Transitional styles for kitchens and baths
Last year, the popularity of transitional style—a seamless blend of traditional and contemporary—exceeded that of its traditional counterpart, which had been a top trend in 2010 and 2011.
"I like to think in terms of softening themes—creating modern kitchens that more comfortable and traditional kitchens that have a sense of modernity and simplicity," says DeGiulio.
In the latest NKBA survey, transitional styles are still positioned at the top of the list for kitchen applications, currently used by 61 percent of NKBA-member designers, which is up from 59 percent last year. Traditional styles currently rank second for both kitchens (60 percent) and bathrooms (58 percent). Contemporary designs rank third, maintaining 52-percent usage in kitchens and 57-percent in bathrooms.
"Transitional-styled kitchens are boldly moving forward with the sleek and uncluttered look utilizing natural and blended wood tones and bright pops of color," says Nicole Busenbark, marketing process specialist, 1005 Design, the design department of American Trim, Lima, Ohio.
[pagebreak]
4. The emergence of quartz  countertops; granite and marble remain popular
Quartz was the second most popular counter-surface material used in bathrooms last year, significantly narrowing the gap with granite. The use of quartz has increased from 53 percent to 65 percent, according to NKBA.
"Quartz is different from granite, which people have become so accustomed and, therefore, tired of as well," says Ridley Wills, owner and designer, the Wills Co., Nashville, Tenn. 
Granite remains popular as it has been specified more than two-thirds of the time by kitchen and bath designers. Marble also remains a popular bathroom vanity-top material, only moderately dipping in popularity from 46 percent in 2010 to 39 percent this year.
As for kitchens, the use of quartz increased from 69 percent to 80 percent. Granite continued to lead with 87 percent usage in kitchens. A key trend identified last year, the use of solid surfaces in kitchens continues to rise, growing from 11 percent in 2010 to 35 percent in 2013.
"Quartz countertops offer the look and feel of natural stone but are a non-porous material that doesn't require sealing," says Laura Barber, designer, Normandy Design Build Remodeling, Hinsdale, Ill. According to Barber, the increase in quartz countertops is due to consumer affinity for the look and feel of materials such as marble and limestone. "They also want the ease of maintenance and durability that quartz products have to offer," says Barber.
[pagebreak]
5. Color palette favoring grays, beige, bone, and whites
Shades of gray in bathroom remodels have risen from 12 percent to 56 percent since 2010, according to NKBA. Whites and off-whites remain the top color schemes of bathrooms, used in 71 percent of bathrooms, an increase of 6 percentage points over the past year.
"We do see gray more often right now. One reason is that the bronze and brown colors of the last decade are now out of fashion and gray takes the palette in another direction," says Wills.
Beige and bone colors remain the second most popular color scheme, followed by grays and browns. Browns are slightly in decline, falling from 39 percent in 2012 to 35 percent this year, but sepia tones rose from 11 percent to 18 percent.
Shades of gray in kitchen remodels have risen from 9 percent to 55 percent since 2010. Similar to bathrooms, whites and off-whites remain top kitchen colors used in 73 percent of bathrooms, also an increase of 6 percentage points over last year. Beige and browns also remain a popular kitchen color scheme, followed by grays and browns. Sepia tones rise from 11 to 17 percent in kitchens.
"These lighter tones can add to the soothing spa effect for bathrooms, while the darker tones can be more dramatic. Walls, whether painted light or dark gray, can allow cabinetry and countertops, as well as accessories, to stand out as design elements, while gray cabinetry can add it's own impact," says Cathy Doucet, designer, D.R. Doucet Remodeling and Design Inc., Stoneham, Mass.
[pagebreak]
6. Cabinetry colors and styles
Among painted cabinetry, white has been very popular for the past three years, so it's clearly not a fad among homeowners. The popularity of white-painted cabinetry jumped from 47 percent to 59 percent in 2012 and further increased to 67 percent this year, according to NKBA.
"Many cabinet manufacturers also offer various shades of painted gray cabinetry to accommodate the styles of most homeowners," says Doucet.
Cabinet color is also changing with the evolution of two-toned cabinets. For example, the lower cabinet and oversized island are typically a different and darker color than the upper level cabinets, which may also have open shelving.
"One of the major new trends we've seen is the mixture of cabinet finishes with islands being stand alone furniture pieces with a different color finish than the main cabinets," says Shaw.
The blending of kitchen appliances with the same cabinet faces has once again become desirable again, according to kitchen designers.
[pagebreak]
7. Darker finishes, depths, and heights
Use of light, medium, and natural cabinet finishes has remained consistent during the past year. Light finishes are currently used by 30 percent of respondents, medium finishes by 54 percent, and dark finishes by 55 percent, according to NKBA. Use of glazed finishes, which held at 44 percent in 2011 and 2012, increased four percentage points this year.
"We've also seen an increase in clients that are mixing up cabinet heights and depths," says Shaw. "Our clients are also interested in manufactured cabinets with high-level finishes and accessory packages."
Busenbark added, "The glazing and distressed look is also a big trend in cabinetry finishes."
[pagebreak]
8. Undermount sinks still on top
The popularity of undermount sinks is in a slight decline; however, they remain the most specified type of lavatory sink during the past three years.
"An undermount sink offers an integrated, seamless look, ease of cleaning, and they maximize counter space," says Barber.
Integrated sink and tops have seen some growth, increasing from 35 percent in 2012 to 41 percent currently.
Undermount sinks also create extra counter space because the sink is under the countertop rather than sitting on top. Visually, the vanity top now appears larger because the countertop space is continuous.
"From an aesthetic point of view, it also creates the ability to let the counter material take center stage," says Dawn Parker, design team manager, Sun Design Remodeling Specialists Inc., Burke, Va.
[pagebreak]
9. LED lighting, reflective properties
Energy-efficient lighting is widely used by kitchen and bath designers in both the U.S. and Canada. As consumer awareness of energy efficiency has risen, it comes as no surprise that light-emitting diode (LED) lighting is being specified by a higher percentage of designers. Over the past year, 77 percent of designers have specified LEDs, up from 70 percent in 2011 and 50 percent in 2010.
"As we move from incandescent lighting to LED lighting, there is much more emphasis on lighting color and brightness. With so many choices, the remodeling contractor must be well versed in lighting or have an expert available to help the client," says Shaw.
LED lighting is also being paired with metal backsplashes.
"The metal's unique reflective properties can make the lighting more of a focal point," says Busenbark.
LEDs also don't heat up the way halogen or standard incandescent lights do.
"This makes them ideal for undercabinet task lighting. Their cool operation also makes them useful for in-cabinet applications, where an incandescent's heat might damage the cabinet or its contents over time," says San Diego-based, NKBA-certified, independent kitchen and bath designer, Jamie Gold, AKBD, CAPS, and author of the book, "New Kitchen Ideas that Work."
More recently, LEDs have become available in a wide range of colors. "They can also be specified as color-changing fixtures. These are perfect for places where accent lighting—and soft drama—is desired," says Gold.
[pagebreak]
10. Glass backsplashes, ceramic and decorative metal evolving
The kitchen backsplash has become more of a decorative area instead of just an ignored space between the cabinets and countertop. A backsplash can also add texture and depth to the kitchen. The selection of glass tiles and other new innovative tiles creates interesting focal points in the backsplash area and its tie-in with countertops and finishes.
Ceramic and porcelain tiles held its top position for the third consecutive year, but overall usage fell by 11 percentage points between 2010 (88 percent) and 2012 (77 percent).
"The typical ceramic tile backsplash has evolved into a variety of different materials, and decorative metal panels and glass panel backsplashes are taking the lead," says Busenbark.
The preference for glass backsplashes has grown over the past three years, from 42 percent in 2010 to 64 percent, according to NKBA. Contributing to the popularity of glass panel backsplashes might be the smooth, nonporous surface, which is easy to clean. Even though natural stone tile showed consistent growth during 2011 and 2012, usage dropped from 60 percent to 55 percent in the latest survey.
[pagebreak]
11. Popular use and creative design of ceramic and porcelain tiles
Slightly down from 93 percent in 2011, ceramic and porcelain tile flooring has been in decline of late, but it still remains the most popular of all materials specified by kitchen and bath designers. Ceramic and stone tiled floors are extremely durable and easy to maintain, and manufacturers offer dozens of styles and colors to meet the needs of homeowners and designers.
"Tiles will always be a popular choice for floors because of the durability and endless style options they offer," says Barber. "A simple and monochromatic design will create a subtle backdrop in a room. To make a bold statement, using a mix of tiles in varying textures, shapes, and patterns can make for a beautiful focal point."
Natural stone tiles have also declined since 2011, dropping 77 percent to 59 percent in 2012, and to 57 percent this year. However, stone tiles remain the second most popular type of flooring used since 2011.
"People just like the look of tile, it can bring a completely different texture than what can be achieved with hardwood. Porcelain tile can range from looking stone to having a very flat, monochromatic, contemporary feel," says Parker.
Adding medallions to an entranceway creates visual appeal upon entering the room. Creating borders around the room emphasizes the shape of the room or a particular space within the room. Some ceramic tile has been designed to mimic wood planking, creating an alternative to hardwood.
[pagebreak]
12. Touch-activated faucets gaining market share
Historically, touch-activated or touchless faucets were commercial products but have now crossed into the residential market and are here to stay. Homeowners with limited use of their hands, whether due to arthritis or other physical limitations, find touch-activated faucets much easier to use on a daily basis. Touch-activated faucets have been specified by 32 percent of designers in 2012 versus only 20 percent of designers in 2011.
"Greater consumer awareness and confidence in the functionality of touchless faucets has led to the increased interest," says Barber.
Touch-activated faucets have become more stylish and are now being offered by more manufacturers in more finishes.
"Homeowners appreciate that they can turn the water off and on while preparing food and not making a mess of the handles. Homeowners also like that there are less germs being left behind on the handles, especially in the bathroom," says Doucet.
Pull-out faucets are still in the top position, as they have been since 2010, with usage rising from 88 percent in 2010 to 94 percent this year. Pot-filler faucets rank second this year, gaining five percentage points over the past year to 33 percent.
[pagebreak]
13. Satin nickel, bronze, oil-rubbed finishes
When it comes to faucet finishes, satin nickel has been on the top since 2011 with its usage increasing from 42 percent in 2010 to 60 percent this year. Bronze or oil-rubbed bronze finishes are also being specified more often, growing from 41 percent to 50 percent in the past year.
"Most homeowners like a brushed or satin finish rather than a polished finish because it shows less water spots and fingerprints," says Doucet.
The increased popularity of satin nickel, bronze, and oil-rubbed bronze likely comes at the expense of polished nickel and polished chrome. The former being easier to maintain in regard to cleanliness and also offers a warmer tone than the brushed chrome. Polished chrome dipped from 52 percent to 47 percent while polished nickel dropped from 25 percent to 20 percent in the latest NKBA survey.
[pagebreak]
14. Larger showers, better shower amenities
In smaller master baths, a larger shower that offers a spa-like experience is still popular. Space-permitting clients want to have a private commode area and his and her vanities with cabinets that suit their personal needs. 
"A well-designed shower, not necessarily larger but certainly functional with ample feeling, is often a better use of space than a small, less functional and attractive shower with a separate tub," says Wills.
For smaller bathrooms, the tub is often forgone and a larger shower with body-sprays, multiple showerheads, and steam is preferred. The shower should not be designed too large as it can lead to increased maintenance effort and higher construction costs.
"Only if more than one person actually showers at the same time is a 'huge' shower ever really necessary or even attractive," says Wills.
[pagebreak]
15. Kitchen & bath designs based on Pinterest and Houzz
The advent of sites such as Pinterest and Houzz have brought consumers an infinite number of new and unique ideas for their homes. The homeowner is not so reliant on a designer to introduce them to every new trend and material.
"These tools can be very helpful to designers to help clients pinpoint ideas, looks, colors that they find pleasing. While we used to ask clients to do some homework and look through magazines, etc. before our first design meeting, to give us a starting point, we now can ask them to set up an account on Houzz and build an Ideabook," says Bryan.
It can all be done via email, streamlining the whole process of design conception. The downside? Search engines often bring up the same images based on how often they've been looked at, meaning the most popular pictures are looked at the most and are brought to the front again and again, which is a feedback loop that can limit creativity instead of expand it. PR