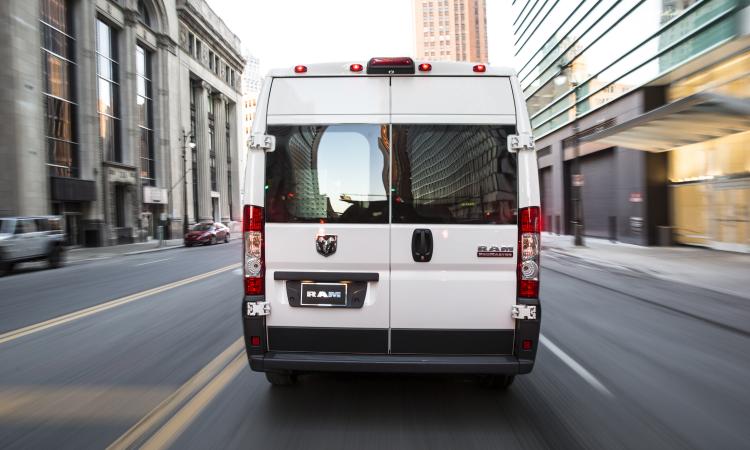 The newer vans eliminate the curved sides found in traditional vans that minimize the space near the roof.
Some of the largest automakers are rolling out new full-size vans to complete their commercial lineups and appeal to business owners such as remodelers and craftsmen.
?Van sales and pickup sales have both been improving significantly as the construction industry starts to come back,? says Tom Wilkinson, communications manager for Chevrolet Trucks.
This recent upswing has allowed automakers to develop new vans, largely inspired by their European counterparts, for the first time in decades.
?The van segment hadn?t really changed for 30 years or more,? says Peter Bedrosian, senior manager of product planning for Nissan Commercial Vehicles. ?You were having these business owners move to pickup trucks because they could get more comfort.?
Some automakers say the pickup-truck converts are returning to cargo vans because of innovative features in the newest lineups. These features include front-compartment comforts, vertical cargo areas, and increased fuel economy and payload.
Front-compartment comforts
Nissan first introduced the NV Cargo Van, its full-size commercial van, for the 2012 model year, and it is a hybrid approach.
?From the front compartment forward, it?s like a pickup truck,? Bedrosian says. ?The packing of it is a pickup truck, and the back of it is a van.?
In many traditional vans, the engine is partially inside the driver?s compartment and has an interior cover where the engine is serviced.
?It really limits your foot room, and a lot of guys wear work boots and they can hardly fit in that area, so it?s not very comfortable,? Bedrosian says. ?We?ve now moved the engine into where it would be in a pickup truck, so that gives us better quietness, better drivability, [and] better servicing of the engine.?
Automakers are putting more emphasis on the driver?s comfort, and foot room is just one example.
Many remodelers use their vehicles as a ?mobile office? where they can do paperwork, store invoices, and use their computers.
?Storage becomes very important as well as connectivity,? says Joe Benson, head of marketing for Ram Commercial. ?Think about hanging folders or a place to securely put a laptop.?
Ram is expected to launch its ProMaster full-size van in September 2013. Both storage and connectivity are main components of the new vehicle, Benson says.
The ProMaster will have the option of the Ram?s Uconnect system for hands-free phone, GPS navigation, and built-in Wi-Fi.
?These guys are sometimes going to three or four job sites a day, so navigation becomes very important and a very efficient way to get them to the job site quickly,? Benson says.
Another important technology update is a backup camera because a full-size cargo van does not have any windows in the cargo area. The ProMaster has a standard backup camera as well as rear camera wiring if the owner has specific needs for a unique camera or monitor location.
The NV has similar features including a functional center console that was not common in previous commercial vans. The console has an 110V outlet to hook up a charger as well as a multipurpose top.
?It has a top surface that is a sliding desk, so it slides toward the center stack of the vehicle where you have your laptop and type on it,? Bedrosian says. ?It has a 200-pound capacity.?
The front seat also lies flat to reveal a hard surface that can be used as a writing area.
Increased space, more storage, and better connectivity all help remodelers use the van as a comfortable, mobile office, but there is more to the vehicle.
Vertical cargo areas
?These vans are not only a mobile office but a mobile workshop,? Bedrosian says.
The full-size van?s cargo area offers remodelers a covered space to not only store their tools but also to work?a feature that pickup trucks cannot offer.
The newer vans eliminate the curved sides found in traditional vans that minimize the space near the roof; instead, the vertical sides make for greater interior volume and more useable space.
Roof height is also an important component of this cargo area.
?The guy who?s in this van wants to stand up in it. He wants to be able to put a workbench in it. He wants to be able to carry all his materials because he?s in and out of the vehicle everyday,? Benson says.
Ford is releasing its Transit full-size commercial van for model year 2014, which will eventually replace its E-Series vans, says Doug Scott, marketing manager for Ford Trucks.
The Transit will come in three different roof heights to accommodate customers? needs. The low roof has 56 inches of cargo height, the medium roof has 72 inches, and the high-roof Transit has 81 inches.
?The high roof accommodates someone standing up in the back of [the van] who?s 6-foot-6,? Scott says. ?Think about the possibility for the craftsmen in terms of being able to do work inside the back of the van out of the weather and so forth. [It] really opens up numerous possibilities.?
To make working easier for remodelers, the ProMaster offers a best-in-class step-in height.
?The remodeler is getting in and out of this van and getting tools and materials 50, 60, 70 times a day,? Benson says. ?It becomes tiring, so if we can help on that front, he?s more productive during the day.?
Another way to make the cargo area more productive is by making upfitting easier.
?Traditionally if you were to upfit a van, a conversion company would just use screws and screw right into the structure of the vehicle,? Bedrosian says. ?They pull out, they rust, and they?re not as robust.
?It makes it difficult to move an upfit from your old van to your new van because they get torn up.?
The NV, however, has integrated mounting points inside the vehicle that are actually part of the vehicle structure. This allows for a much cleaner and more robust attachment method, Bedrosian says.
?If you think about the guy who?s out there and needs a workshop on one side and racks and shelves and bins and whatnot on the other side, he has the ability to do that and do it very easily and inexpensively,? Benson says. ?The ability to upfit the vehicle to fit their needs is important.?
Fuel economy and payload
Ford has seen an increasing concern for fuel economy in both their commercial trucks and vans.
?Customers look at their vehicle as a tool, another tool in their toolbox; and like any tool, they want the tool to be more productive,? Scott says. ?One of the ways the tool can be more productive is obviously to cost less to operate and deliver better fuel economy.?
The Transit will offer more choices for buyers than the current E-Series vans, which have an exclusively gasoline engine lineup of two V8s and a V10. These options for the Transit include a 3.7-liter V6, a 3.5-liter EcoBoost engine, and a 3.2-liter diesel option.
The 3.5-liter EcoBoost is the same engine found in the Ford F-150 pickups, while the 3.7-liter V6 offers a compressed natural gas (CNG) prep kit to give owners more fuel options.
?The biggest advantage of CNG is the much lower cost,? Scott says. ?Today the limiting factor is the cost of the powertrain itself.?
A recent average price of CNG is equivalent to $1.89 per gallon of gasoline. With this low cost of CNG and similar fuel economy on a miles-per-gallon basis as gasoline, the appeal may continue to grow.
?The interest is expanding, and I think as time goes on, the cost of the CNG powertrain will come down,? Scott says.
Even with V6 engines replacing traditional V8s in vans, payload remains an important component of these commercial vehicles.
?The remodeler is hauling most of the time max-payload every single day,? Benson says. ?The remodeler always has his tools with him, always has the workbench and the upfit in the vehicle, and most of the time has all the materials for his job.?
The Ram ProMaster has a payload capacity of 5,145 pounds and a maximum towing capacity of 5,100 pounds, surpassing many commercial pickup trucks.
?The full-size van and a pickup truck do similar work, but you get the security and weather protection with the van construction,? Bedrosian says.
New full-size cargo vans such as the NV, ProMaster, and Transit have competitors looking closely.
?We?re sort of waiting to see what happens with these new European-style vans. They have the potential to offer a little better fuel economy,? Wilkinson says. ?We?re watching the whole van segment with a lot of interest, but we think at this point Chevy/GMC is competitive in terms of vans with the Express.? 
The new vans, however, are definitely sparking great interest. With more front-compartment comforts, vertical cargo areas, and better fuel economy and payload, these full-size commercial vans are strong options for remodelers looking for both a mobile office and a mobile workshop. PR