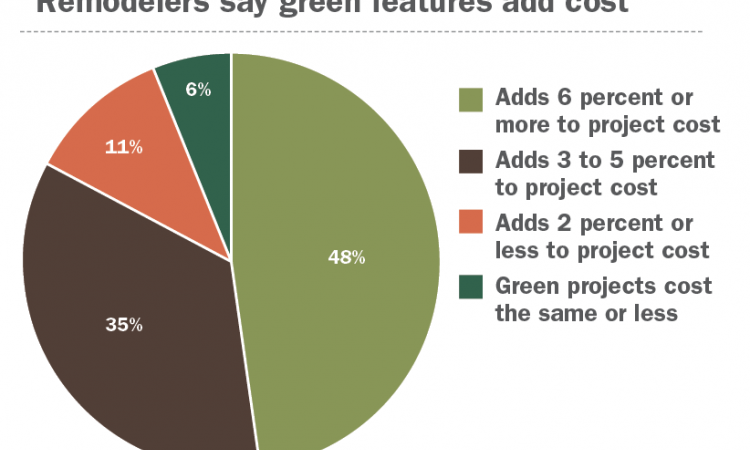 Remodelers say green features add cost.
The rising cost of green remodeling features and showing the client a return on their green remodeling investment remain the two biggest challenges to selling a sustainable remodeling project, according to the most recent Professional Remodeler green remodeling survey, the sixth study we have done on the topic since 2007.
Much like the previous surveys, homeowners are hesitant to pay a premium for green remodeling products and services. Fifty-nine percent of remodelers reported that it was a factor for them when attempting to sell green, and 41 percent indicated it was a "very significant" factor. Insufficient return on investment was cited by 80 percent of remodelers as an obstacle. (For more on the challenges of selling green, see the Remodelers Exchange on p. 22).
"There are many green features that clients want but after pricing them out, they will not pay the price to add them to their project," said one Minnesota remodeler.
Regardless, 42 percent of remodelers reported that green features help them sell remodeling projects and 39 percent market their remodeling company as "green," which is similar to numbers posted in last year's survey.
The cost and value relationship
Challenges of selling green

We asked remodelers what their biggest challenges were in selling green remodeling. Here are some of the answers we received.

"Convincing the client to pay the extra cost."

"Justifying the extra cost to the consumer."

"The word 'green' is a barrier. People think it's more money but we talk about energy savings and home comfort."

"Cost versus ROI."

"Convincing people to re-think the way we have built in the past."

"The biggest challenge is the ability to prove or document value engineering and cost payback."

"High initial costs are mitigated by long-term lower energy costs and extended life cycle."

"Clients want to see cost benefit first rather than understanding sustainability."

"Conflicting claims by the manufacturers."

"Customer awareness of the importance of energy efficiency to the country, to their utility costs, and to the comfort of the home."

"The deluge of 'green products' is confusing to consumers and the builders/remodelers."

"Demonstrating the return of dollar investment in cost savings."

"No state-wide building code calling for energy efficient homes."
One significant challenge to remodelers continues, getting the client to pay enough for the added cost of green features. Just over 80 percent of remodelers said that clients will pay up to 5 percent more for green features, up from the 75 percent reported in last year's survey.
Despite the increase, approximately 20 percent of remodelers said their clients are willing to pay more than a 5 percent premium. However, 48 percent said that incorporating green features increases project costs by more than 5 percent—a gap of 28 percent. Only 52 percent of remodelers indicated clients are willing to pay at least 3 percent more for green features, compared with the 84 percent that indicated that green features add at least that much to the average green remodeling project.
"Consumers are not willing to pay premium prices for what they perceive to be such a long-term return on their investment," said a remodeler from Texas.
Local, state, and federal government credits and rebates continue to drive green projects by offsetting some of the costs, however the percentage of remodelers that do so has fallen.
Fifty-six percent of remodelers indicated they are taking advantage of government incentives for green improvements in 2012 down from 60 percent in 2011 and 70 percent in 2010.
Only 23 percent of remodelers use the credits or rebates on more than 10 percent of projects, down from 27 percent in 2011 and 38 percent in 2010.
The impact of energy efficiency
As in years past, energy efficiency continues to be a top concern for homeowners. Sixty-one percent of remodelers said their clients are "very concerned" about energy efficiency and 71 percent said clients were at least "somewhat concerned." Energy efficiency and water efficiency are the only two factors that are a concern for more than half of remodelers' clients. Seventeen percent said their clients were "very concerned" about the environmental impact of the products used in their projects. This is up from the 9 percent reported in 2011.
Still, remodelers are making the effort to gain a piece of the energy efficiency market as they continue to add energy audits as part of their services. Thirty-nine percent of remodelers indicated they now offer some sort of energy assessment in their business. Similar to responses from previous surveys, this continues to be a marketing tactic more than a profit center as 78 percent of remodelers indicated they only perform energy audits when it is profitable to other aspects of their business.
Products and methods focused toward energy efficiency continue to be the most popular attributes remodelers are implementing in their projects. Energy-efficient windows were used by 67 percent of remodelers on all of their projects and 97 percent used them on at least some of the projects. Energy-efficient appliances, high-efficiency HVAC systems, enhanced insulation, energy-efficient lighting, and were all used by more than 90 percent of remodelers on at least some of their projects. PR