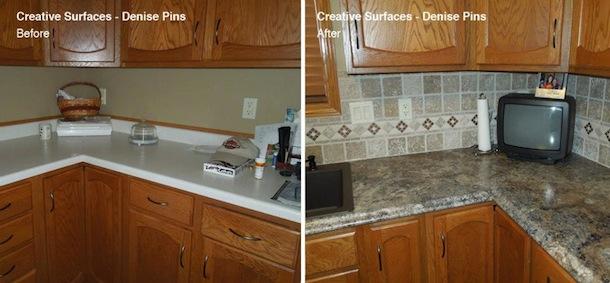 VT Industries knows it doesn't take a lot to add beauty, elegance, and value to a home. The recent "Ugly Countertop" contest was VT's way of demonstrating how easy it is to take an ordinary kitchen workspace and make it into something extraordinary. After reviewing all of the contest entries received from contractors, VT's panel of designers selected five countertop renovation projects as the grand prize winners:
•
Dale Wordekemper – Benchmark Woodworks 
•
Jeff Fanning – Tops Plus
•
Randy Parsons – RP Construction
•
Danielle Piner – American Counter
•
Denise Pins – Creative Surfaces
Dale Wordekemper, Benchmark Woodworks

Storm City, Iowa
  [PAGEBREAK]
Jeff Fanning, Tops Plus

Des Moines, Iowa
"We were extremely excited by the number of entries we received from contractors all over the country," said Trisha Schmitt, vice president of corporate marketing for VT Industries. "Our goal with the contest was to not only show how the addition of a new countertop can completely change the look and feel of a home workspace, but also to showcase the work and fine craftsmanship of the contractors using our fine laminate and stone countertop products."
[PAGEBREAK]
Randy Parsons, RP Construction

Salem, Ore.
Participating contractors were asked to visit the VT Industries Facebook page and upload before and after photos of remodeling projects using VT countertops. By simply showing how a VT countertop, with premium edge profiles, and the look and feel of granite or stone, can easily transform a countertop into a beautiful home fixture, contest participants were eligible to win monthly prizes, as well as the grand prize trip to the Marco Island Resort.
[PAGEBREAK]
Danielle Piner, American Counter

Wake Forest, N.C.
The ugly countertop contest ran from June 1, 2012, to Dec. 31, 2012. Monthly winners were randomly selected and received prizes that included $50 AMEX gift cards. All winning entries were posted and displayed on the company's Facebook page.



[PAGEBREAK]
Denise Pins, Creative Surfaces

Sioux Falls, S.D.




For more information on the contest or any VT Industries products, click here.