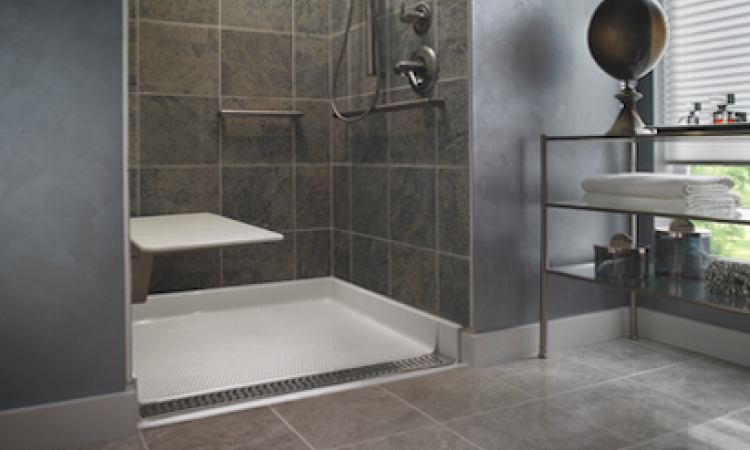 The concept of universal design continues to grow in popularity among homeowners, remodelers and designers. Once an un-familiar concept, the demand for products that are accessible and functional for everyone increases as these products become more attractive, available and appreciated.
Ron Mace, an architect and advocate who influenced thinking about design on an international level, is credited with creating the concept of universal design. According to Mace, the formal definition of the concept is the use of products, spaces and aesthetics to the greatest extent possible by everyone, regardless of their age, ability or status in life.
Another way to think about it is human-centered design, as it helps us remember that our surroundings and products should support the activities, lifestyle and circumstances of the people we are designing for instead of the other way around -- expecting people to adapt to the design. In addition, the design must respect the differences in human factors, while also maintaining a visually appealing aesthetic.
The terms aging-in-place and universal design are often confused. Overall, universal design is a broader term because it targets the entire population. It takes into account the reality that changes will occur over the life of the home and its occupants, as well as the environment and its users. On the other hand, the term aging-in-place is a little narrower because it refers to home modifications that support changes that occur specifically as we advance in the aging process.
Historically, there has also been confusion about the differences between universal design and accessibility products, putting an erroneous medical spin on universal design products. As acceptance of universal design grows, there is more understanding and appreciation for the cleverness of good design that improves ease of use. However, many designers still find themselves walking a tight rope when it comes to promoting both the beauty and convenience of universal design products.
The recognition of the importance of universal design is growing as homeowners come to terms with its impact in both a personal and general sense. The baby boomer era has accelerated the recognition, as a larger percentage of homeowners find aging-in-place more desirable. The drive to reduce our burden on the environment has also helped promote universal design. If new homes are built for a variety of users by incorporating support, flexibility and ease of use, then they are built to last longer.
When incorporated into a remodeling project, universal design can eliminate or reduce the need for changes later in life. As people advance in the aging process and experience the natural changes that come along with aging, the benefits of products that make tasks simpler or safer are more recognizable. Now more than ever, many universal design products are not only smart for seniors, but also young children and those with limited mobility. For instance, a flip-up seat in the shower or a faucet that allows the user to activate the flow of water with a simple touch on the handle or spout are helpful for people of all ages and abilities.
To answer the increasing demand for universal design, home appliance and plumbing manufacturers continue to develop products for the home that help make the user's experience safer and more comfortable without sacrificing beauty.
Universal design in the bathroom
The bathroom is one space in the home where safety is of the utmost importance. From the shower to the lighting, there are adaptations and products to help keep the bathroom a safe place for all.
Zero-threshold shower bases, which mimic the European style, provide homeowners with a seamless and beautiful shower. Flush with the bathroom floor, they often feature a trench drain to contain water in the shower area. The design permits easy access for foot and wheelchair traffic. A slip-resistant, textured floor can help protect against accidents in the shower.
Grab bars in the tub or shower area or next to the toilet provide safety and support for anyone. Remembering the combined aspects of aesthetics and support that are universal design, manufacturers are providing homeowners with more design options and flexibility, including grab bars that coordinate with a number of faucet and shower fixtures and double as decorative or functional pieces.
For those who desire a tub experience, a ledge or seating area on the edge of the tub improves ease in transferring in and out of the tub, while also providing an area for caregivers to sit. This feature can enhance the bathing experience for young children who need to be supervised while bathing or an older adult who may require a more easily-accessible bathing solution. Similarly, a removable flip-up bench provides the safety and convenience of a shower bench, but can easily be flipped up or removed completely so the tub can be used like a conventional bath/shower unit.
In terms of visibility, night lighting is a good addition to the bathroom so those who wake up in the middle of the night can more easily navigate the space without assistance. Another way to offset decreased visibility is to increase color contrasts in the room. For example, offset the vanity finish with the countertop color so it is easier to distinguish between them.
Universal design in the kitchen
There have been incredible technology and design improvements in the kitchen that make accessories, lighting and appliances more intuitive and easier to use. Smart design helps to make the space more accessible and safe for all users.
Larger appliances, such as dishwashers and refrigerators, can now be built into drawer spaces, seamlessly blending into the cabinetry and making it easy for users to access the items. Furthermore, an induction cooktop is both energy efficient and offers the added benefit of improved safety compared to conventional models. Induction stoves don't feature open flames and the surface remains relatively neutral in temperature during cooking. Because the cook top is shallow compared to other cooktop options, it creates space for access by users in wheelchairs
Leaving empty space under countertops around the sink or cooking area is valuable for seated access and flexibility. A lower countertop and sink can make it easier to use by young children or someone who uses a wheelchair. Some manufacturers even make adjustable height countertops that can be raised and lowered based on the individual who is using the space. In addition, roll-out shelves or drawers make it easier to see and reach items stored in lower cabinets. A pull-out counter underneath a built-in single wall oven makes the transfer of hot dishes or pans from the oven easier.
Hands-free or touch-activated faucets provide ease of use for many users, particularly individuals with arthritis. They can also be beneficial for small children who might have difficulty reaching the handle to turn the faucet on and off. An automatic shut-off feature that turns off the flow of water after a designated period of time can help conserve water.
While there are many universal design options available, guidelines have been established relating to clearance, size, reach range and sight line. Moreover, each situation should be assessed separately and the designer must take into account the parameters of the space, budget and client priorities. If all of these needs are met, the result can be beautiful, efficient spaces that improve the independence, safety and convenience of all household members.
Mary Jo Peterson, CKD, CBD, is an award-winning kitchen and bath designer who serves as the universal design consultant for the Delta brand.