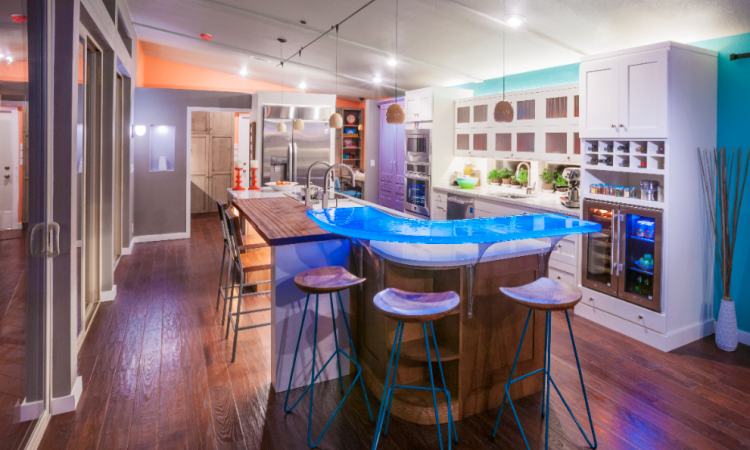 The Ultimate Kitchen in Show Village at D&CW 2014 featured the latest products from manufacturers such as Moen, LG Studio, ThinkGlass, and the Canyon Creek Cabinet Co. The Ultimate Kitchen will be on display at the Moscone Center for PCBC 2014 in San Francisco, June 25-26.
The sleek look of kitchens nowadays goes beyond the flooring, cabinets, and countertops. Technology and performance enhancements with faucets, appliances, and sinks have come to the forefront as easy ways to update one of the most used spaces in many homes. Each of these enhancements were prominently featured at Professional Remodeler's Ultimate Kitchen in Show Village at Design & Construction Week 2014.
"The Ultimate Kitchen at D&CW 2014 Show Village was a prime example of technology in a multi-use kitchen/living space designed for today's modern active families," says Wendy F. Johnson, CKD, who designed the Ultimate Kitchen for Professional Remodeler in partnership with Food & Wine magazine.
One specific example of technology in the Ultimate Kitchen was the LG Studio suite of appliances that represented a blend of design, performance, and innovative technology.
"The Studio dishwasher incorporates TrueSteam technology, which virtually eliminates the need for pre-scrubbing and makes the cleaning process more efficient," says Dave VanderWaal, director of brand marketing for LG Home Electronics USA. "The technology can also be seen in the Studio line's single and double-wall ovens, which include a built-in Gourmet Recipe Bank on an LCD touch screen. With more than 100 recipe suggestions and pre-set cook times, this feature offers added inspiration for today's home chef and makes entertaining easier than ever."
New technology is increasingly a factor in appliance selection. But it is also important in several other kitchen and bath product categories, including faucets and fixtures.
Hands-free and pull-down faucets
The 2014 National Kitchen & Bath Association (NKBA) Design Trends Survey found touch-activated faucets and electronic (no-touch) faucets to be two of the most "in-demand" kitchen features. Many manufacturers have found advancements in these technologies make faucets with sensors more convenient and, therefore, more popular than in the past.
RESOURCES
"In the early days you'd be in the public restroom at an airport or something, waving your hands trying to activate [the sensor], which left a lot of people frustrated," says Bill McKeone, design manager for Kallista, a Kohler Co. brand. "But the technology has changed quite a bit and now they're more effective and efficient as a result."
One example of this efficiency is Moen's MotionSense faucets, which include a Wave Sensor on the top of the faucet and a Ready Sensor near the handle. The Wave Sensor is good for doing longer tasks, such as filling up a large pot in which someone can turn the wave sensor on, walk away, and come back and turn it off, says Tom Tylicki, senior kitchen product manager for Moen. The Ready Sensor, however, activates as soon someone or something interacts with it, making the feature better for quick tasks.
"You don't have to physically touch anything on your faucet, which is a huge deal when it comes to cross contamination and germs, and simply not having to clean the faucet all the time," Tylicki says. "It really changes the way you interact with and use your faucet."
Most of these faucets have a water-saving aspect. Automatic shut-off features will stop water flow after a certain amount of time if the faucet is accidentally left on or something triggers the sensor. Hands-free faucets are popular for the aging-in-place market. 
"Evidence shows people are staying in their homes longer," says Judd Lord, director of industrial design for Delta Faucet Co. "Of course, in the kitchen, faucets are an important part of this design principle; the average person uses their kitchen faucet multiple times a day."
People who have mobility issues or trouble reaching the faucet handle can benefit from touch-activated or hands-free faucets, he adds.
From a platform perspective, pull-down faucets have taken over a large share of the market, feeding innovation from manufacturers.
The rollout of magnetic technologies, such as Kohler's DockNetik, helps solve some of the issues with pull-down faucets in the past. DockNetik has a magnetic collar that goes around the hose and a reverse magnet inside the faucet.
"We've heard a lot of customers say they don't like the droopy spray head so this is a really nice, seamless fix for that issue," says Travis Rotelli, interior designer at Kohler Design Center. "When you let the spray head go, it's going to self-retract and get that spray head right back to the faucet."
Because not all kitchens can accommodate pull-down faucets, pull-out faucets are a good alternative for some homeowners. Moen has a pull-out faucet with the same reflex/magnetic technology as some of its pull-downs.
"Instead of having a faucet that's 17- or maybe 18-inches high, our new pull-out is more like 12 [inches], meaning you get that same functionality but you get a smaller profile," Tylicki says. "It's the best of both worlds."
Inside refrigeration
The best of both worlds inside refrigerators means presenting food in an aesthetically pleasing way while utilizing new technology to increase preservation abilities. French door and bottom-freezer refrigerators are in high demand according to the NKBA Design Trends Survey—and manufacturers could not agree more.
"Clearly the French door bottom freezer has been the runaway category in refrigeration," says Lou Lenzi, lead for the Industrial Design Organization at GE. "The French door gives you that full-width look at what's inside."
These styles also require less swing space than single-door refrigerators, providing more flexibility when laying out the kitchen. Food preservation is still the No. 1 concern for homeowners when looking at refrigerators. Systems such as the Preserva Food Care System in some KitchenAid refrigerators ensure items stay fresh. Dual evaporators prevent humidity, ethylene, and odors from transferring from the refrigerator to the freezer.
"Keeping food fresher longer is really the goal, with regard to the interior of the refrigerator," says Michele Bedard, vice president of marketing for Sub-Zero and Wolf. "Consumers are looking for ways to help extend the life of their fruits and vegetables."
Sub-Zero refrigerators have an antimicrobial air purification system based on National Aeronautics and Space Administration technology that scrubs the air of mold, bacteria, and ethylene gas, according to Bedard. Individual temperature controls for various parts of the refrigerator are also of growing interest for consumers.
"You can adjust the temperature within the deli pan itself based on what your use is, whether for cheeses, fruit, or for deli meats," Lenzi says. "Then we also provide visual cues: When you open the door to the deli pan and it's glowing purple, that reflects a certain temperature setting versus a coloration of green or yellow or red."
Plugged-in appliances
Refrigerators and other kitchen appliances such as ovens and dishwashers can now cater to the on-the-go lifestyles of many homeowners.
At Whirlpool, Smart Appliances with 6th Sense Live Technology allows people to change the temperature in their refrigerator via smartphone, and it alerts users when the power goes out.
Sub-Zero and Wolf products can also sync with home-automated control systems such as Control4 and Savant.
"With regard to Wolf, this technology allows users to view the oven's current temperature, receive preheat notifications, timer alerts, and access internal meat temperature," Bedard says.
As manufacturers continue to explore different Wi-Fi and mobile app technologies, they have high hopes for energy-saving returns.
"There's two ways to approach energy saving. There's the active and the passive approach," Lenzi says. "What I would consider passive is, 'How could I better utilize my appliance suite through connected technologies?'"
One solution is putting appliances in "vacation mode" when leaving the house for extended periods of time, so appliances draw less energy. Tablet and smartphone applications give consumers the power to monitor and adjust appliances on their own.
Quiet kitchens
Many homeowners want open floor plans but this does not mean they want the noise that comes with food preparation to carry throughout the home.
"Things can get really noisy in the kitchen when you're doing everyday tasks and it can be a distraction," Tylicki says. "You don't want your faucet to be noisy. You don't want your sink to be noisy. You don't want your appliances to be noisy."
Manufacturers are tackling these concerns.
"For the longest time when there was an end-of-time or end-of-cycle in appliances, there was always this jarring buzzer sound, almost like a fire alarm went off," Lenzi says. "Why does it have to be so alarming like that?"
GE is creating soundtracks for each of its appliance lines so the sounds are more melodious instead of jarring.
"It's the sights and sounds of the appliances that hopefully create a more harmonious living environment," Lenzi says. "The kitchen is becoming more of an open living space, not this utility space."
With an open living space, people don't want to hear pots and pans either. The NKBA Design Trends Survey says stainless steel is still the most common sink material. Advancements such as Kohler's SilentShield can quiet some of the noise that comes from stainless sinks. SilentShield is either a selection of pads placed around the outside of the sink or a coating to help bend the noise.
"SilentShield is a nice sound absorption technology that's going to help deaden the noise, so you will still hear the items in the kitchen," Rotelli says. "You just won't hear them across the house now."
Sink centerpieces
Homeowners are not only embracing faucet technologies to make rinsing dishes easier, but also experimenting with sink styles. Although stainless steel sinks are still the most popular, many of them aren't the same stainless as in the past.
"People thought, 'I'm spending all this money on a high-end renovation and I'm not going to put a stainless steel sink in,'" Tylicki says. "That's not necessarily the case anymore."
Moen offers 22-gauge sinks all the way down to 16-gauge sinks. With gauges getting lower, consumers can get a high-quality, high-performance sink with a high-end look and feel, according to Tylicki.
Stainless can also come in one of the hottest new design trends: apron-front sinks. Kohler released an apron-front design called Hayridge on its cast-iron product that has a groove pattern on the front. The basin itself is still much more of a personal preference for homeowners. Deeper sinks have also grown more popular recently.
"A lot of the sinks 10 years ago were all between 7- and 7-½, maybe 8-inches deep," Rotelli says. "Definitely a bigger trend now is getting a deeper sink, making sure you can fit a little more in there."
Increased sink size is tied to other areas of the kitchen as well.
"As sinks have gotten deeper, pots and pans and even some appliances have gotten bigger because you have more room," Rotelli adds.
In the kitchen today, it's all about combining design and technology for better functionality. PR