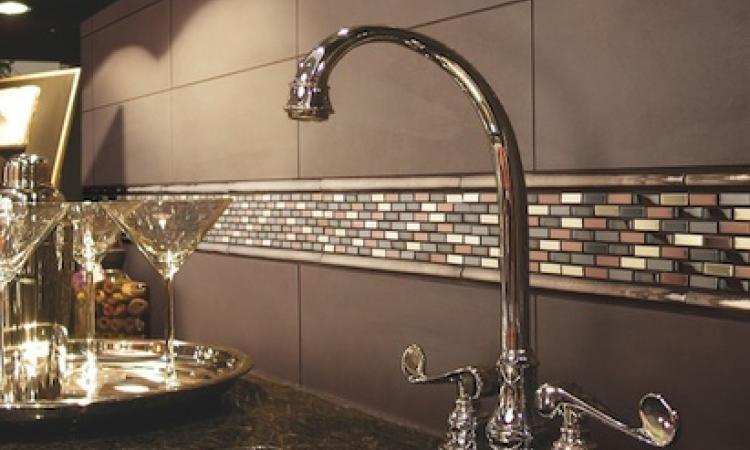 The increasing versatility and durability of tile makes it a popular choice in both the kitchen and bath, although remodelers have to be careful not to over-design the space.
"There are so many different tiles, sizes, types of tile, that it provides total design versatility to the remodeler and homeowner," says Lori Kirk-Rolley, senior marketing director with Dal-Tile. "It gives them design freedom."
From wood to glass ... and everything in between
The durability of tile is leading many consumers to opt for it even when they want a different look than traditional ceramic or porcelain.
"The world of tiling now has many new developments, including tiles that have the look and feel of wood," says Kevin Mashia, director of tile products for Hastings Tile and Bath. "Pressed production allows the tiles to have this new style element and the tile market is progressing to produce more ideas and styles due to consumer demand."
Glass tile is also gaining in popularity in both the bathroom and the kitchen. In fact, Kirk-Rolley says that is the top trend she is seeing the tile world right now, with designers and homeowners opting for glass in both large and small sizes.
Another trend is the mixing of materials, such as glass with stone or metal, Kirk-Rolley says.
Color choices, on the other hand, continue to be fairly conservative, with most homeowners realizing tile is a long-term investment. The color that's stylish today may not look so great in 10 years.
"Our most popular color choices tend to be neutrals," Kirk-Rolley says. "Homeowners tend to use color as accent, and they tend to do that more in the kitchen than in bathrooms."
One recent change, though, is the increasing influence of gray, with many homeowners choosing to integrate tile with "gray veining," Kirk-Rolley says.
Going big
Larger, rectangular format tiles are also becoming more common as homeowners look to make a bigger impact.
"I'm not only talking about the floor, but also for the wall," Kirk-Rolley says. "The larger 12x18s are also being taken up the wall and getting leaner and longer."
Plank sizes, such as 6x36 or 4x10, are especially popular in wood styles, replicating the natural look of wood.
"It's really a nice look when you use a larger format tile," Kirk-Rolley says. "You have fewer lines breaking up the aesthetic."
Larger sizes do tend to be more popular in the Southwest and West Coast regions, but have not been embraced as fully in the Midwest and Northeast, where homes tend to have more traditional designs.
When installed and designed properly, larger-format tiles can also add to the perceived space in a room.
"Some homeowners have narrow spaces to work with, but using larger tiles creates an optical illusion that opens up the space in their kitchen," Mashia says. "Skipping the traditional 12x12 tile in a small space is the best advice I can give to homeowners."
Install it right
The top challenge in using tile is making sure it's installed correctly. Mashia recommends researching the guidelines for the particular tile you are installing. Not every tile installs the same, and not taking that step is a common mistake.
The trend to bigger tiles, especially on the floor, can also lead to problems.
"You have to be sure that when the installer does that work that the bed that he's setting the tile in has no air pockets, that he's done a really good job of filling that in," Kirk-Rolley says. "That can make it more susceptible to cracking, especially with larger formats."