1. Sub-Zero / Refrigerator/Freezer
The 48" Built-In Side-by-Side Refrigerator/Freezer by Sub-Zero uses dual refrigeration to keep fresh foods in a humid yet chilly climate, and frozen foods in dryer, frigid air. A magnetic door seal system locks in cold, an advanced microprocessor provides precise climate control, and an antimicrobial air purification system fights spoilage and odors.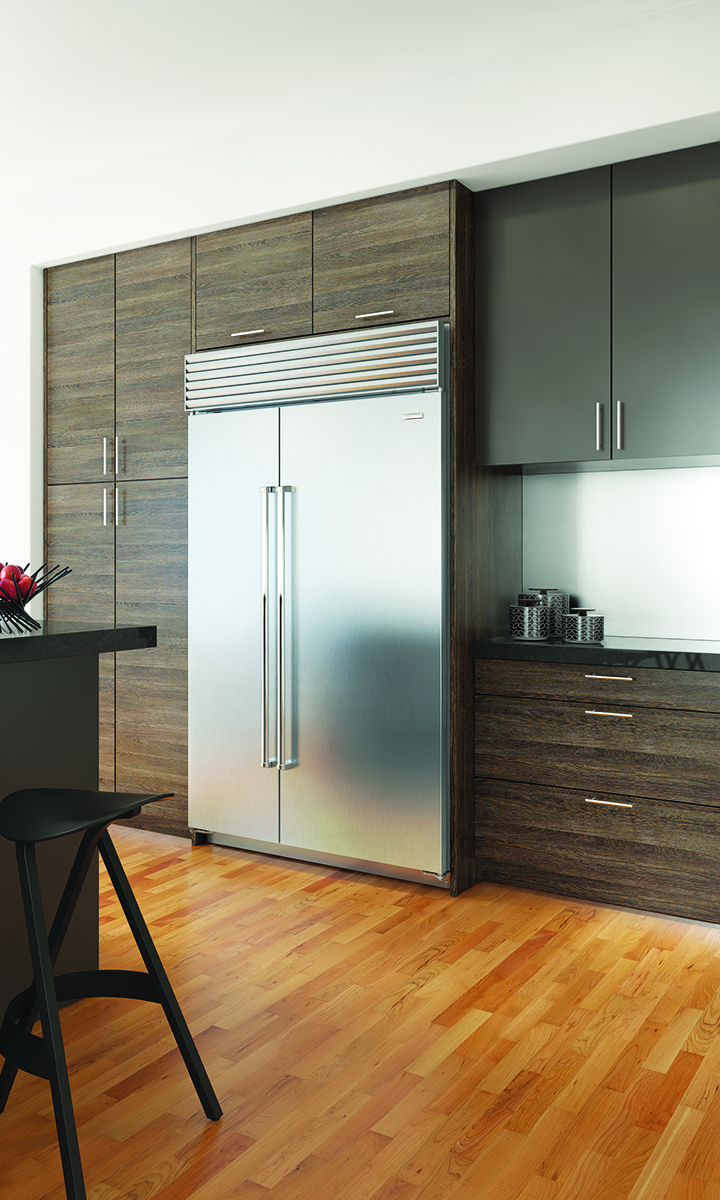 2. Ruvati / Faucet
Ruvati's sleek new Ibiza faucet comes with three silicone sleeves that slip easily on and off: Ruby Red (shown), Jet Black, and Pure White. Available options include Ocean Blue, Navy Blue, and Coral Pink. Ibiza's 360-degree pull-down swivel spout is made of stainless steel with zero lead content. The faucet is 201/2" tall with 91/4" spout reach; fits in standard 13/8" hole; hot/cold water connection lines included.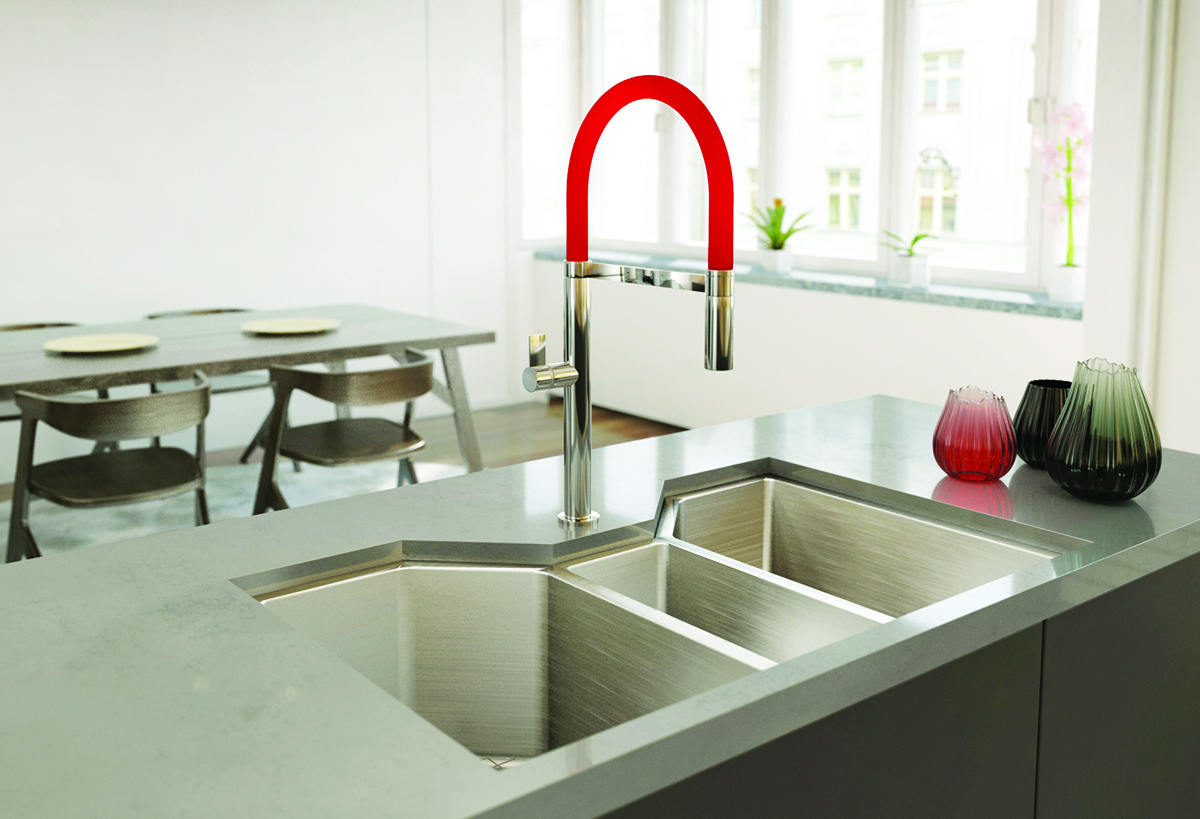 3. RangeCraft Manufacturing / Range Hoods 
RangeCraft Manufacturing introduces a new line of stock range hoods, available in a 36" width: Pro-Line Deluxe and Stocked Hoods. The Pro-Line Deluxe sports elegant buttons and rivets at an affordable price; Stocked Hoods come with either a nondirectional or brushed stainless steel body. (Shown: Canterbury hood in brushed stainless steel.)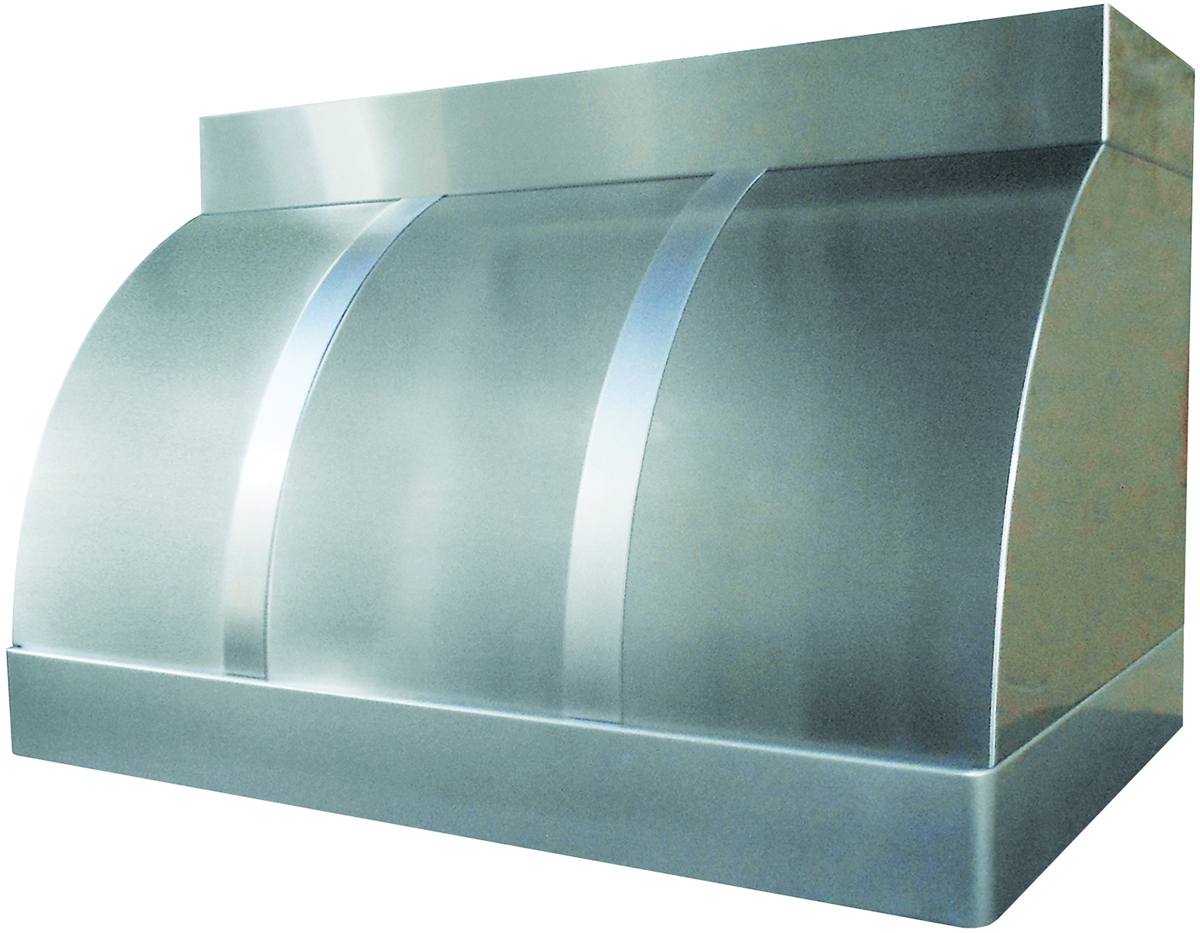 4. KitchenAid / Appliance Collection  
KitchenAid's collection of black stainless steel appliances grew to include a number of new built-in and freestanding ranges and refrigerators. A total of 54 appliance models are available, such as wall ovens, ventilation hoods, dishwashers, and under-counter beverage centers. A top priority is to make it possible for virtually any consumer to own a black stainless steel suite regardless of their kitchen layout.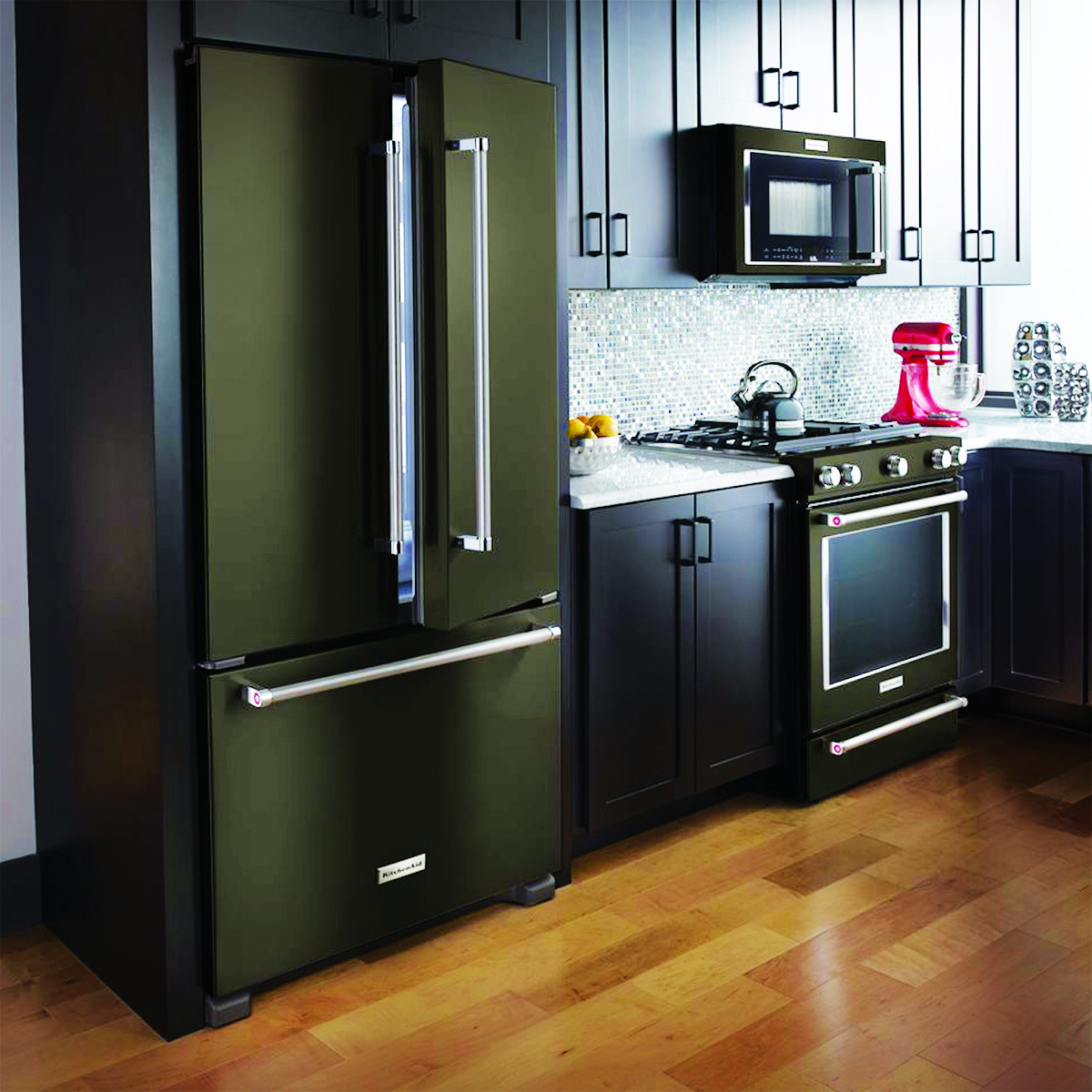 5. Wellborn Cabinets / Corner Cabinets 
A variety of accessory options and custom-made corner cabinets are available from Wellborn Cabinets, such as the Corner Base Cabinet with Kidney Sliding Shelves (shown; photo courtesy Wellborn Cabinet). This easily accessible cabinet offers a spot where utensils can be stored until needed. The firm offers a total of six product lines: Home Concepts, Select, Premier, Estate, Elegant Bath, and Wellborn Closets.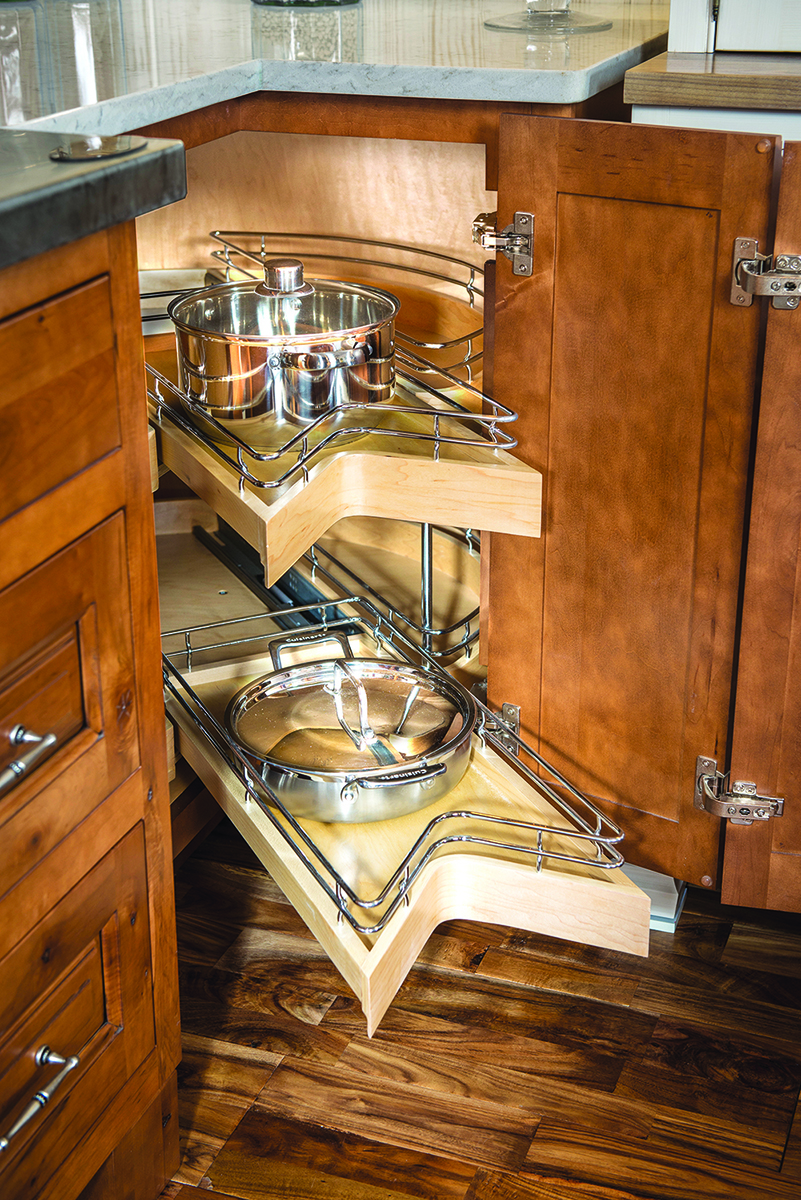 6. Sterling Plumbing / Apron-Front Sink 
The Ludington fabricated apron-front sink by Sterling Plumbing offers clean, contemporary lines. It boasts SilentShield technology—an exclusive, sound-deadening system to reduce noise and vibration. The Ludington's bowl is made from 18-gauge stainless steel with a satin finish, and its 9" depth can easily handle large cookware.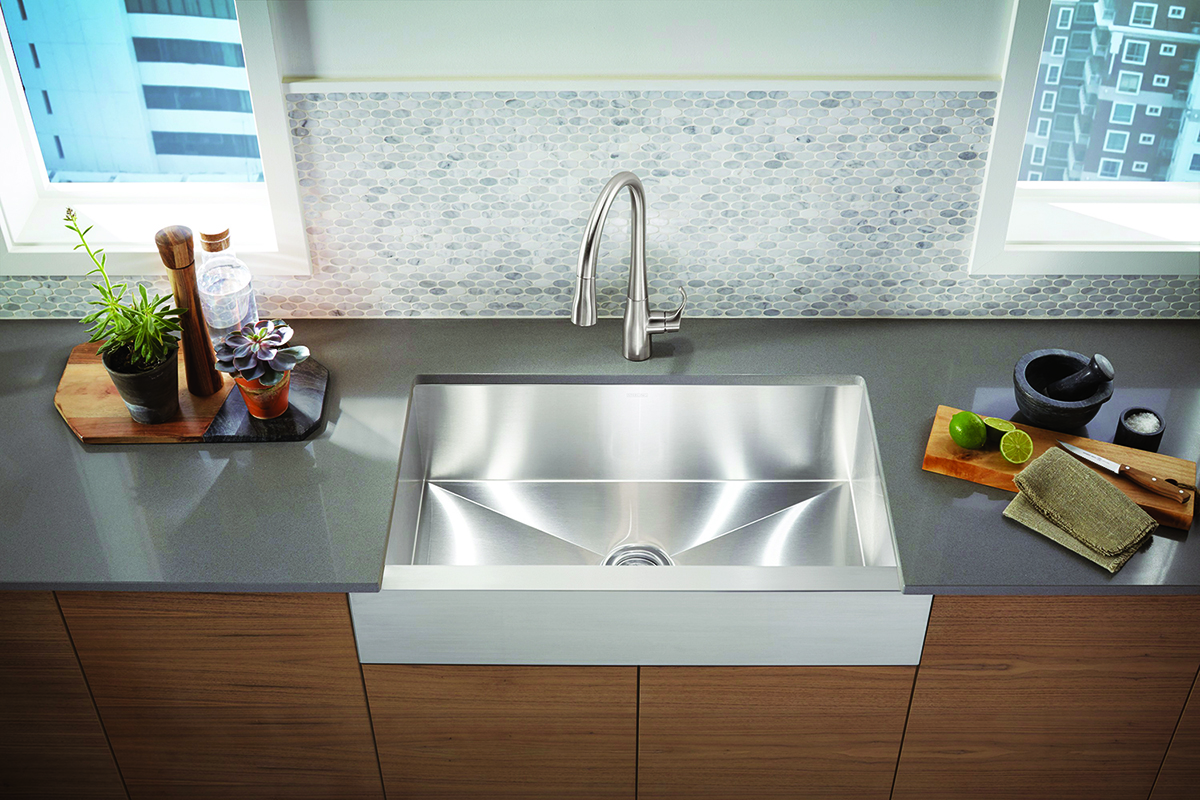 7. Whirlpool / Refrigerator  
The Whirlpool French Door Refrigerator has a door-within-door design to reduce cold air loss and provide quick access to items. Milk and other drinks can be stored within the door's "Cold Space," a lower compartment that receives the coldest air. The fridge also contains platter pocket shelves for flat, wide pans and boxes; infinity slide shelves along the perimeter; "Treasure" bins for small items; and asymmetrical crispers for different sizes of produce.
8. Hardware Resources / Cabinet Hardware   
A sophisticated black finish for kitchen hardware is new from Jeffrey Alexander, the premium brand of Hardware Resources. It's part of the Solana Collection and is meant to spruce up kitchens with a distinctive hammered texture and faceted shapes. Works well in neutral-color kitchens, black-and-white kitchens, and those with matte-black and black stainless steel appliances and plumbing fixtures. Solana knobs come in a 11/4" square and a 2" rectangle.
9. Delta / Faucet Technology 
The Trinsic Pro faucet from Delta replaces the plain spout of the original Trinsic with a more industrial, coiled version that can easily be disconnected and swivels 360°. The coils are purposely kept tight to keep out dirt and debris, and a magnet allows the pull-down spray wand to stay in place when not in use. It is available in Chrome, Arctic Stainless, and Black Stainless finishes. The Trinsic Pro is ADA compliant and available with or without Touch2O technology, which allows users to turn the faucet on and off by touching any part of the spout or handle.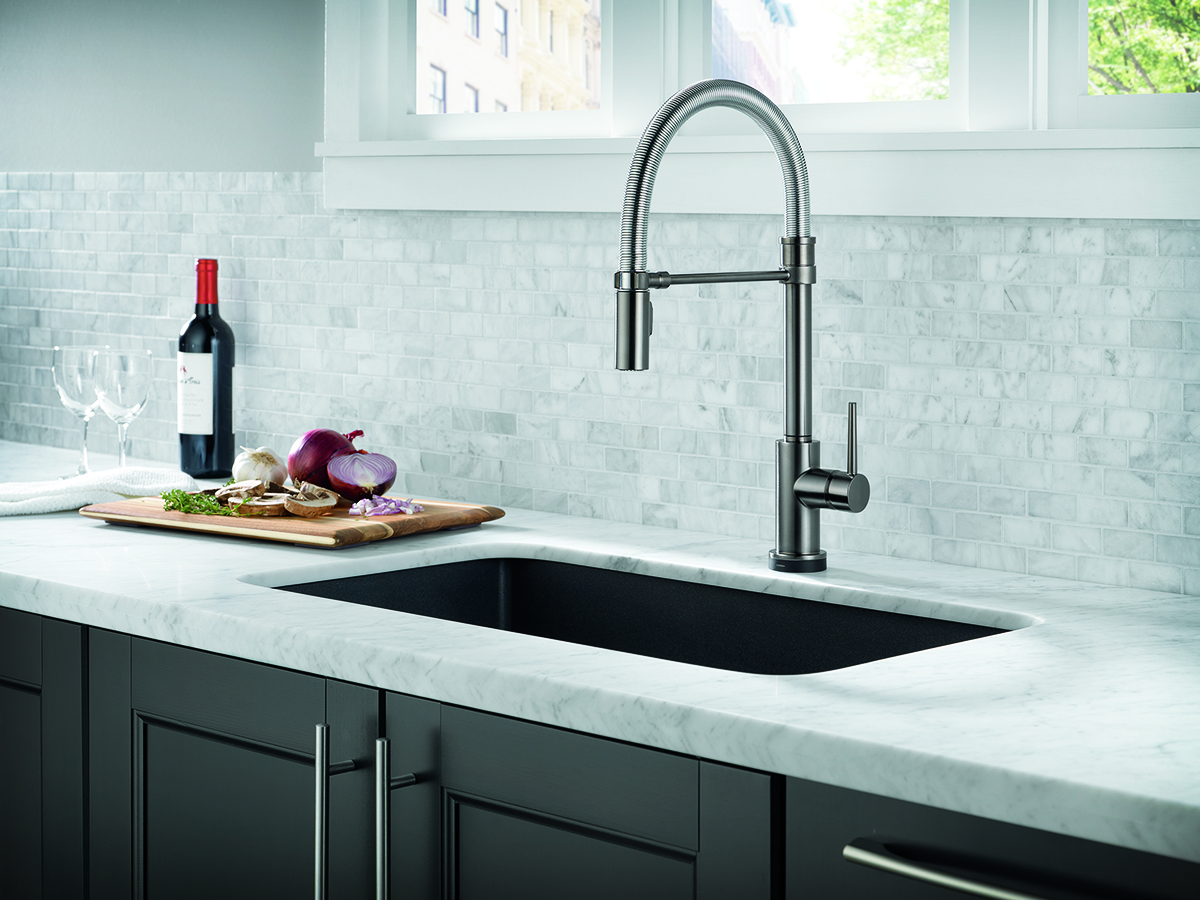 10. Frigidaire / Appliance Collection  
The Frigidaire Gallery Smudge-Proof Black Stainless Steel collection includes refrigerators, stoves and ovens, dishwashers, microwaves, and build-in wall ovens. The surface gives users the timeless style of Frigidaire with an easy-to-clean, fingerprint-resistant surface.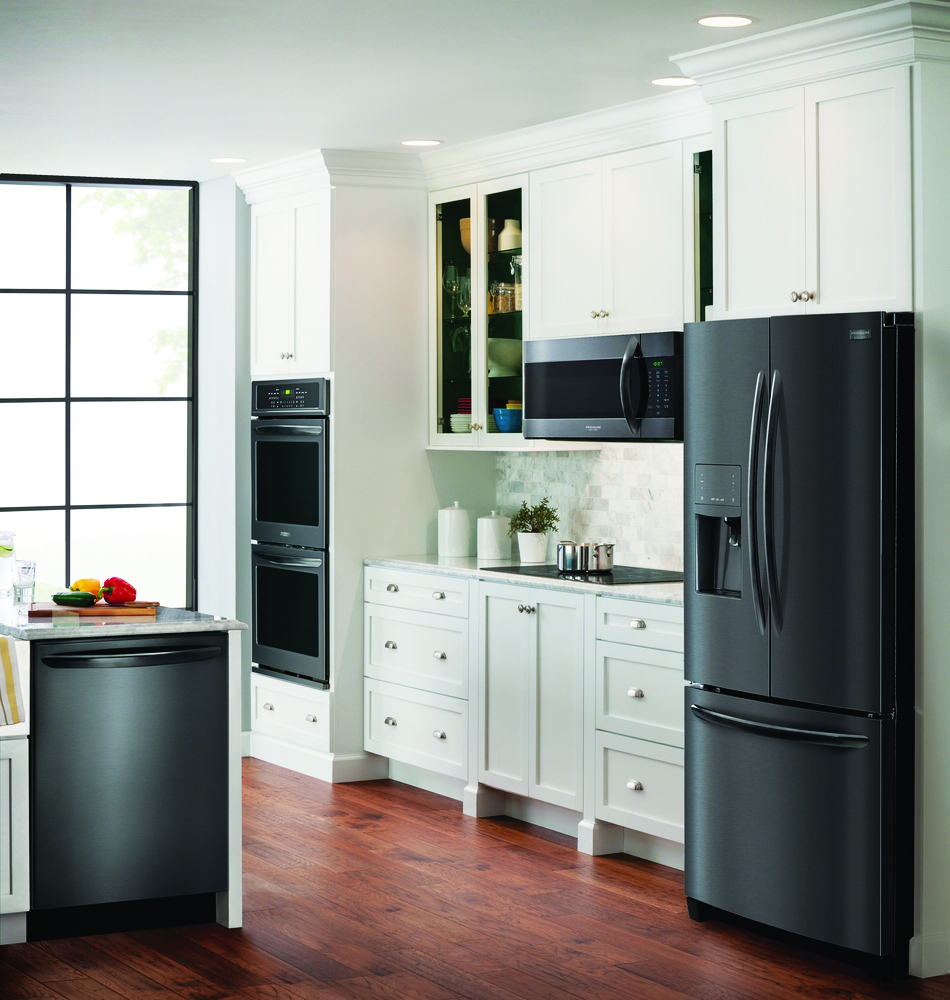 11. Hardware Resources / Cabinet Technology 
Moving heavy mixers and appliances stored in kitchen base cabinets up to counter level is easy, thanks to the new spring-loaded Soft-close Mixer/Appliance lift by Hardware Resources. When outfitted with a sturdy platform, the system provides mechanical assistance to raise any appliance weighing up to 45 pounds. The lift then locks into place to keep the appliance steady while in use. Compatible with frameless or face-frame cabinetry.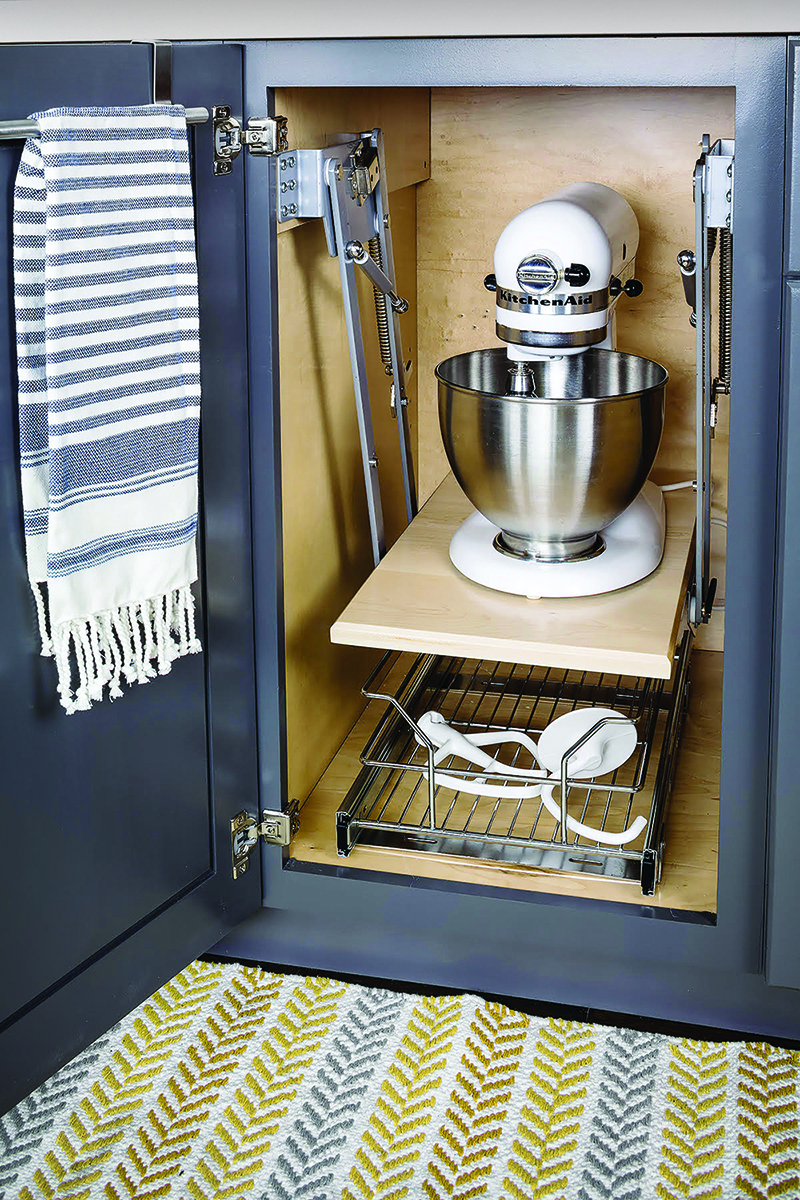 12. Bosch / Oven 
The Bosch Speed Oven is a combination wall oven and microwave. It's designed to cook faster than a conventional oven, and has features such as the QuietClose Door whose dampened hinges make for quiet door closings. The Color TFT Control Panel with SteelTouch Buttons is simple to use, and the full-extension telescopic rack provides better access to the oven interior. This wall oven is made to be installed flush with kitchen cabinets.