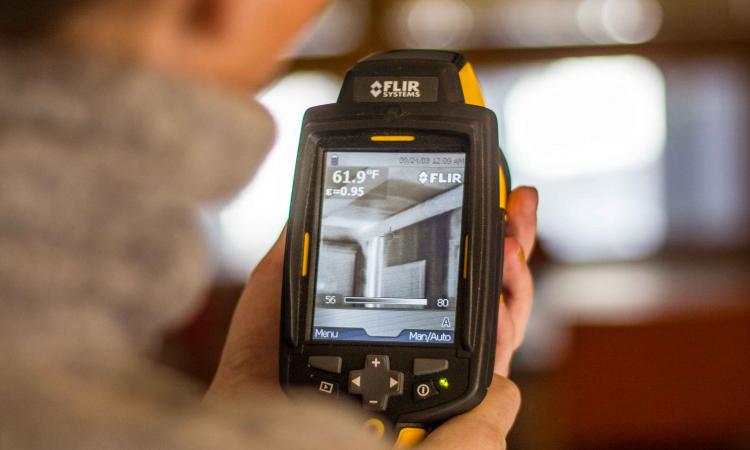 A remodeling project presents the perfect opportunity to identify and repair energy and comfort problems within a home.
Typically, blower doors, balometers, non-toxic smoke pencils, manometers, carbon monoxide detectors/sensors, and anemometers are all effective technologies remodelers can use to find the best path to helping a client with the comfort, energy efficiency, health, and safety of their home.
Each of these diagnostic tools can be effective for measuring specific aspects of an energy audit:
Blower doors help analyze air leakage.
Balometers test air flow for bathroom vents and returns.
Non-toxic smoke pencils used in conjunction with blower doors also help find air leakage.
Manometers test air leakage rates of outlets and other wall penetrations; determine pressure differentials; and ensure natural draft combustion appliances are not backdrafting.
Carbon monoxide detectors/sensors also ensure natural draft combustion appliances are not backdrafting; test to make determine if exhaust carbon monoxide is being properly vented; as well as test heat exchangers in a furnace.
Anemometers check the HVAC balancing.
When the results of these tools are combined, they provide the remodeler an even more accurate assessment of the home.
"Together, these tools give us a path to helping the homeowner improve energy efficiency while making sure there are no safety and health side effects such as combustion appliances backdrafting," says Brandon Weiss, owner, Weiss Building & Development, South Elgin, Ill.
Weiss also uses the increasingly popular and effective infrared or thermal imaging technology when conducting an energy audit.
"Thermal imaging helps us find the source of conductive heat loss, thermal bridging, as well as air leakage and moisture issues behind walls or building assemblies," says Weiss.
By detecting variations in surface temperatures to create a live, readable image, thermal imaging can help remodelers diagnose what is going on behind or inside the walls. For example if there are water-related issues within the structure, thermal imaging can help the remodeler locate the water pipes.
The technology is also used to find framing within the wall structure or air leakage due to missing or underperforming insulation. The thermal imaging technology is designed to investigate what's going on behind the walls without the need for much more invasive measures.
"This presents a particularly favorable opportunity for the remodeler because it is an added value to the homeowner," says Megan Gilman, president, Active Energies, Inc., Minturn, Colo.
Rather than just getting a remodeled home, the homeowner can benefit from improved comfort and lower energy bills.
Much like Weiss, Gilman uses the thermal imaging technology as part of the firm's larger, overall suite of energy auditing equipment.
"We feel the use of infrared technology provides us with the ability to provide our clients with a higher level of service and information that we would otherwise be able to provide," says Gilman.
According to Tim Welsh, president and co-owner, Welsh Construction, Lexington, Va., thermal imaging tools can be also used as marketing tools to help you get into the door of new or past client.
"A thermal imaging tool can be used as sales tool to discuss with the client how the home functions in terms of providing a comfortable and functional living environment. It does create a bit of a 'wow' factor when clients see you using this tool and it can definitely give a remodeler an edge on a sale," says Welsh.
Investing in thermal technology
Welsh says his company invested in a thermal imaging camera during the economic slowdown as a way to distinguish his business from other remodelers in the area.
Welsh Construction introduced their client base to their new business segment by conducting an email marketing campaign that featured an informational video on the benefits of thermal imaging.
"We offered to provide a free home review for the first five people that contacted us and set up appointments," says Welsh.
The free home reviews gave the company the opportunity to use the equipment in the field and become more experienced with the technology before using it in a sales situation with a client.
There are some pitfalls related to thermal imaging, the largest being cost. A mid-level thermal imaging camera can range in the thousands of dollars, depending on the specific features provided. As an alternative, some remodelers are sub-contracting the testing and scanning work to energy auditing firms during the remodeling project as opposed to taking on the financial investment involved with thermal imaging technology. This also allows the remodeler to provide very high-level information from the testing to the client.
The energy auditing market is increasing therefore remodelers should consider adopting thermal imaging technology and other energy auditing technology as part of a holistic approach to home improvement. PR