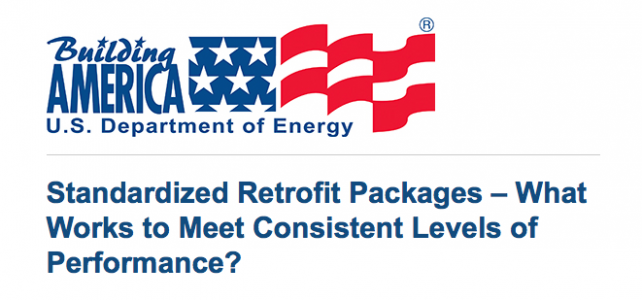 The Building America Program is hosting a no-cost, webinar-based training on March 19th from 3-4.30 PM EDT on standardized energy retrofit packages The webinar will focus on specific Building America projects that have looked at methods to consistently meet high levels of energy performance in existing homes, with a focus on retrofit packages that can be utilized across many homes.
Webinar presenters will focus on answering tough questions, like: Can standard measures be applied without an audit? Which packages of measures used in the Home Performance with Energy Star (HPwES) program meet 30 percent savings? What can master planned communities do to develop and implement specifications for community-scale renovations?
Presenters and specific topics for this webinar will be:
Scott Yee, PARR, presenting an overview of how actual homeowner selected upgrades can be aggregated to create standardized retrofit packages that correspond with housing archetype characteristics which are based off of vintage, construction type, and size.
Christine Liaukus, BARA, presenting results from a recent research project evaluating packages of measures used in a segment of homes participating in the NJ HPwES program in order to determine if (and which) packages were achieving 30% savings levels.
Janet McIlvaine, BA-PIRC, presenting the implementation of the Retrofit Challenge, a checklist approach to systems engineering for single family housing renovation in Florida and the hot-humid climate.
After registering, you will receive a confirmation email containing information about joining the webinar. Click here to register for this FREE webinar. PR