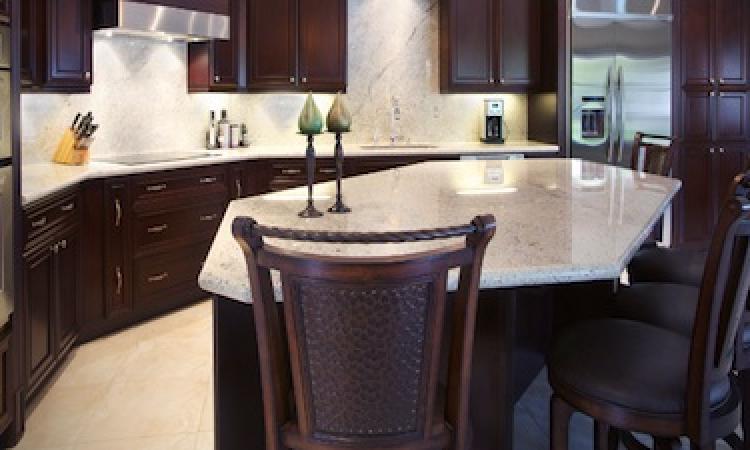 Granite and other natural stone surfaces tend to dominate homeowner preference surveys over the last decade. By and large, your clients enter the kitchen or bath remodeling process asking for granite or other natural stones like marble or soapstone, until they learn the price.
Meanwhile, producers of other surfacing materials have made huge strides in color selection, durability, low maintenance and a number of other criteria, including affordability, to gain market share.
Granite and natural stone
Granite comes in approximately 2,500 varieties and new ones are quarried and brought to market each year. Your clients see granite as a great style/resale-value combination. And despite claims to the contrary, once installed, granite is not terribly difficult to maintain. Most sealers are wipe-on and wipe off.
Some granite — those typically with darker hues — are much denser and therefore never need sealing. Another myth to bust about granite and other igneous rock surfaces: studies show they do not readily harbor bacteria and are just as safe as alternative materials. There is one difference regarding installation: granite is typically screwed to cabinets while others can be fastened with epoxy. This could pose a limit to the amount of granite that can be installed in vertical solutions like backsplashes. Metamorphic rock surfaces like soapstone are also gaining in popularity as homeowners look to gain a sleek monolithic look with natural tone. And like igneous rock surfaces, they tend to be durable and manage heat (hot pots) well.
Quartz or engineered stone
The rise of quartz surfaces over the last decade has been meteoric. This class of surface, also called engineered stone, offers nearly all of the benefits of natural stones like granite, marble and soapstone, with a wider breath of colors that do not occur in nature like cherry reds.
Some manufacturers have conducted studies to tout the antimicrobial attributes of these surfaces but the inference that natural stone is materially less safe remains to be conclusively proven. Prices range from $100 to $200 per square foot and therefore, like natural stone, require an investment for their design aesthetic and resale benefits.
Solid surface/composites
Solid surface materials like DuPont's well-known Corian product have regained a lot of momentum in recent years. It offers a strong value proposition for your clients who may encounter some sticker shock at the price of natural and manufactured stone. Color choices have expanded rapidly in this category and there are other aesthic benefits; namely, no seams and the availability of one-piece sink/countertop combinations.
Laminates
People often tout affordability as the main benefit of laminates — and they are the most affordable option — but the product is and has been very durable and requires little maintenance. Laminate manufacturers are also grabbing ahold of a strong mid-century modern aesthetic revival among Gen Y homeowners and renters.
Butcher block, tile and other options
From a sustainability standpoint, tile and butcher block often get the highest marks. They can be sourced locally and have a strong LCA (lifecycle analysis). Butcher block in particular has always been a mainstay for kitchen islands. And it has made a resurgence in recent years for those seeking a traditional look. The reasons for its timeless appeal center on price, performance and style. Serious cooks like the food prep flexibility on butcher block. It can be cleaned and maintained for years without any diminution in style.