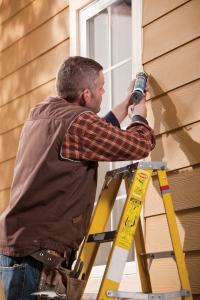 1. Seal your ducts, both supply and return. In this case, just doing one doesn't mean you're done. Try using DAP Dynaflex 230 Premium Indoor/Outdoor Sealant. DAP's most advanced indoor/outdoor premium latex sealant technology is both waterproof and paintable. It provides a permanently flexible, crack-proof seal that is ideal for sealing out water and air leaks to improve the energy efficiency of a home.
 
2. Inspect your roof. Check for loose shingles that could lead to water damage and rot, and seal gaps around gables, flashing and chimneys.
 
3. Foam seal exterior wall penetrations. This includes lights, doorbells, hose spigots, and dryer vents.
 
4. Seal attic penetrations. Gaps around house fans, attic access doors, exhaust fans and light fixtures send warm air right up into your cold attic. Using a product like DAP Seal 'N Peel Removable Weatherstrip Caulk provides a unique, removable seal to weatherstip seal for drafts. The temporary seal is waterproof and weatherproof. It saves energy and reduces energy costs.
 
5. Seal rim joists in the basement. An elastomeric sealant or foam sealant around the rim joist is one of the best ways to weatherseal your home. DAP 3.0 is a Self-Leveling Concrete & Masonry High Performance Sealant and it's ideal for filling and sealing horizontal cracks in sidewalks, concrete driveways, above-ground foundations, patios, concrete steps, garage floors and other concrete surfaces. It's 100 percent waterproof and can be exposed to water in just 3 hours and cures in 24 hours. DAP 3.0 can also withstand extreme temperature use so it can be applied in temperatures ranging from 20°F to 120°F.
 
6. Fill gaps between the basement and living spaces. For example, go in the basement and look up at where your bathtub is on the floor above. If you can see the bottom of the tub, that means you're paying good money just to condition the air on the bottom of your bathtub. Seal it up with foamboard and a recommended foamboard sealant.